There are so many gizmos and gadgets out there today. It's getting harder to keep up, because just when you zero your mind and decide to get "Gadget 1.0",a couple months later "Gadget 2.0" is released and just so happens to come with more bells and whistles than the one you just got.
But in the fast paced, technological world we live in today, that is becoming the norm, and we all accept it. So looking back at the fleet of BBs launched last year, and how Nigerians ensured they were on the BB OS7 train, what do we think of them today?
RIM gave us the opportunity to "Test Drive" the latest BlackBerry Torch 9810 (which I briefly reviewed last year). As with tech devices, you never really know what it's like till you have it in your hands, and use it daily. So that's what I did, I whipped out my sim-card in all happiness, from my "no-flash-having" Curve and slipped it in the Blackberry 9810 Torch slide phone.
The Upgrade?
They boasted of a "powerful 1.2-GHz processor and 768 Megabytes of RAM", and using the device you don't really notice the difference. However the browser loads faster (even with our choppy internet services, although you do have to "zoom" a lot) and performing tasks like switching applications becomes a smooth operation. And yes the "8 GB of on-board memory" makes life more fun, allowing you to watch full length movies on buses and bank queues (Enjoying the much improved resolution).
The "3.2-inch capacitive touch screen, and RIM's signature slide-out QWERTY keyboard" the same as the 9800, and with all that screen real-estate; the sweet BB email system can be enjoyed keeping you up to date, no matter where you are. And with everybody being a businessman or woman these days, it's great.
As for the operating system, OS7 is nice, and app wise, all the regulars are accounted for.
Let's talk Design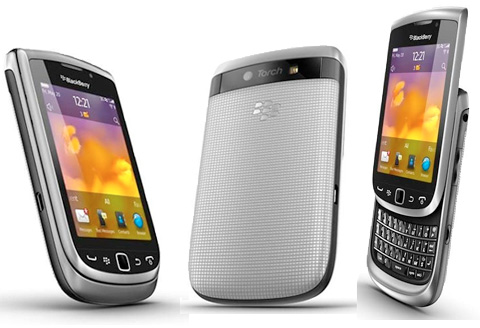 Looking at it, it's still a big phone, weighing 161g and measuring 111 x 62 x 14.6. But with that said, it still slides comfortably into your pocket. The 9810 is practically a twin of the older 9800. It looks and feels the same, in your hands as not much changed (besides the colour of the controls under the display). And of course, the popular "slide-to-reveal-a-full QWERTY keyboard" is present, so If you're like me, and love using your physical buttons, then these slightly more recessed ones will take some of getting used to.  When I didn't want to slide open the device, the landscape, touch screen keyboard was sometimes slow to react. So I learnt to use the smaller portrait one, as its predictive text was usually on the right trick, .
But they really should do something about the lock button found at the top of the phone. I always brought out the device to find random characters pressed, as the phone swam around my pocket. And as the headphone jack is on the side, trust that the BB will always be at a funny angle in your pocket, but where else could they put it on a slide phone?
Nit-picking the pros and cons
Positive:
–          The Camera is pretty great, and the flash makes all the difference. With the size of the screen, I found myself taking more pictures than I would have.
–          The battery doesn't die on you as fast as other devices (with average use and if you don't live on 3g of course). It tends to carry you for 24 hours, but if used hardcore all day, leaving apps running, etc, after about 8-10 hours you will be looking for a charger
–          Loving the screen size ad menu arrangement, you never really have to look for anything and the icons are a great size for touch screen
–          Having the choice of 3 modes of operation makes most tasks fun (Keyboard, Track-pad, Touch screen)
–          BB Emailing system is always on point, sucking in all your mail as soon as they are sent. Sometimes faster than a pc would even show them.
Negative:
–          After constant use, the touch screen drag or scroll tends to respond slower. This means you tend to find yourself clicking an app or link when you don't want to. However, that's where the optical track-pad comes to the rescue.
–          Yes, the freezing or refusal to load is still there, it's really not as bad and disappears sometimes when the OS is updated. So just stay current with Rim updates.
–          It heats up sometime for no reason (Maybe I was downloading too many things or using to many apps at the same time but a warm phone is worrying.
–          Seems to love the mute button when making calls, as your cheek can press the button.
–          After 2 weeks of regular use I could see how easy it is for the phone to lose its sex appeal. Scratches and scrapes seem to look for the device and the metallic paint looks like it wants to flake off.
Have a look see.
Here are some pictures of the BlackBerry Torch 9810 straight out of the box.
So, what's the Verdict?
The BlackBerry Torch 9810 feels like RIM are on their way to creating the perfect device. Older BB issues have been solved, and good bits have improved. However, a newer developments are coming. And with "BB 10" headed this way, I think the torch 9810 would be able to hold you over till then. This is a BB which values screen space and a physical keyboard, and if you have the same values and enjoy the Blackberry experience, then you would be hard pressed to find a better match elsewhere.
But before you get any device, look at its competition, and research what's coming next. And as for me, I'm looking forward to their next offering with baited breath.