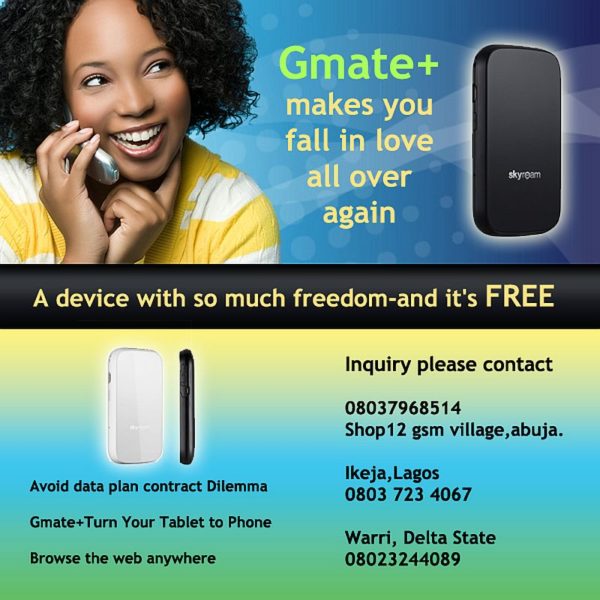 Imagine using your iPad, iTouch 4 or Android tablets to make phone calls and text messages or think of what it would be like to use one phone for two different numbers. Would you like to browse the internet even if you're in a remote area without WiFi service? Now you can, thanks to an amazing new and tiny wireless device that is headed for Nigeria this summer.
It's called the Gmate+. It's a Bluetooth-like functionality device that was recently released in the United States of America and it will be delivered into the hands of Nigerian users through the efforts of its manufacturers – Skyroam and her distributor – Gloreminvestment Inc – a Nigerian owned company.
Gmate+ supports iPad, iPod Touch 4, iPhones and most Android mobile smart phones and tablets. With it, users can use their tablet as a phone, with SMS, voice and text message capabilities. No physical attachment required on your phone or tablet, no hassle trying to switch between SIM cards.
With access to WiFi or a wireless network, anyone can easily stay in touch with the latest software and firmware version of Gmate+, as well as enjoy any upcoming new features which will save its users money from buying a new version. Gmate+ allows users to access the internet through its GPRS/Edge technology and also support 3G data SIM card.
Business travelers can insert a second SIM card into this tiny companion wireless device (With a 72hrs battery life and a peek speed of 385kpbs) so that they can operate two different numbers on their favorite smart phone, all while keeping the same phone book, SMS and call logs. Gmate+ is fairly easy to install, as users would only need to jail-break or root access their smart phone or tablet and sync the Gmate+ to their phone by following few steps at www.Skyroam.com, when they click support on the home page.
Skyroam has partnered with Gloreminvestment Inc – a distributor of technology products to Nigeria, to bring the Gmate+ by July 2012.
Ndekwe Kelechi .E. (Founder of Gloreminvestment Inc.) said "My mission is to empower locals in the most rural areas with cost effective devices, so they can connect with relatives across the continent with the latest technology designed in the Silicon Valley. Affordable and efficient mobile technologies are significantly changing the lives of people in developing areas who are burdened by unequal access to resources and information".
That burden is quickly diminishing with Nigeria having one of the highest numbers of mobile subscriptions in Africa -more than 95 Million phone users. In a 2011 voice of America article, Africa is also reported as the fastest growing phone market in the world, according to the Groupe Speciale Mobile Association. With increasing usage of this and other technologies, Nigeria is a fertile ground for homegrown mobile and technology distributors.
Kelcehi further explained that "Most telecommunication companies in Africa are operated by multinationals and they add less value to our society by providing substandard service and technology. As a native of Nigeria, I am positioning my company to be the local developer of mobile device in Nigeria, not just making investments but ensuring accessibility, affordability and encouraging young minds to put their ideas to work."
According to Kelechi the target date for Gmate+ distribution is expected at July 1. In the meantime he is connecting with local distributors and telecommunication companies like MTN, Globacom, Airtel, Etisalat to get behind the Gmate+ winning team.
Contact: For more info and general enquiries on Gmate+ availability;
E-mail

[email protected]

Abuja – Address: Shop 12, GSM Village, Abuja | Phone Number 08037968514
Lagos – Call 08037234067
Warri, Delta – Call Akuchechris Nig Ltd on 08023244089
USA – Call 00918325103731
Watch these Videos for better understanding of what Gmate+ offers

___________________________________________________________________________________________
Advertorial – Sponsored Content