Thank God, it's Thursday!
We at BN are super glad and excited that you all have joined us here once again. Staying true to our word to always inform you about all things Entertainment, Fashion, Lifestyle, Music, Events and more, we humbly present to you the Events This Weekend.
From the city of Lagos to Abuja, Port Harcourt, Ibadan all the way to the United Kingdom, yours truly has compiled a list of the hottest, places, venues and hangouts to be spotted with your loved ones this weekend.
So sit back, relax, grab a drink and see for yourself the fun places to be. If nobody has told you lately  that you are all round fantastic, BN is proudly telling you are simply the best, hard working, sophisticated and beautiful. Today, try your best to put a smile on someone's face.
We LOVE You, See you all next week and stay safe!
Reel Life Club presents Invictus
Today, Reel Life Club at the Life House will screen Clint Eastwood's movie – Invictus. The film centers around Nelson Mandela in his first term as South African President and how he initiated a unique venture to unite the apartheid-torn land and enlist the national rugby team on a mission to win the 1995 Rugby World Cup. Admission is free for all but donations are appreciated.
Date: Thursday 10th May 2012
Time: 7:30 PM
Venue: The Life House, 33 Sinari Daranijo Street off Ligali Ayorinde Street Victoria Island, Lagos
___________________________________________________________________________________________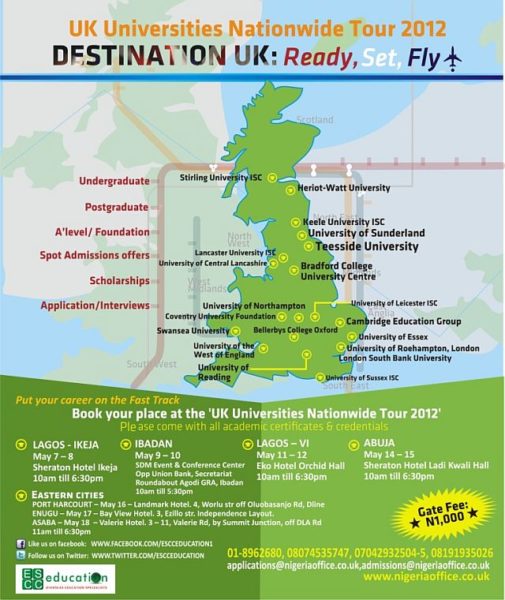 ESCC Education Fair
As part of their on going tour, overseas education recruitment organization – ESCC Education will visit Lagos, Ibadan, Abuja and Port Harcourt this weekend. This education fairs will see top UK universities delegates visit the various designated venues and speak one-on-one with prospective students on how they can apply for the University of their choice, get admissions and scholarships.Be sure to arrive early as attendees stand the chance to win tuition fee scholarship through their raffle draws.
Ibadan
Date: Thursday 10th May 2012
Time: 10 AM – 6:30 PM
Venue: SDM Event & Conference Centre, Opp Union Bank, Secretariat Roundabout Agodi G.R.A., Ibadan, Oyo
Lagos
Date: Friday 11th May – Saturday 12th May 2012
Time: 10 AM – 6:30 PM
Venue: Orchid Hall, Eko Hotel & Suites, Kuramo Waters, Victoria Island, Lagos
Abuja
Date: Monday 14th May – Tuesday 15th May 2012
Time: 10 AM – 6:30 PM
Venue: Sheraton Hotel, Ladi Kwali Way, Maitama, Abuja
Port Harcourt
Date: Wednesday 16th May 2012
Time: 11 AM – 6:30 PM
Venue: Landmark Hotels, 4 Worlu Street, D/line Off Olu Obasanjo Road, Port Harcourt, Rivers
___________________________________________________________________________________________
Fame: The Celebrity Affair
The Nation's capital city – Abuja get ready for Fame: The Celebrity Affair – a glamorous and exclusive party organised to spice up the Abuja party scene. Your Favourite stars are scheduled to grace the soiree.
Date: Thursday 10th May 2012
Time: 10 PM
Venue: House of Cabana, 130 Adetokunbo Ademola Crescent, Wuse II, Abuja
____________________________________________________________________________________________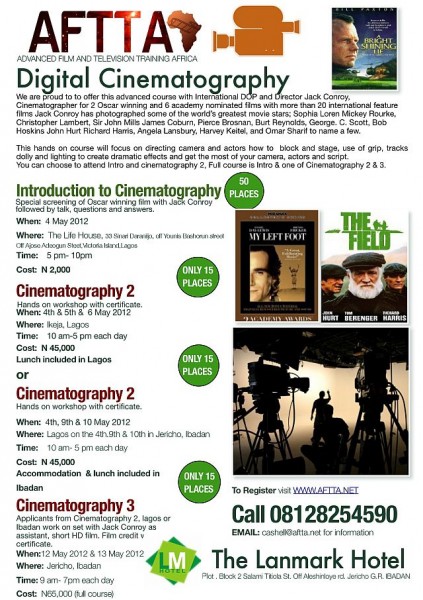 Academy Award winning Cinematographer Jack Conroy to Lecture in Nigeria
With the support of The Life House, AFTTA will host Jack Conroy to lecture once again in Lagos.Tagged "Introduction to Cinematography", this lecture will also feature excerpt screenings of Conroy's work followed by questions and answers. Complimentary passes are available for industry stakeholders, for more info, be sure to get in touch with them.
Date: Friday 11th May 2012
Time: 5 PM – 8 PM
Venue: The Life House, 33 Sinari Daranijo Street off Ligali Ayorinde Street Victoria Island, Lagos
Course Fee: N2,000 (Free to applicants of Cinematography 1 & 2)
Contact: For more info and general enquiries, SMS 07034030683
_________________________________________________________________________________________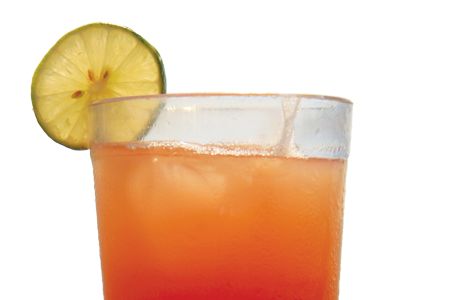 Sundown at Abule Cafe – Happy Hour!
Relax this Friday at the Life House after a stressful week with their special Happy Hour drinks which when you buy two you get the next one free. There will be lots of music by World House Beats, so be sure to come with your friends and family. For more info and general enquiries, E-mail [email protected]
Date: Friday 11th May 2012
Time: 6 PM
Venue: The Life House, 33 Sinari Daranijo Street off Ligali Ayorinde Street Victoria Island, Lagos
____________________________________________________________________________________________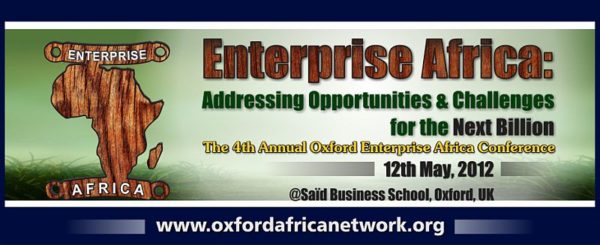 The 4th Annual Oxford Enterprise Africa Conference
This Saturday, the 4th annual Oxford enterprise Africa conference will be held in Said Business School, Oxford, UK.This year's theme "Enterprise Africa: Addressing Opportunities & Challenges for the Next Billion" highlights the potential for tangible business growth and investment presented by a continent on the rise.The keynote speakers are Arnold Ekpe (CEO Ecobank Group) and John Momoh (Founder and CEO Channels Television Nigeria).To register, click Here.
Date: Saturday 12th May 2012
Venue: Said Business School, Park End Street, Oxford, UK
Contact: For more info and general enquiries, E-mail [email protected]
____________________________________________________________________________________________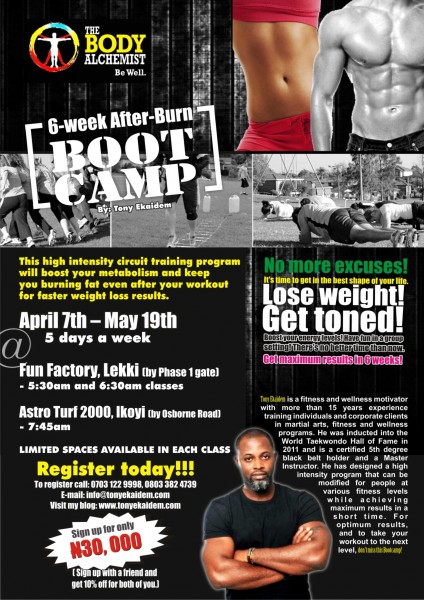 Stay in Shape and Get a toned body this 2012 at the Body Alchemist 6 Week  "After Burn" Boot Camp
Another day, another month and yet another exciting way to lose weight and get a toned body this 2012. Register today for The Body Alchemist 6 Week  "After Burn" Boot Camp – a  highly intensive circuit training program set to boost your rate of metabolism and keep you burning fat all day long. This boot camp is organized Tony Ekaidem – a master instructor of World Taekwondo and a consultant on self defence and unarmed combat for security companies and other corporate bodies. For payment details, be sure to contact them.
Date: Saturday 12th May 2012
Time & Venue: Fun Factory, Lekki Phase 1 (By Phase 1 Gate on Admiralty Way), Lekki, Lagos – Time: 5:30 AM and 6:30 AM | Astroturf 2000, (By Osbourne Road), Ikoyi, Lagos – Time: 7:45 AM
Contact: For more info and general enquiries, Call 07031229998 | 08033824739 | E-mail [email protected] | Log on to Tony Ekaidem's Website – www.TonyEkaidem.com
___________________________________________________________________________________________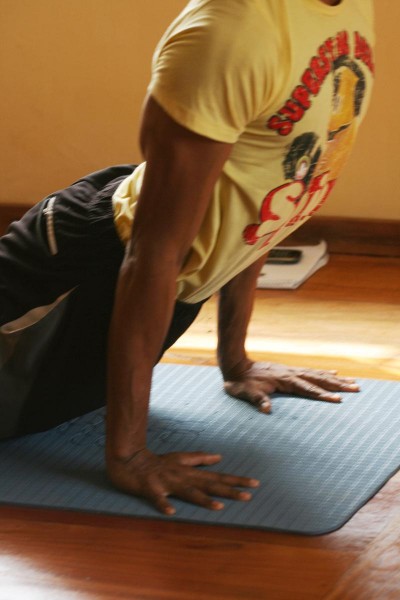 Stretch Your Muscles at DaYoga Studio
Get prepared for a brand new week by taking part in the never ending fun and excitement of Yoga and Pilates at the DaYoga studio this Saturday. The fee for each of the classes per person is N 2,000.
Date: Saturday 12th May 2012
Time: Beginners Yoga 9 AM | Immediate DaYoga Classic 10 AM | Pilates 12 PM
Venue: DaYoga Studio, The Life House, 33 Sinari Daranijo Street off Ligali Ayorinde Street Victoria Island, Lagos
Contact: For more info and general enquiries Call 07034030683 | E-mail [email protected]
_________________________________________________________________________________________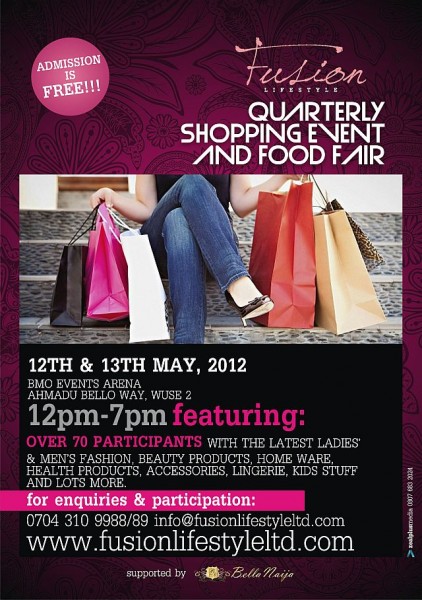 Fusion Lifestyle 2 Day Annual Shopping Event
Premium quarterly shopping and food fair organizers – Fusion Lifestyle Ltd is back with its 2-Day annual shopping edition.This fun filled edition, will see over 60 vendors showcase the latest lifestyle goods for ladies, gents and children such as clothes, accessories, health and beauty products, home wares, food, drinks and so much more in a serene venue. The first 20 guests to arrive at the venue will get gift packs. Attendees are also advised to bring their young ones along, so they can take part in some of the fun programmes organised for them.
Date: Saturday 12th May – Sunday 13th May 2012
Time: 12 Noon – 7 PM Daily
Venue: BMO Events Arena, River Plate Park, Ahmadu Bello way, Wuse II, Abuja
Contact: For more info and general enquiries, Call 08098389882 | 07043109988 | E-mail [email protected] | Log on to their Website
_____________________________________________________________________________________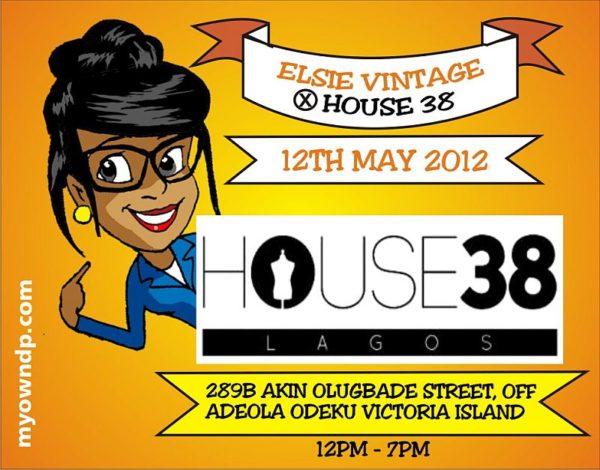 House 38 & Elsie Vintage's Spring/Summer 2012 Collection Celebration
This Saturday, House 38 and Elsie Vintage will celebrate their Spring/Summer 2012 Collection with an exciting shopping event. All items displayed at this event, will be sold for half its price.
Date: Saturday 12th May 2012
Time: 12 Noon – 7 PM
Venue: 298B Akin Olugbade Street, off Adeola Odeku, Victoria Island, Lagos
_____________________________________________________________________________________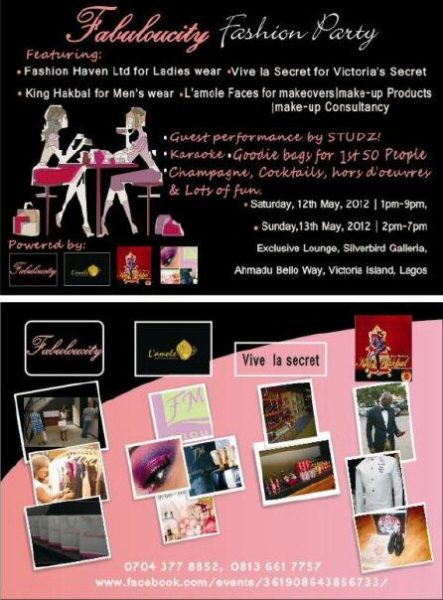 Fabuloucity Fashion Party
Shop for clothes, shoes and accessories this May at the Fabuloucity Fashion Party taking place at the Silverbird Galleria, Lagos. This event will see musical performances by OD Woods, Studz and many more artistes. First 50 guests at the event  will get goodie bags. Admission is free for all!
Date: Saturday 12th – Sunday 13th May 2012
Time: Saturday 1 PM – 9 PM | Sunday 2 PM – 7 PM
Venue: Exclusive Lounge, Silverbird Galleria, Ahmadu Bello Way, Victoria Island, Lagos
______________________________________________________________________________________
Hair Fusion's Exhibition
Buy over 255 varieties of 100% human hair extensions at Hair Fusion's Exhibition this Saturday. The brand ambassador of Hair Fusion – Miss Nigeria will also grace this event and get her hair done with your favourite celebrities. There will be lots of prizes and refreshments for guests. Admission is free for all.
Date: Saturday 12th May 2012
Time: 2 PM
Venue: Bobby's Signature, 18B Ogundana Street, off Allen Avenue, Ikeja, Lagos
Contact: For more info and general enquiries, Call 08038555557
_____________________________________________________________________________________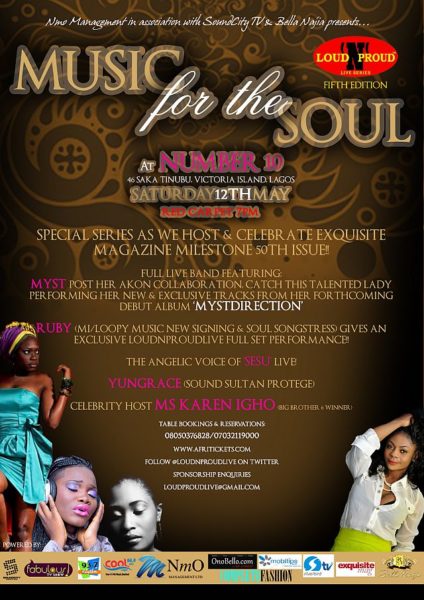 LoudNProud Live Series "Music for the Soul Edition"
This weekend just got a whole lot more interesting as another edition of the thrilling monthly musical concert – LoudNProud Live Series will take place on Saturday at Number 10, Victoria Island, Lagos.Tagged "Music for the Soul", this edition organised by Nmo Management is to celebrate the 50th Issue of Nigerian Lifestyle Publication – Exquisite Magazine. This event which promises to be one of a kind will be hosted by Big Brother Amplified Winner – Karen Igho and will see these artistes – Myst, Ruby, Sesu and Yun Grace perform with a full live band. Admission is free for all, but you have to Contact them to book a table.
Date: Saturday 12th May 2012
Time: 7 PM
Venue: Number 10, 46 Saka Tinubu, Victoria Island, Lagos
Contact: For more info and general enquiries, Call 08050376828 | 07032119000 | E-mail [email protected]
____________________________________________________________________________________________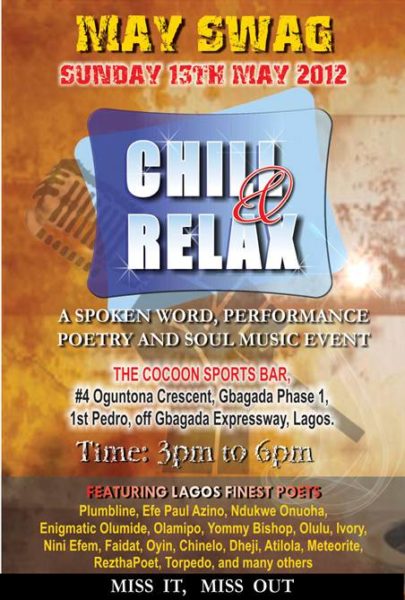 Chill & Relax presents May Swag
Chill & Relax – a Spoken Word, Performance Poetry and Soul Music Event is taking place this Sunday at the Cocoon. Lagos poets including  Plumbline, Efe Paul Azino, Ndukwe Onuoha, Enigmatic Olumide, Meteorite, RezThaPoet, Torpedo, Olulu, Olamipo, Yommy Bishop, Double O.J, Chinelo, Bede Okoro, Dheji, Oyin, Atilola, Nini Efem and more will also be around to thrill you with some of their poetry.
Date: Sunday 13th May 2012
Time: 3 PM – 6 PM
Venue: The Cocoon Sports Bar, 4 Oguntona Crescent, Gbagada phase 1, 1st Pedro, off Gbagada Express Way, Gbagada, Lagos
_____________________________________________________________________________________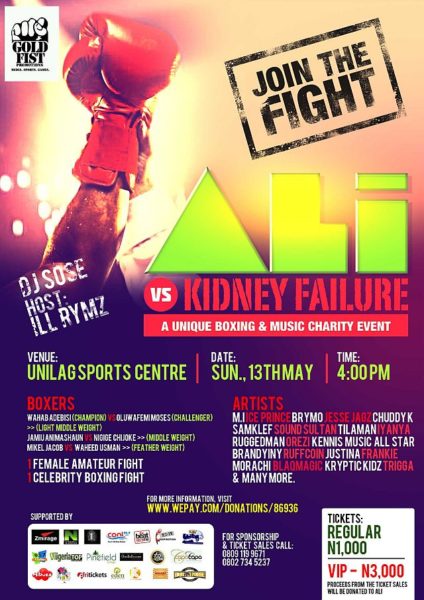 Ali Vs. Kidney Failure
This Sunday, brace yourself for Ali Vs. Kidney Failure – a unique boxing and charity event. The event will take place at the UNILAG Sports Centre and will see Nigerian boxer – Ali go head to head against End Stage Kidney Disease (ESRD). This event will be hosted by ILLrhymz and will see performances by M.I, Ice Prince, Jesse Jagz, Kennis All Stars, Chuddy K, Samklef, Ruggedman, Sound Sultan, TillMan, Iyanya and so many more. This fight will be streamed live on Hibuzz.com for non Nigerian residents.
Date: Sunday 13th May 2012
Time: 4 PM
Venue: University of Lagos, Sports Centre, Akoka, Lagos
Ticket Prices: Regular N 1,000 | VIP N 3,000
Ticket Locations: At the Venue | Click on the flier above
___________________________________________________________________________________________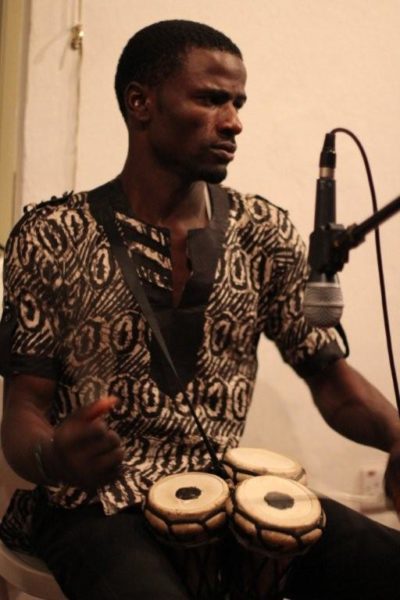 Experience Wura Samba Live at the Life House
Witness the essence and power of the West African Drum with Wura Samba and his all percussion band. This band have promised to deliver nothing short of their A-Game, so expect the very best. Admission is free for all but you have to RSVP by sending a texting to 07034030683
Date: Sunday 13th May 2012
Time: 6:30 PM
Venue: The Life House, 33 Sinari Daranijo Street off Ligali Ayorinde Street Victoria Island, Lagos
____________________________________________________________________________________________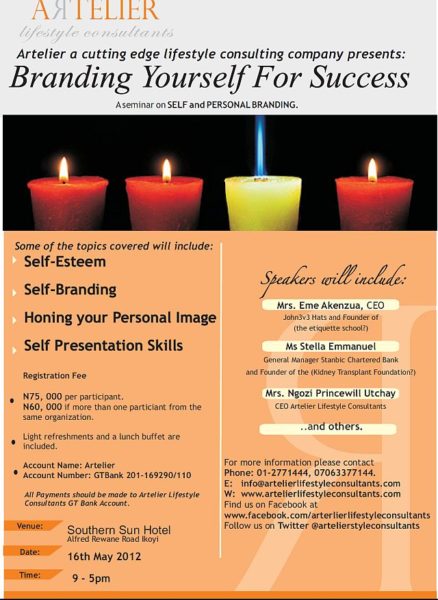 Artelier's Self & Personal Branding Seminar
Cutting Edge Lifestyle consulting company – Artelier is organizing a seminar on self and personal branding at the Southern Sun Hotel, Lagos. This seminar is a must attend for all staff at managerial and supervisory levels and anyone whose position impacts directly or indirectly on their company's image. Speakers include Eme Akenzua (CEO John3v3 Hats), Stella Emmanuel (General Manager, Stanbic Chartered Bank and Founder of Kidney Transplant Foundation), Lanre Olusola (Chief Catalyst, Olusola Lanre Coaching Academy), Ngozi Princewill Utchay (CEO Artelier Lifestyle Consultants) and many more. For payment details, Call or E-mail them.
Date: Wednesday 16th May 2012
Time: 9 AM – 5 PM
Venue: Southern Sun Hotel, Alfred Rewane Road, Ikoyi, Lagos
Contact: For more info and general enquiries, Call 012771444 | 07063377144 | E-mail [email protected] | Follow them on Twitter @artelierlifestyle | Like their Facebook Page | Log on to their Website
___________________________________________________________________________________________
BellaNaija.com is not responsible for the organization or further promotion of these events, neither do we have a stake in their sales or popularity. Inclusion in "Events This Weekend" is Free. Contact – adsales @bellanaija.com if you will like your event to be included. Note that BN reserves the right to choose which events are featured. "Pay to attend" parties attract a fee