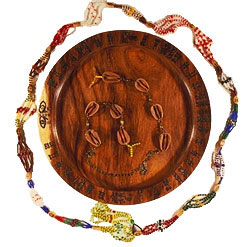 My favorite/most memorable times in Unilag were my Jurisprudence classes taught by the best professor of Law in Nigeria, Akin Oyebode. In one of those classes we talked about why witnesses on the stand sometimes commit perjury. He asked us to consider the fact that lying on the stand might be caused by the fact that people had to swear on the Bible or the Qur'an and then he asked us if we thought people would lie at all if they were made to swear with a metal object, calling upon Ogun, the god of iron to bear witness to the testimony. It was a unified response… NO! There would be NO perjury. "Our people are more afraid of traditional gods than the God of the white man."
Somehow, a large class of over 200 lawyers-in-training agreed that the "fear of Ogun" was more effective than we could have imagined. It made me wonder about this generation and our views about these things. I mean we're all very retro/glam and upwardly mobile that the idea of 'traditional beliefs' will surely NOT be entertained openly. However, it's interesting to note that we find some of these cultural beliefs sipping into little facets of our lives. Now, before the theologians take me apart I'd like to give some examples.
A friend of mine had been dating this guy for about five years. They'd quarrel, then get back together, then quarrel again. It was exhausting and so she went home one weekend and came back with a solution. Her aunty had taken her somewhere to go and "check" if her boyfriend's "star" was in sync with hers to know if waiting around and enduring all the stress was actually worth it.  Apparently their destinies were not in sync so it was easier to make the decision to break up with him. I was shocked; were we in a Yollywood movie scene? Check what? What is a "star"? Young city-based babes checking for their destiny?
I've heard someone say that if a health problem was bigger than modern medicine, it was always best to go back HOME.  In 2010, we lost a friend to necrotizing fasciitis. It wasn't detected early and by the time the doctors figured it out, her left thigh was gone. Family members advised her husband to take her to the village for further consultation. He was initially resistant because he said he would never succumb to such backward practices. But, her mother waded in convinced that there was more that could be done for her and she was taken to the village.  She died and we'd never know if the village healers would have been successful if she had been taken there earlier.
We've heard stories of women who have consulted the divinities in search of the fruit of the womb; of babes who have been given 'powder' to make them more comely to the menfolk and  little stickers advertising penile enlargement brought by traditional priests.
Is it therefore correct to say that deeply rooted in us, as Africans/Nigerians is a core belief of our cultural heritage? Do you believe that there's absolutely NO place for "consultation" in this day and age? or do you believe that people who don't "consult" are not doing it because they've not been faced with particularly challenging moments? Do you believe that the advent of foreign dogmas has left absolutely no room for old-age norms, beliefs, and practices?
 Photo credit: nok-benin.co.uk