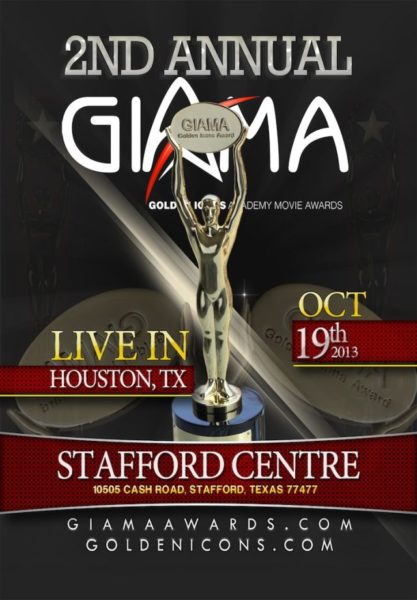 After a successful grand maiden edition in 2012, the 2nd edition of the Golden Icons Academy Movie Awards (GIAMA) will take place on Saturday 19th October 2013 at the Stafford Centre, Houston, Texas, USA.
Just before the announcement of the nominees and the awards ceremony, the GIAMA team is calling for movie submissions from film makers and producers in the African film industry.
Please Note
Only African movies that were produced or released/ not yet released between July 2012 and June 2013 will be considered for the 2013 GIAMA nomination entry.
All entries will be considered upon delivery to the GIAMA representative in a form of DVD or any format that is easily viewed. The official entry forms, accompanied with a cast and credits list, a brief English language synopsis of the film, a biography and photograph of the nominee, must be received by the GIAMA reps in your country not later than Friday 28th June 2013. Other fact sheets may also be sent to further document the submission.
All submitted movies through the respective reps would be shipped for award consideration to arrive at the GIAMA head office (USA) no later than Tuesday 2nd July 2013. The version submitted for GIAMA consideration must be identical in form with the final version in general release. Prints submitted will be retained by the GIAMA throughout the voting process and the nominees would be notified.
Submission forms can be downloaded from the GIAMA website – www.GIAMAAwards.com or you can the representatives;
Nigeria – Call Bola Aduwo of Nollywood Access – 08131042710
Ghana – Call Next Media Concept – 0544708525 | 0261328443
USA – Call Bukky Ebun of Nollywood View – 8622373486
Deadline for Submission: Monday 8th July 2013
Watch highlights of the 2012 edition
Check out all the black carpet glamour

_________________________________________________________________________________________
BellaNaija.com is an official media sponsor of the 2013 Golden Icons Movie Academy Awards