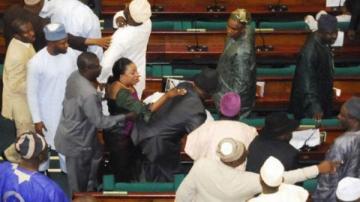 In the past few days, social media has been buzzing with the talk of the video of the show of shame at the Rivers State House of Assembly. I watched the video here at the office and I was sad. I mean, I've watched videos showing our legislators hurling chairs at each other and I've been quite embarrassed by it. I have always wondered if these people realized that they were not just Nigerian law makers but they were parents and uncles to some people.
What made the Rivers debacle particularly mortifying for me was the point when one of the legislators actively sought out the mace and slammed it bang on the victim's head. He just kept going. *slam* *slam* *slam*. The victim ran and somewhere in the frame was a uniformed law enforcement officer who joined and started kicking. I cringed and gasped through out the video.
It was truly embarrassing but it made me think about Nigerians as a people. Do we elect these people as our representatives because they're a true representation of who we are? Thus if they're wild and violent it means they're a reflection of our wild and violent nature? For instance, you're in traffic and someone cuts you off and your first instinct is to rush and have a face off with him; perhaps yank off his side mirror. "How dare he cut you off in traffic?"
Violence is so latent that it is very easy to miss it. If you don't look closely you might think it's only a set of people that have that violent streak. The question is if Legislators are violent, does it mean that we implicitly condone it? or why do we keep electing them into power?
Honestly, the issue of these law makers and their constant penchant for physical violence is alarming. It makes you think about the thugs that are used during election campaigns. These are Nigerians.
Watch the video here and share your thoughts. Has it become a norm? Do we address everything done wrong to us with physical aggression? Is this how other lawmakers address their in-house squabbles across Africa? Or is it that ours is just publicized? How do we expect these people to stand up against domestic violence if one law maker thinks it is okay to brutally assault another law maker with the mace? Will there be any sanctions for this act of violence? How can we expect justice to come for ALL the extra judicial killings we've had in this country if this happens in the State legislature!
I'm truly mortified with shock.
Let's discuss

Photo Credit: Nigeriandailynews.com