23rd of September 2008. 9 am. I was in theatre assisting the caesarean section delivery of a patient at the National Hospital in Abuja when I heard the news. I always thought it paradoxical that I was helping to bring forth a life just at about the same time the life of the one who brought me forth was slipping away. The consultant informed me that I had a visitor and instructed me to scrub out. As I walked out of theatre into the hallway, still wearing my surgical mask I saw my Aunt. She didn't have to say a word; I saw it in her eyes. My father had passed on.
Yinka Craig was a talker.
As far back as I can remember, people always seemed to want to hear him speak. And so whether it was his jocular football or boxing commentary, his humorous insights on "Newsline' and AM Express' or his hard-line style of interview on Presidential media chats, Yinka Craig was the quintessential broadcaster.
I remember my siblings and I would huddle in front of our old Panasonic television on Sunday nights (the only time we were allowed to overstay our bed time) and watch him and Patrick Oke anchor Newsline. At that time, Newsline was a cultural adventure into the wonderfully diverse country that is Nigeria. He and his team would travel the length and breadth of the states to unearth fascinating stories of bravery and friendship and courage that inspired millions of families scattered across the nation. It didn't matter who you were or where you were from; at 9 o'clock on Sundays you sat by your telly, or your neighbours' telly and watched Yinka on Newsline!
I remember his coverage of the Argungu fishing festival in the late 80's and how my adolescent eyes watched in fascination as literally hundreds of thousands of barely clothed men rushed into the muddy waters of the river to catch enormous fish with their bare hands. He was right there in the water too, trousers rolled up, microphone in hand, gesticulating in the direction of the action and running a commentary that painted vivid pictures of what transpired beneath those murky waters, giving a front seat view of one of Nigeria's most spectacular events.
Such were the power of my father's words.
Those who knew him spoke of him glowingly and one of the terms frequently used to describe him was 'encyclopedic'. He read wide and had an insatiable hunger to know more, do more, and be more! He had his hands in many pies as well and somehow excelled at all. To name a few, he was an avid Aviator and had his own personal flight simulator, he was fascinated by Astronomy and knew as much about galaxies and constellations as an average college professor and he was also a prolific Musician and played the Piano, Guitar, Violin, Clarinet and Saxophone. It still puzzles me how one person could know so much detail about so many things. Nothing seemed beyond his grasp.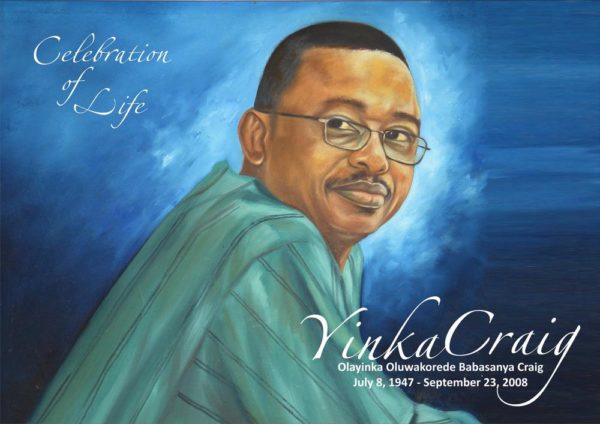 Despite his very public persona however, Yinka was actually a very private person. As much as he loved to work an audience, he also enjoyed the closeness of small gatherings with friends and family and was known to entertain his guests with rambunctious jokes and impromptu guitar renditions. He was a loving father and a devoted husband and others have described him as a true friend, a supportive boss, a generous benefactor, and a detribalized Nigerian.
Yinka Craig was indeed a remarkable man.
Today, five years later, I remember a colossus who in my mind stands shoulder to shoulder with other screen legends as David Frost, David Attenborough and Larry King; I remember a man whose charisma, kindness, generosity, simplicity and intelligence were of great renown; I remember a broadcaster whose novel ideas created some of the best television our country has ever seen. Today I remember my father.
On behalf of my family, I would like to ask that you please join us as we remember Yinka Craig and look back at his life and his over thirty five years of broadcast excellence. How do you remember him? What were your favourite shows?
Do you remember any iconic moments from NTA Sports, Newsline, Morning Ride, Daybreak, AM Express, or the Presidential media chats? Do you have any pictures or videos to share? Please leave your comments and thoughts on the Yinka Craig facebook page or tweet at us with the hash tag #YinkaCraig.
Thank you very much for your support and God bless you
_______________________________________________________________________________
David Olamide Craig is a Physician, Pastor, Photographer, Poet and Playwright. He graduated Bachelor of Medicine and Bachelor of Surgery from the University of Ibadan and holds a Masters in Occupational Health from the Institute of Occupational and Environmental Medicine, University of Birmingham. He is passionate about healthy living and sustainable energy. When he is not seeing patients, Dr. Craig spends his time stretched out on his favourite couch, reading books, magazines, and blogs. Catch him on www.ijgb.com.ng and follow him on Twitter @RevDrCraig