Patricia is not my daughter nor my sister. Patricia was my mother. My biological mother. The very woman that nurtured me from the cradle. My self-effacing mother. The wife of my father.
My mother was born into a large monogamous family. She had about nine siblings (dead and alive). She had seven of us – with me as the sixth but the last girl. My mother and I shared striking resemblances. It was easy for people who knew her to know that I am her child. I inherited her height boldness, gait, beauty and the never-give-up-until-success-is-achieved attitude to life. These endeared me to her. I was her favourite; though, she had four favourite children.
The mother I knew was a go-getter. She was a jack of all trades and master of all. In the early 80s my mother sold garri. She went to Teachers' Training Institute. She didn't want the Teachers reward in heaven, so she left teaching for business. She attended a catering school to learn to cook and bake all sorts of food. She would bake wedding and birthday cakes for friends and families. She had a restaurant, from there, she delved into poultry business. There was nothing she didn't want to try. She preferred her own money. She would tell me, " it is only your own money that you don't need to beg for. Even if somebody owed you, you have the right to harass the person to pay up, but if you keep depending on people to foot your bills, what happens when they can't do that anymore?"
She was a go-getter but she was a keeper too. She gave us what we needed and not what we wanted. The only times we had what we wanted was in food, not in other areas of life. She didn't believe in wasting money. It was that spirit that made her utilize the extra acre of land we had vacant for farming. She planted her own vegetables. She taught my siblings and I how to farm. We had a healthy competition of whose crop will grow better and finer. Nnenna, my elder sister once planted Pawpaw which grew in height but not in fruits. Not one single fruit on it after its natural time to produce fruits. Our gardener told my mother to cut down the tree that it was useless and occupying space. My mother refused. She believed that the tree would yield fruits someday. Severally, she was tempted to cut down the tree but she kept faith and two years after, I called her attention to the tree. It had finally yielded fruit. When Nnenna came back from school, my mother gave her the honour of plucking the fruit. That was the sweetest Pawpaw I ate in my life. It was then that my mother told us that not all hopeless situations are hopeless. She taught us that with love, patience and kind words,human beings just like that Pawpaw tree, would yield their good fruits. We learnt not to be quick to judge or conclude a matter.
Patricia loved her children. She loved joking with us. Whenever I called her Patricia, she would laugh and say "nwatakiri a, o nne gi ka ina akpo aha ya" (this girl, is it your mother that you call by her name?). I would tell her that Oyibo people call their parents by their names. It usually ended in a comic relief. I noticed that my mother loved me in a unique way. She said I brought her good luck. She would tell me that she would bake my wedding cake and come to live with me when I marry and I am seven months pregnant. She said the joy would not allow her to wait till I deliver. My mother would never kill me in a game of Ludo. When playing with her, I would say, "Mum, if you played this way, you would have killed me and won". She would reply, "mbanu, how would I kill my baby?" I would sigh and tell her she was not a challenge and she made the game boring. She would beg me and we would continue with the same mentality of hers. I always won. It made her happy.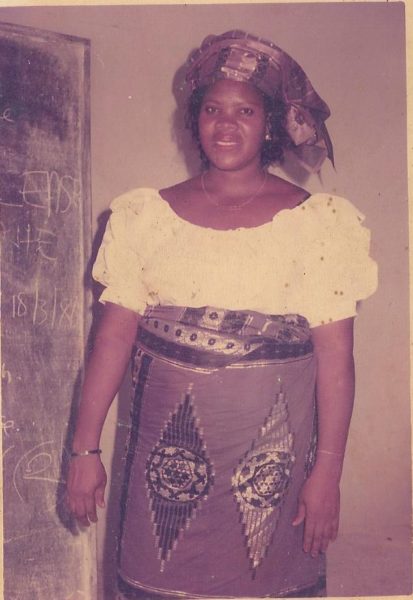 Fastforward to year 2005, my mother, the amazon of my life and the matriarch of the family was struck down by an unknown ailment. We battled to save her life. I was an undergraduate with no source of income. I could not contribute financially. Pastors prayed, doctors worked, traditional medicine men came too and none could bring restoration. We fasted and waited on the Lord, nothing. We diversified. Each sibling went to a different church, to pull their strong men of faith to heal Patricia, nothing. We converged and went to a particular man of God to join faith with us, nothing. Healing was in percentages but never a 100%. It keeps tilting and she was suffering.
In all these trials, she kept holding on and fighting for her life. She was bedridden when four of my siblings went for their National Youth Service Corps. When they came back, she would select each of their pictures that she preferred and gave to a photographer to make in a frame. She kept the pictures in frames by her side. When visitors came, she would say, "my daughter( or son) is now a graduate. Rejoice with me". When it got to my turn, her condition was worse. She was not only bedridden but also blind and she could not even recognize my voice. She told me she could not remember having me as a child. I wept profusely. My picture was never going to be in a frame. How could she not remember her Geraldine, her Ludo co-player.
My mum passed away on 18th August, 2009. I was still single. Who would nurture me during pregnancy? I still remember her and all the good times we shared together. I don't remember my mother teaching me how to read and write but she taught me a lot of things that have helped me to become the woman I am. No academic teacher could equal that.
I miss you mum. Keep resting in peace and if there be a reincarnation, please come back as my daughter.