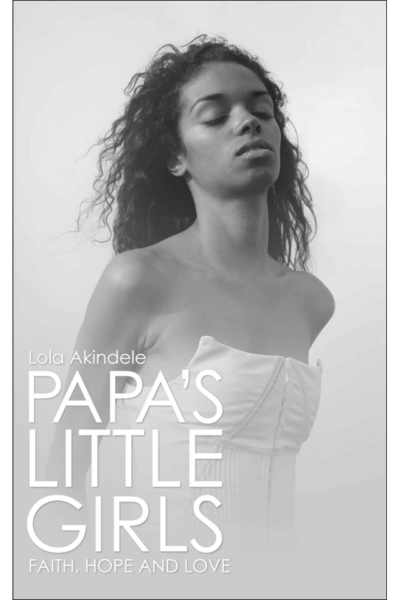 Rhea's stilettos clicked noisily like distressed night crickets as she ran out of the church hall, and down the cold cobbled pavement. Her heavily rouged cheeks were streaked with mascara stained tears, and her short black curls had been plucked out of her hairpin's clutches by the sharp December wind. The moving shadows of her slim frame, cast by the dim street lights, danced against the walls like smoky silhouettes as she hurried away in her six inches with such dexterity: Her heels still intact – her soul in pieces.
At thirty years old, Rhea felt like such a fool to have fallen for his shit… again! She hadn't seen HIM for a good while – about seven months maybe. And during that time apart, she had been fine. Her spirit was free…her life was good…her prayers were strong. But, the problem lay in the fact that sometimes she thought she actually missed HIM. Not all the time – just on certain nights – in those moments when she would come in from a night out with the girls and their boyfriends/fiancés/husbands. She would slip off her clothes and slide into bed alone, tracing the contours of her body with her hand, wishing it was HIS touch on her skin. Her lids would close and she'd wish for her soul to unlock the doors of desire – to open up to HIM again. She would wish that she could once again arouse HIS presence and discern the shadowy outline of HIS form, standing there in the blackness of her room – etching closer and closer, ever so slowly, without even having to move at all…reaching her bed and taking control…holding her mind with HIS powerful gaze, rendering her motionless, speechless… possessed. And afraid! It was the fear.
Being reminded of the fear would cause Rhea to instantly snap out of it and remember the anxiety and the trepidation that eventually escorted her demonic guest on HIS nightly visitations. Tonight, after seven months of abstaining from HIS nocturnal rendezvous – Rhea realised with great horror: HE was back.
Suddenly seeing her first love again, had rendered her will to fight his spirit off, feckless. He had turned up (uninvited) at the Church Christmas dinner. Rhea took in every inch of him. He was the taboo subject of her life – and understandably so – she had been lovesick for him for twelve years. It had been almost six years since she'd last lain eyes on him – the real him. He had to be around thirty-seven now and despite a few fine lines above his brows, he still looked more or less the same: Chocolate drop coloured eyes, hair cut low – dancing with glistening black waves. And a smooth goatee to perfectly frame his confident mouth.
He had ensnared her back when she was eighteen, at a youth concert organised by the new church she had begun attending with her mother. He was the youth pastor there. Being six or so years younger than him, Rhea had been transfixed. He had her hooked on his maturity, charm and Jesus Talk. Then he reeled her in with such a simple yet powerful concept: He wanted her.
He was the first to notice that this fatherless, skinny brown bundle of alluring insecurities, armed against the world with bright red lipstick, a luminous green coloured mini skirt and her first proper pair of 5 inch sling backs, was yearning for something other than her furtive burden of solitude, to deplete her.
For him, this made her easy enough to conquer.
For her, this made him The One.
From the moment he first whispered in her ear with his sexy breath, laced with the faintest hint of tobacco and peppermint gum, she had been infatuated by his almost spiritual-like power to draw her soul in. What she hadn't expected was for that same spiritual- like power to then spit her soul back out like poisonous black pips – leaving her split, ripped and dripping with disgrace. He was a cheat. A freaking wolf in sheep's clothing! Rhea would watch him with eyes that shed tears of both hatred, and longing as he used his wiles on every new girl who joined the church youth group. Being the youth pastor gave him power.
When a new girl joined, he would whip out his Bible and offer his special one to one sessions – going over the scriptures with her; finding out what she felt about Christianity; if she really believed in Christ; what she liked to do for fun; what music she liked; if she was aware of her beauty; if she was aware that the guys in church were aware of her beauty; if she had ever touched a guy's penis before; and (once he had finally gained her trust) if she would like to touch his. Yet, despite the cheating, the manipulating, the open deceit, Rhea still needed him. He was her first – she didn't want to let him go.
His expulsion from the church had almost destroyed her. Banned from having any form of physical contact with him, had evoked the birth of HIM. And she loved it! For twelve years, without fail, she rushed to her bed to meet HIM. Every night, she dressed up in her finest lingerie for HIM. She dismissed the affections of interested suitors for HIM. She relished the moments of ecstatic delirium that enshrouded her body as she lay there, each night and waited for HIS presence to incarnate by her side – or on top of her.
But when HE slowly started to take hold, progressively chafing at her soul, blemishing her prayers and molesting her spirit, Rhea had vowed to annul her union with the umbra of her first love. And for the past seven months, (with fervent prayer) she had prevailed with eminence.
Having bumped into him at the dinner, Rhea knew it was inevitable that HE would turn up tonight. A spear of terror took aim and pierced through her faith – disseminating her confederates of Love and Hope that had voyaged with her since The Annulment. What was he doing here? Why hadn't the senior pastor chucked him out? (Fine. It's not what Jesus would have done) – but who the heck had even invited him? Rhea's mind was replete with questions. In her frustration, she reached for her purse and made to leave. He stepped in front of her, blocking her path. Rhea's heart was in her mouth. He stood there in silence, just staring at her, taking in her black curly hair, her rouged cheeks, the fullness of her lined lips, and her body! In that dress! It ticked all the right boxes! Bandage. Black. Below the knee. Beautiful. He saw her tremble as he leaned in to whisper into her ear. He still had that same sexy breath, laced with tobacco but no longer masked with a hint of peppermint gum. She had stopped breathing now – waiting to feel his touch – his stubbled chin was almost buried in her neck – he was so close – the real him was so close and she wanted to…needed to feel him.
Till those breathy words sailed from his lips and materialised like rockets – exploding through and blasting away the compelling trance of his presence. Rhea's big brown eyes seemed to grow even bigger with shock and revulsion. He had spoken into her ear – yet the announcement he made was heard in her soul: I am HIM. Your husband of the spirit. You shall be bound to me and no other. You will never be free.
A high pitched scream, like an alarm bell, rang out from the barrels of Rhea's anatomy, startling all of her fellow church members as they basked in the festive jubilance of their annual Christmas dinner. The sound of her scream resonated in the air as she pushed past him and ran. Before anyone had time to react or to come to her aid, she had already burst out of the church hall and was running down the cold cobbled pavement – her stilettos clicking noisily like distressed night crickets.
____________________________________________________________________________________________________
Lola Akindele Busari is an avid writer, passionate about mentoring and inspiring young women. She is the director of her company, specialising in Education and is co-founder of the social enterprise PinkYellow, promoting leadership skills for young women. She is newly married and lives with her husband in Essex, UK.