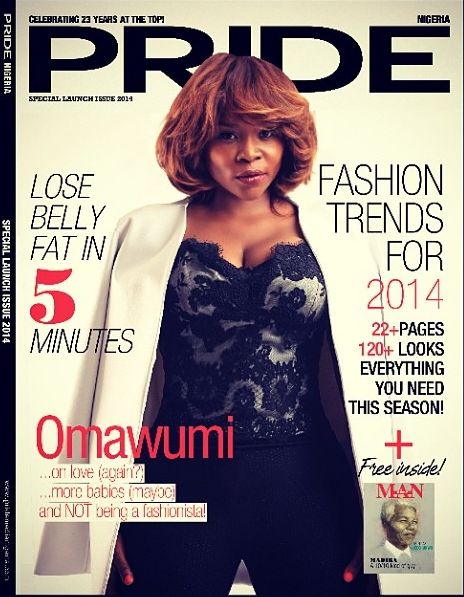 It's Omawonder!
For the debut issue of Pride Magazine Nigeria – the sister company to Pride Magazine in the UK – Afro-pop diva Omawumi looks fierce! The cover has the songstress rocking a highlighted faux fringe bob – a lot different from the afro we have come to know and love. But we aren't complaining, Loving the new look. Her fab cover also shows Omawumi wearing a sexy corset toned down with a white coat, very much a colour for Spring and black leggings. We love it!
In the issue, she talks about finding love, possibly having babies and her thoughts on being called a fashionista.
The magazine's Editor, Latasha Ngwube shared the cover page on her Instagram page earlier on today and expressed  her excitement on the first issue.
"As the Editor of this magazine, I'm sooooo ecstatic. At long last, I present to the world, the first issue of Pride Magazine Nigeria. This is a sister to the Uk Pride Magazine brand and it's first on the continent. Our cover girl @omawonder is a friend and sister who was certainly a handful to shoot but a delight to interview. The journey has been long and arduous but we are here…finally. To my team members past and present, I thank you and wish you all the very best. Look out for us on the streets, shelves and amongst your vendors' collection. #takepridewithyou #takepridedaily #pridemagazinenigeria"
We are loving Omawumi's look on the cover and can't wait to read her interview. What are your thoughts on the cover?
Photo Credit: Instagram: @latashalagos