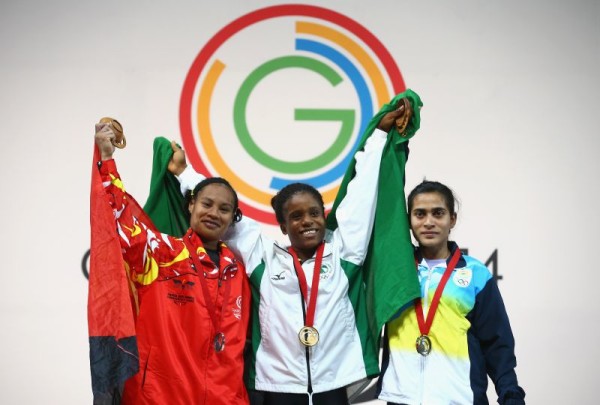 GLASGOW (NAN) ― Chika Amalaha, Nigeria's 2014 Commonwealth Games weightlifting gold medallist will have her B sample tested on Wednesday after her A sample revealed traces of banned substances.
Mike Hooper, the Chief Executive of the Commonwealth Games Federation (CGF), said on Tuesday that Amalaha tested positive for diuretics and masking agents.
Hooper said the B sample would confirm if the athlete took the banned drugs.
Meanwhile, Tunde Poopola, the Secretary-General of the Nigeria Olympics Committee (NOC), told NAN in an interview in Glasgow that the current development was surprising and regrettable.
"What can we do? We have to go through the normal process to confirm if actually she took the banned substances.
"We are going for sample B testing procedure tomorrow (Wednesday) and that will be in London.
"If the test is negative, then she will be left off the hook but if it's positive then she will face trials and a decision will be taken.
"It's very surprising that this is happening now; she is on provisional suspension right now.
"We assume we don't have for now the gold she won on Friday in the women's weightlifting 53kg class; this is our trial times,'' Poopola said.
Also, Tony Ubani, the Public Relation Officer (PRO) of NOC, who resides in the Games Village, confirmed to NAN that Amalaha was still in the camp but would lose the privilege if the B sample tested positive.    
Ubani said that apart from the gold she won which had been provisionally withheld, every other thing stands pending the outcome of tomorrow's result from London.
He also said that Amalaha would be stripped of the gold medal she won if the B sample tested positive.
NAN recalls that two Nigerian weightlifters tested positive to banned substances at the 2010 Commonwealth Games in New Delhi, India and their medals were withdrawn.
The athletes are Damola Osayemi and Folashade Abugan.
Fifteen weightlifters comprising seven females and eight males are representing Nigeria in the weightlifting events at the ongoing Commonwealth Games in Glasgow.
Photo Credit: Getty Images/Julian Finney