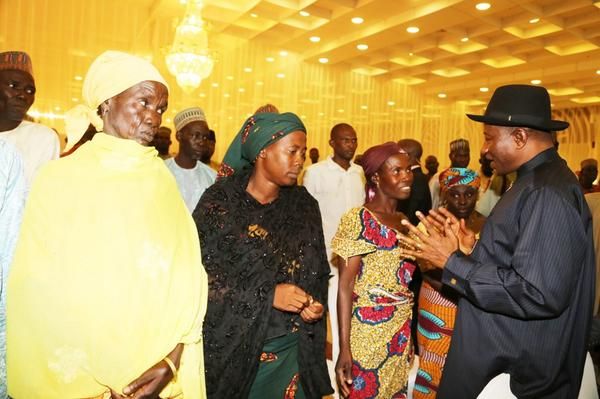 President Goodluck Ebele Jonathan today Tuesday 22nd July 2014, met with parents of the abducted school girls from the Chibok area of Borno State, by Islamist militant sect Boko Haram.
Today makes it the 99th day since they were taken captive. The meeting was held at the Presidential Villa, Abuja.
Speaking to the parents of the girls and some of the girls who escaped, he reassured them of his administration's commitment in bringing back the girls.
"Anyone who gives you the impression that we are aloof and that we are not doing what we are supposed to do to get the girls out is not being truthful.

Our commitment is not just to get the girls out, it is also to rout Boko Haram completely from Nigeria. But we are very, very mindful of the safety of the girls. We want to return them all alive to their parents. If they are killed in any rescue effort, then we have achieved nothing.

Our duty now is to take all relevant steps to recover our girls alive and our primary interest is getting them out as safely as possible. I will not want to say much, but we are doing everything humanly possible to get the girls out.

This not the time for talking much. This is the time for action. We will get to the time that we will tell stories. We will get to the time that we will celebrate and I assure you that, by God's grace, that time will come soon.

We solicit your maximum cooperation. Let us work together. Evil can never overcome good. We will surely overcome Boko Haram.
Photo Credit: Reuben Abati