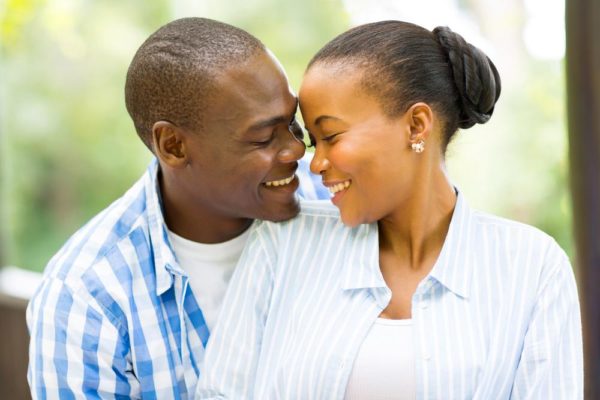 Ruth is one of my very few female friends. She is full of wisdom in scriptural matters. She can defend every verse in the Holy Bible. I am sure she knows all the names of the wives of King Solomon. She is also one of those who proffer biblical solution to every problem. 3 John 2 is as effective as Panadol in curing headaches. She is that kind of a person.
You can imagine my surprise when I was chatting with her on BBM.
Ruth: I need your advice.
Me: Okay.
Ruth: Can a lady marry someone she doesn't love but hopes to love later?
Me: I don't advise that but if we can move from hypothesis to the real identity of the lady, I can give a better and more practical piece of advice.
Ruth: A guy says he loves me and wants to marry me but I don't love him. There is nothing about him that attracts me.
Me: Haba, even 1Corinthians 13 cannot make you love him? Not even Love Thy Neighbor as Thyself?
Ruth: I am thirty-two. I am tired of waiting for Mr Right that has refused to show up. This guy I am talking about is a good Christian but that's all I like about him. Anyway, I know that God's ways are not man's ways. Sometimes, God gives us who we need and not who we want.
Me: Next time, tell this guy to move from your left to your right and you will find out that he can actually be Mr Right.
We talked and analyzed the reasons why she did not love the guy and the possible remedies. The guy was very light-skinned. If she wanted a light-skinned man, she would prefer a Caucasian. I suggested Shea butter cream and 3 hours sun tanning daily. The intensity of the sun had to be as high as that of Dubai in June or that of Maiduguri. The guy was about 5 feet 4 inches tall. I suggested she met Denrele. If he couldn't spare his high heel shoes, he could at least part with his shoe maker's phone number. The guy had a deep baritone. Just what the devil needs! You can't cast out demons with babble. She didn't love his hometown. You may visit there during Christmas only. It's not as if you will be resident there. Can a New Yorker say s/he wouldn't marry someone from Alaska?
My discussion with Ruth encompassed a comment on my earlier post on My Encounters with Love. The comment was from Iyke. He felt that love was overrated and instead of waiting to fall in love with the person of your dream, one could actually marry a responsible person whom one had no feelings for but who would be a good co-parent to one's kids.
My elder sister wanted to marry before her younger ones. The love of her life was not thinking in that direction, so she decided to marry Mr I-am-ready-to-marry-you-now. To me, the man loves her. How many men go to the market to buy foodstuff and cook same for their wives? My In-law does. The guy washes her under garments too. He would personally sort her dirty clothes for washing. It was not the case of her shirts mistakenly flying into his laundry basket. Unfortunately, the guy does not even get an endearing name from my sister. She calls him his name. R-U-F-U-S. Not even Ruffy! That would sound like the name of a dog but you get my drift. Every pardonable "sin" from him is annoying to her. The guy has his faults too but she has not been able to manage him properly. If you are married to someone you don't love, why make it so obvious? The good thing is that Dede Rufus knew there was no love from his wife initially but they both hoped that Cupid would shoot his tiny arrow soon.
Peace, my colleague, is married to the love of her life. She always tells the story of their love with relish. Unfortunately, marital peace has eluded her. She married a man who loves her but loves others too. Her husband provides everything for her and as such expects her to overlook just one fault of his- Infidelity. On the other hand, she wants nothing but for the love of her life to be faithful to her. She doesn't want Ferrari. She doesn't want Designers. She wants his 100% faithfulness. The only time she doesn't whine is the morning after her husband makes hot passionate love to her.
Aham is a comfortable guy I know who is in love with a married woman whom he met when she was single. The lady didn't want to marry him then because he was not ready. Now he is ready, and he is persuading the lady to divorce her husband so that they can marry each other. The lady has moved on from such theatrics but Aham has refused to move on. He still believes in "What will be will be". I hope what will be is not a bullet to his chest.
Diepiriye is my brother in the Lord. He married a wife he had no feelings for. She too had no feelings for him. They were introduced to each other as a responsible Christian by a mutual friend. They have been married for fifteen years. They live in peace and they hardly discuss each other with friends. Two weeks ago, he told me that he met the woman whom he would have married and immediately she touched his shoulder, virtue went out of him. There was a kick downstairs. I asked him why he didn't marry the lady then, he said her parents didn't accept his tribe for their daughter. I asked why he didn't fight for the girl, he told me that when a man was ready for marriage, he was ready and if the desirable was not available, the available became desirable.
My dear Nancy had to wait for three years to get her father's blessing to marry a man she loved. She insisted it had to be Iniabasi for her to be truly happy in marriage. The father finally succumbed. They got married on their eleventh anniversary of dating each other. I told her that she deserved a long service award.
I think that marriage should be based on love and physical attractions first before other factors are considered.  I won't marry a person I don't love at present. I don't have the prophetic anointing to know what will happen in the future. His touch will absolutely irritate me! I can't afford to kiss a man I have no chemistry with. I wonder how actresses do that. I must love you and be physically attracted to you before considering marriage with you. When you are away, I should miss what you do to me more than what you do for me.
Is it worth it to be married to a person you didn't love but hope to love later? Is it fair on that person? Are you comfortable knowing that your partner is a good parent but not a good spouse? If your partner is a good parent and a good spouse but you just don't love the person, what are you waiting for? Would family pressure, peer pressure and personal pressure push you to marry the available but not the desirable? Is marriage such an achievement that you need to compromise your personal happiness just to be married? If the person you wish to be married to is not ready, would you wait or would you marry who is ready? If you would wait,how long?
Photo Credit: Dreamstime | Michael Zhang