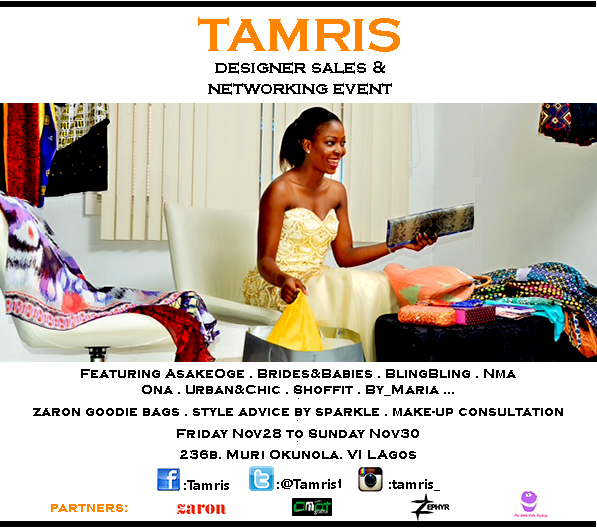 TAMRIS, a Nigerian and New York based African fashion outlet is hosting its first annual sales event, featuring a host of designers including AsakeOge, Brides&Babies, BlingBling, Ona, Nma, By_Maria, Shoffit, Urban&Chic and more.
There is something for everyone – male & female, young & old, kids & adults: From simple day wears, to corporate outfits, to party outfits, to bridal wear, bedazzled clutch purses and shoes.
For bespoke orders, come with your fabrics. If you don't have your fabrics with you, they can still customize some designs for you.  They will style you and tailor to your specification.
There will be complimentary styling and make-up consultation, complimentary Zaron goodie bags, complimentary professional photos in TAMRIS outfits, drinks, snacks and lots more!
RSVP with them for complimentary gifts by texting 'IWA' to 08091166199.
Limited after-event sales continue till the end of the year.
To qualify for their end-of-year raffle draw, Like them on Facebook and follow them on Instagram: @Tamris_ and Twitter @Tamris1
For easy and thoughtful gift ideas, get their discounted gift vouchers for friends and family this season.
Date: Friday 28th November – Sunday 30th November 2014
Time: 10AM – 6PM
Venue: 236B Muri Okunola Street VI, Lagos
Contact: Please call 08091166199 or 013427487 | Visit their website: http://ecommerce.vericliff.com/tamris/ | Find them on Facebook: www.facebook.com/TAMRIS | Follow them on Twitter: @Tamris1 | Follow them on Instagram: @Tamris_
___________________________________________
Sponsored Content