World Diabetes Day is on the 14th of November and to create more awareness for the cause, a few food bloggers have come together to share some healthy and delicious recipes and BellaNaija Living will be following the #WorldDiabetesDayNG awareness movement. The bloggers also announced that there will be a fun video published on World Diabetes Day, so we're also looking out for that too! Here's a bit of what Atim of Afrolems told us at BN Living;
The idea is to share recipes of food and drinks and some personal stories in between. The participating bloggers are below; Afrolems, 9jaFoodie, Dubai fit foodie, 1QFoodPlatter, My Green Apron, Sisi Yemmie, Kitchen Butterfly, Dobby's Signature, Mummy's Yum, Heels in the Kitchen, Nigerian Lazy Chef, Samantha's Bistro and Freesia Cookery. Follow the movement with #WorldDiabetesDayNG on social media and her on BellaNaija Living.
Beans Porridge by Dobbyssignature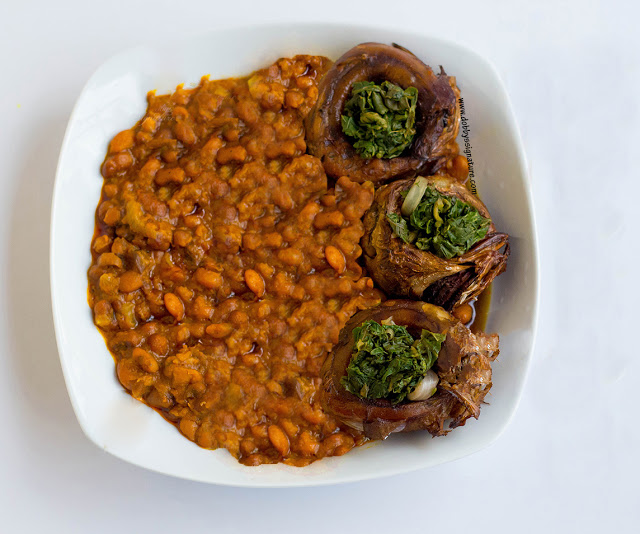 Ingredients
2 cups brown/white Beans
1 medium sized Onion
1 red scotch bonnet Pepper "Ata rodo"
1 seasoning cube
1 Cooking spoon palmoil
2 tbsp. Crayfish
Salt to taste
Directions
Separate the beans from the chaff, rinse and place in a pot. Add the enough water just enough to cover the beans in the pot and add the chopped onion and pepper. Do not add salt at this stage. This is because salt tends to harden the beans even more.
Cook on medium heat till tender while adding water once in a while when you notice it drying up. It's always best to keep the water on the same level as the beans while cooking till it gets soft.
Once the beans is soft, add the Palm oil, Seasoning cube, Salt, Crayfish. Leave to cook further for about 10-15 minutes.
At this point, stir with a wooden spoon. Leave to simmer on low heat for 5 minutes more before turning off the burner.
Serve with steamed fish garnished with leafy vegetables (I've got steamed ugu in the picture). Click here for more
Red Kidney Beans Stir-fry by Freesia Cookery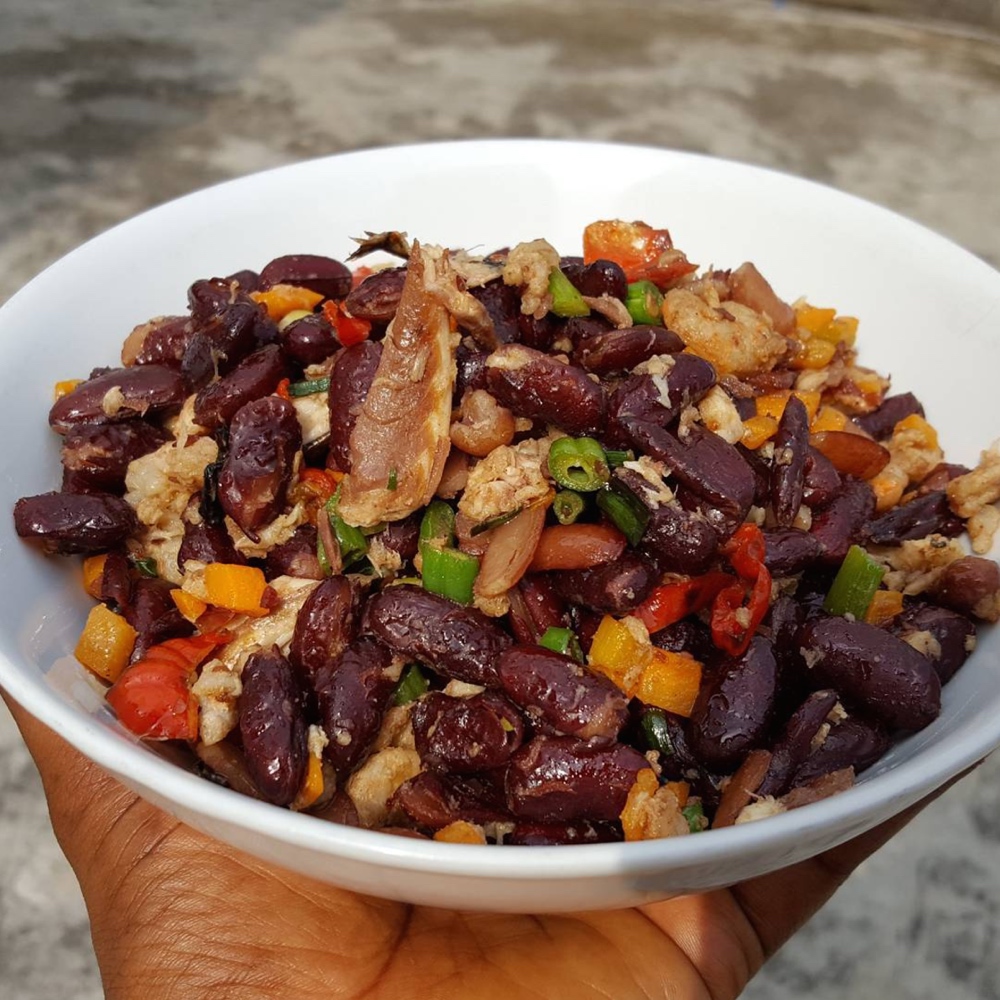 Ingredients
Red kidney beans
Olive oil
Grilled mackerel
Spring onions
Onions
Ginger
Garlic
Carrots
Scotch bonnets
Green peas
Shrimps
Black pepper
Cayenne pepper
Salt and seasoning of choice
Directions
Soak beans in water hours before cooking (its tough so would save you less time on the cooker (sometimes I do this overnight).
Then cook 2 cups in water, sliced onions and teaspoon salt for an hour
wash and dice up veggies, garlic, onions and ginger.
add a drizzle of olive oil in a pan and toss in diced ingredients.
Stir for 2-3mins and add cooked kidney beans. Continue stirring for another 5mins and add clean handful of shrimps,salt and seasoning of choice. Let it simmer for a minute or two and toss in grilled/smoked mackerel pieces.
Give it another 2mins with black and cayenne pepper added and you have a very delicious meal.
Suitable for breakfast, lunch or dinner and packed with nutrients. Especially to kick up immune system against Diabetes.
Poached Croaker Fish by Chef Dumebi Agbakoba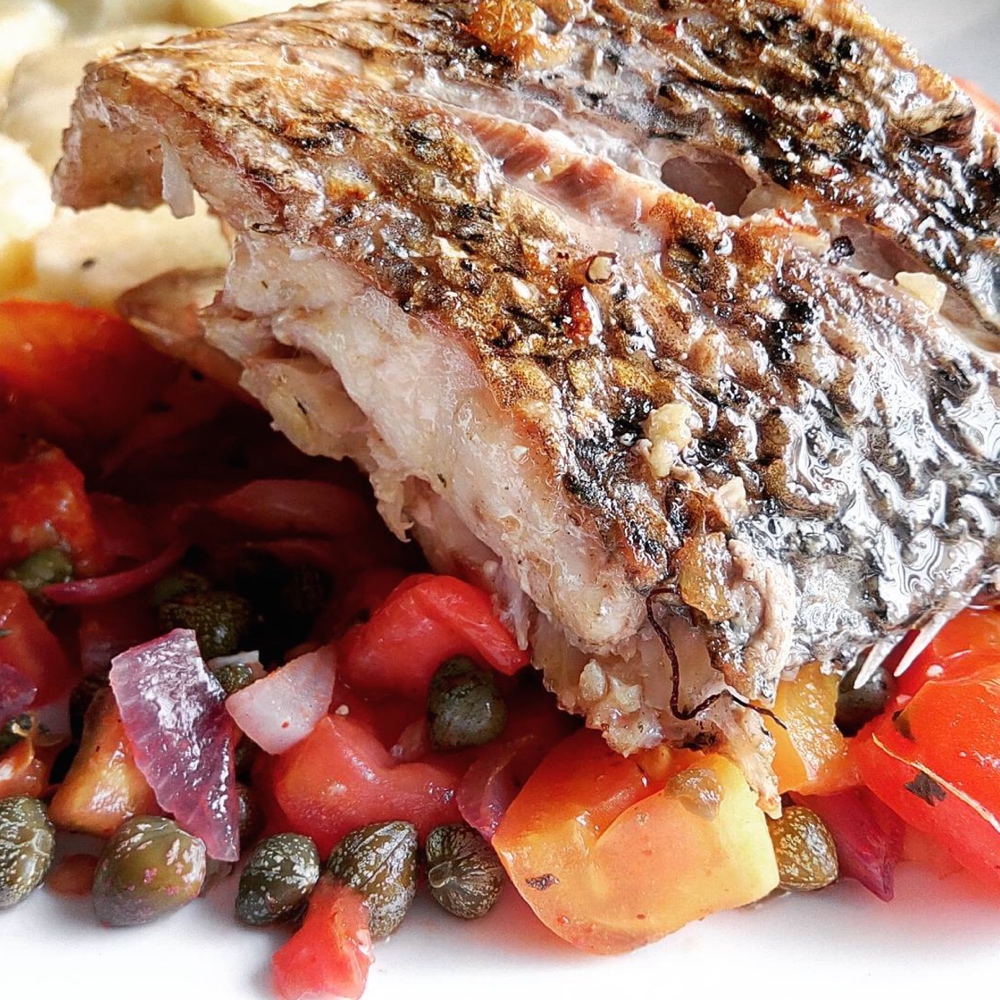 Poached croaker fish, steamed sweet potatoes with a tomato caper base for #WorldDiabetesDayNG. After having gestational diabetes with my first child, I definitely had to contribute a recipe for World Diabetes Day. Click here for more.
Check back tomorrow as we follow the #WorldDiabetesDayNG movement with more delicious but healthy recipes for you to try out.