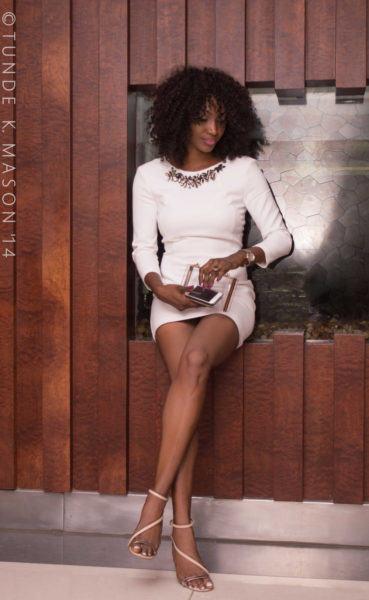 Ehen, my people! I heard this gist o, over the weekend.
The gist was told of a little boy of six who was the son of a millionaire (wait, scratch that, billionaire… because millionaire is Naira is nothing so extraordinary these days).
Okay, so this billionaire's son was to be picked up from school, and the driver had turned up in the family's Toyota Camry to pick up Nna Pikin. Only for the little one to look with disdain at the car the driver rolled up to his school in, and then he told his father's driver that he would not be riding home in that car. He said in his baby voice please-please-what-is-this? Goan-bring-the-jeep-no-way-am-I-riding-in-that!
MY PEOPLE! IF YOU WERE THE PARENT OF THAT CHILD, WHAT WOULD YOU DO?!
Wait first, before you answer that, let me tell you what the father did after the driver called him to report the issue to him. The father said, "Oh, that's alright. You come home immediately and get the Porsche Cayenne for him to ride in…"
And that was how the story went o! The driver went home to get Nna Pikin the car he requested for.
Dear future son, I double dare you. In fact, I triple dare you to please please pleaseeeeeeee try that with me. Please now. Just do it once. Kpere! You will know that your mother is a Delta woman. Hian! In fact, that is the day you will know that ogogoro and champagne dem no be mate.
Whatttttt! If I hear.
This is what I would do to you. First of all, I will tell the driver to just park the Camry there in front of your koro-koro eye. Then I will tell him that I will tip him heavily to just sit down there with you.. for however long it takes. He will sit there just staring at you. One, two, three hours… you will stand outside that your school oooooooooooooooooooooooo… You will watch all your friends go home. But you, you will stand. When those your small baby legs are tired of standing, you will sit down on the floor. After the fifth hour, when hunger don mama that your head well-well. You will beg to go home in that Camry. And then when you come home, if you throw that oyinbo pikin tantrum a.k.a I-hate-you-mommy-amma-call-daddy-to-report! Walahi, I will give you transport fare to go and report.
Ahan! Iwa rada rada. Ki lo ko si e ni sokoto, k'o ma wu'wa awon omo ti'o l'eko. Oma ga o! (Ahan! Useless behaviour. What entered your trousers that would make you act like a child without home training? Na wa o!)
Anyways, that's for me sha.
Just last week I had to go buy something from a supermarket. As usual, it was characteristically packed at the checkout counter- and as a civilized people, the customers decided to queue up. We were all minding our businesses when we heard a child's voice behind me yell…
"Get out of MY way, I want to pass!" He stomped his little feet at me.
Saywhatnow?!
My dragon-eyes awoke instanta from hibernation and fired ten billion dangerous watts of who-is-your-mate-here-little-one?!
The lollipop he was holding fell out of his fingers as he looked to the floor, shuffled his feet and twiddled his thumb. That's  better.
All I had for his mother was my steadiest, blankest gaze that said, Really?!
She too averted her gaze and rubbed her son's shoulder in solidarity.
I love kids, I really do. What irks me slightly like are badly behaved kids. Apparently some believe that in our generation as parents, anything goes as long as you are considered "cool", and "hip".
Hmmmmnmnnnnn. 
To each their own, but my first commitment to God and my kids is to create, train and help sustain a younger generation that is better and stronger than mine ever was. It is not an easy job always, but it is for their own good.
Three things I don't get.
One: Young kids who are old enough to talk and know better who don't greet adults, especially their parents' friends. They come with their parents to come see you and then they just stare at you like you are an Egyptian statue. And the parents would just continue the conversation with you without calling the child to order, as if having respect for your elders is an out-dated cultural value that their kids need not possess.
Two: Kids disrespecting and talking down at their parents in public and the parents trying to be "cool" with it. Hmnnnn. Na wa o. I don't support flogging kids sha, but one a severe ten-second long ear twist never killed anyone. (Okay maybe fifteen seconds).
Three: Kids who are clearly over-weight. This is an injustice to the child. Except the child has a severe medical condition that affects his metabolism and retains fat and water, it is unfair to feed a child so much junk that the child becomes visibly unhealthy and overweight.
A little rain, sun, sand and water could go a long way in a child's health and overall well-being… just a little. Football, basket-ball, volley-ball, ten-ten, suwe, running, skipping, gardening. These were the games we played in our generation. It didn't kill us.
Nowadays, most parents just download all kinds of games on their iPads and give to the child to play with. Oh-my-gosh-my-child-is-so-smart!
That was how I heard of a Nigerian teenager who thought Owerri was in the North of Nigeria. It was funny and I laughed, but seriously. What are some of these ridiculously expensive schools teaching our kids? Hashtag #CoolKidsClub, but ya pikin no sabi anything about e people. Okay o.
But then, how can you blame a child? Where does the fault lie? What is the line between providing for your kids and spoiling them?
Perhaps you have an unruly child, he wasn't always like that but turned on you suddenly to your horror. Where do you think you went wrong? What have you done to fix it? Still struggling? Please share and let us brainstorm.
Perhaps you once had an unruly child but you have managed to successfully re-orient him to act better. How did you do it? Please share that others might learn from your success story.
And lastly, if Nna Pikin was your son, what would you do to his snobbery of the Camry?