There was a notorious robber who tormented Ogbomosho residents in the 90s. Salimonu was known and feared by all – residents, royalty and law enforcement officers. It was really bad. The area where his house was located, was reported to be very safe because none of the small time thieves operated in that area. Salimonu and his gang terrorized everybody for years; then one day, (according to the gist) armed with powerful Juju, that Ogbomosho people are reportedly known for a group of vigilantes went into his lair and killed the people who were unable to escape from the ambush. According to the report, Salimonu was too fat to run out of the window, so he was struck down. The people were tired of being terrorized.
Everyday is for the thief, and one day is for the owner.
This is reminiscent of what happened to the Sigma Alpha Epsilon (SAE) fraternity boys of the University of Oklahoma. Okay, here's a quick catch up for those who don't know what I'm talking about.
*cue rhythmic beat*
"There will never be a n***a in SAE.
There will never be a n***a in SAE.
You can hang him from a tree, but he can never sign with me.There will never be a nigger in SAE."
Members of the SAE , University of Oklahoma chapter were riding along in their bus and chanting those words. The song rendition, complete with clapping and thumping was caught on camera. The video was released to the guys at Unheard, and from there the whole thing just spread like a badly formed Akara in a shallow frying pan.
The boys whose faces were distinctly identified were expelled, and the fraternity was suspended – with the frat house closed and their insignia removed from the walls.
Ah racist chant… caught on camera! In 2015, that is a perfect recipe for being Salimonu'd in America. Now, before you blame the person who filmed the entire thing, you have to remember that we live in an age where people find the need to document EVERYTHING IN PICTURES AND ON FILM.
Your friend comes to visit you, and you're making noodles with corned beef… pause, before you put that cameroon pepper, let's take a photo for "The 'gram". You're in the gym, Cross Trainer 1, you 0. No, wait… photo op time… *click* So, the SAE folks on the frat bus were just singing along and having a good time and someone was recording.
In an apology statement by one of the expelled boys, he stated that the song was taught to them. He didn't mention, by whom, but it has been inferred by news organizations that the frat boys had probably been singing this song for a while. These boys probably didn't think of the seriousness of the song, or that there'd be dire consequences if they were caught.
You know how Salimonu got his comeuppance? Yeah… actions … consequences.
But, actions and consequences don't necessarily go hand in hand… especially in Nigeria. At every level of society, there's always someone who thinks they can get away with just about anything. You don't believe me? Think 'Alamieyeseigha'.
Okay, let's not address politicians today. Let's talk about us, as a people. We are strong believers of begging our way out of every tight corner. After all, "We beg God and he forgives, how much more a mere mortal."
S
ome years ago, one of my relatives had just got a nice shiny new Toyota Camry. One day, at the office, he gave his keys to someone who usually helps everybody wash their cars. For some reason, the guy decided to test his driving skills on the car. He crashed the car into a wall and came up to the office to report himself and apologize. After many pleas by all and sundry, the guy was let go. "Just let him go. God will judge him" "Don't worry, God will provide the money to replace it" "Look at him. Does he look like he has 5000 not to talk of 500,000. Just leave him to God"
At the end of it, the guy who decided to drive and subsequently crash the car walked away without paying a dime out of the repair fees. There were NO consequences, thus increasing the chances of a repeat offence.
Now, before you turn your nose up at these people, think about the times you've done something without expecting to get caught? Think long and hard…
That time when you drove through the BRT lane on Ikorodu road, hoping against hope that the LASTMA guys would have moved away? Or that time when you jumped on the Tube in London hoping the barriers would be open? Think about that time when you were sleeping with that girl without protection, having faith that she didn't have chlamydia! Remember how you used your office phone to call your cousin in Rome for 45 minutes? Who will give Oga itemized billing?
Yeah… everyday is for the thief!
My friend is teaching her children to know that actions have consequences. She is teaching them to weigh their actions long and hard, vis-à-vis the weight of the consequences. So they know that if they throw tantrums, they run the risk of not getting to play their game for 3 nights. The idea is that the child would weigh the choices available to him/her and decide . But with children, these things can be simplistic.
Adults may think about it in a different way. Where a child may see the 3-day deprivation of his game as a big deal, and a deterrent against truancy, an adult might think about the joy he'll derive from the action, and just say "Oh sod it! You Only Live Once!" They end up trying to juxtapose 5 hours in traffic with the 30 minutes they'll probably spend trying to beg the LASTMA guys to take a bribe of 2k (depending on how flashy your car is.) It's all well and good till you meet a LASTMA guy with 'red eyes'
Rules and laws are put in place for the effective running of society. They amount to nothing if everybody knows that they can be broken with impunity. So in our own little way, let us do our bit to make sure society runs effectively and efficiently. Take a few minutes to think…
Actions.
Consequences.
Have a delightful week ahead. Remember to spread joy to people around you. Stay positive and be good. Oh, and on a lighter note, share some of the times when you've acted without giving a lot of thought to the repercussions. No judgement here. You know we're cool like that!
Peace, love and Brussel Sprouts. (Mehn, don't knock it until you've tried the ones made by Ngo Msh.)
Toodles!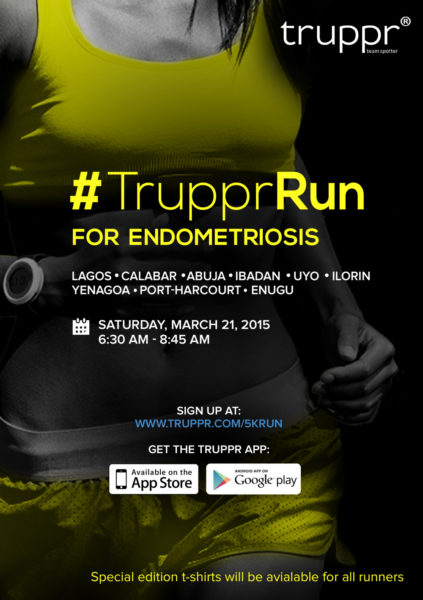 Oh one more thing before I go, if you'd like to support the awareness for Endometriesis in Nigeria, and you like to run, please sign up the Truppr Run for Endometriesis here https://www.truppr.com/5krun
They're giving out free T-shirts too. FitFam & Freebies! WinWin
Photo Credit: Dreamstime | Racorn