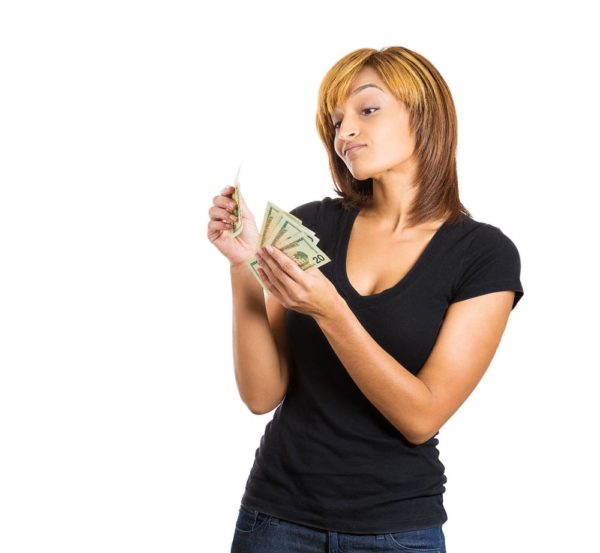 Sometime last year, news reached us that dollar was exchanging for 185 to a Naira. As someone who has a little addiction to online shopping, I knew I had to make changes. Now that dollar exchanges for 225, I drew up a mental list of the changes I had to make. The top of which will be to stop shopping. Please find below the list of changes I have made so far. I do hope it helps.
Read the washing instructions on my clothes
I just received my drycleaning bill and I wasn't enthused. I called the owner of my drycleaning store to ask why the bill for a dress was so high. He called his team and they said it's because the dress had beads. I quickly set him straight. I don't own a single dress with beads. Come to think of it, some of my clothes don't require dry cleaning, a simple hand wash will do. I will subsequently hand wash clothes that don't require special care and dry clean the ones with beads.
Travel quietly
I travelled last year and paid about 150 pounds for excess luggage. Most of the things in that extra bag was stuff for my siblings and friends. This year if I do manage to travel, the right hand will not know what the left hand is doing. Don't tell anybody you are travelling, don't post pictures and even if someone sees you at the airport say you escorted your mum. To be forewarned is to be forearmed.
Save in foreign currency
It's a known fact that the Dollar and Pound are more stable. I used to live in the UK so I have an account with one of the banks. Even after I moved back I used to buy pounds when I could and transfer to my UK account. The interest rates are crap but with this new exchange rate I have made a small spread; plus if I have to buy anything in the UK I don't have to scramble for pounds. UK banks will not let you open an account with a visiting visa but US banks do. So when next you are on a vacay, don't empty out your account at Target or forver 21. Take some cash and open an account.
Avoid the washing machine
I visited my brother in the US and his wife asked me to put my underwear in the laundry basket. I had always hand washed them so I was surprised. From that time till now I have been a believer – I never hand washed my under wear again. Sadly, washine machine makes stuff age faster. I have taken to hand washing them now so they last longer and don't look washed out in no time, so that when I do travel I can reduce my budgetary allocation for that.
Unsubscribe from store newsletters
You will just be minding your business, a mail will pop up on your phone from Aldo or Next informing you that their spring collection is out. We don't even have spring in Nigeria so how does that concern me? Or Burlington will email you that you can enjoy free shipping for a week. The Bible says if your eye makes you sin, cut it off. Scroll down to that mail and click the unsubscribe button. Pound is now 350 per Naira, so even the delivery charge is not cheap.
Reheel , Reshapen and Reshuffle
I honestly enjoy the thrill of new stuff. Even a new pot excites me so I dug deep into my closet. Shoes that I stopped wearing because they were too uncomfortable I took them to a cobbler who cut the heels in half. I didn't even know that could be done. It's also a good idea to amend clothes that you push to the back of the closet because they don't fit right and voila. When they come back from the tailor or cobbler, I promise you the new clothes thrill without the price tag.
Pray
Prayer is always the key. Pray for more money; but also pray that your phone, iPad or other devices don't go bad .
Good luck as you navigate the murky waters of the new exchange rate, as I hear dollar will reach 250 by summer time.
Photo Credit: Dreamstime | Atholpady