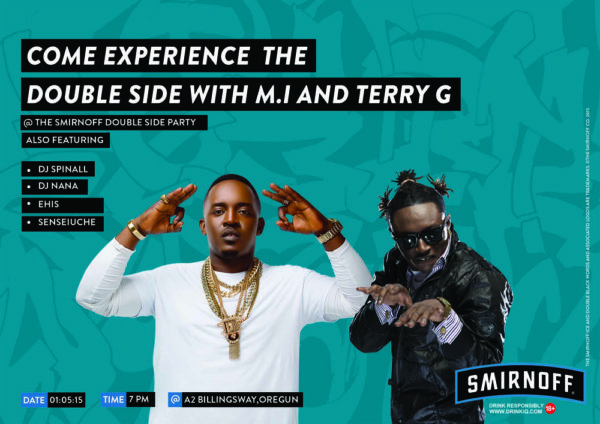 Ever imagined an autoshop doubling as venue for an Epic party? Hard to imagine right? Be a part of this never-seen-before party on this Friday, and get to experience their new brand: Smirnoff Double Black with Guarana.
In attendance will be Mr. Incredible himself, MI and Terry G as they light up the stage and entertain everyone.
This event is strictly by invitation.
Date: Friday May 1st, 2015
Time: 7 PM
Venue: A2, Billingsway, Oregun, Ikeja, Lagos
Get your tickets by visiting the Smirnoff Facebook page at www.facebook.com/smirnoffNigeria or click the link HERE.
The unstoppable DJ Spinall a.k.a TheCAP and DJ Nana will showcase their double sides as they entertain on the turntables on that night so make it a date. Hosts of the night will be Ehis of MTV Base  alongside Sensei Uche of City FM.
You definitely don't want to miss out on a night of absolute fun at the Smirnoff #doubleside party.
Follow and like the social media platforms Facebook: www.facebook.com/smirnoffNigeria, Twitter: www.twitter.com/SmirnoffNG and Instagram: www.instagram.com/SmirnoffNG to stay in touch with happenings on the doubleside.
Remember you have to be 18+ to attend this party.
___________________________________________________________________________________________________
Sponsored Content