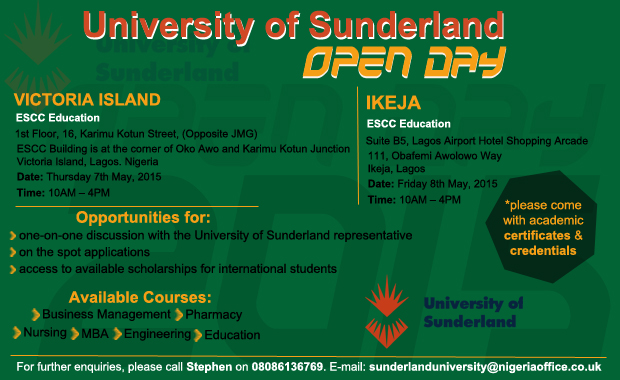 The University of Sunderland is recognized internationally for its strength in science and innovation, particularly in areas such as Pharmacy, Business, Biomedical Sciences and Environmental Sciences. It is also in the Top 10 for one of the least expensive places to study in the UK.  The University offers competitive fees for programmes which cost between 7000 to 9000 pounds depending on your chosen course of study.
The University invites you to their Open Day in Lagos, with the opportunity to;
Discuss one-on-one with the University representative on September 2015 admissions
Make on-the-spot applications
Have access to available extensive scholarship schemes for all international students
Available Courses include: Business Management, Pharmacy, Nursing, MBA, Engineering, Education etc.
Please come along with all your academic certificates and credentials.
Victoria Island
Date: Thursday 7th May, 2015
Time: 10 AM – 4 PM
Venue: ESCC Education – 1st Floor, Plot 16, Karimu Kotun Street, (Opposite JMG), Off Akin Adesola Street (Towards Bar Beach), Victoria Island, Lagos
Ikeja
Date: Friday 8th May, 2015
Time: 10 AM – 4 PM
Venue: Suite B5, Lagos Airport Hotel Shopping Arcade, 11 Obafemi Awolowo Way, Ikeja, Lagos
Please register on http://nigeriaoffice.co.uk/?p=649 to attend.
For further inquiries; Call: 08086136769 | Email: [email protected]
____________________________________________________________________________________________________________
Sponsored Content