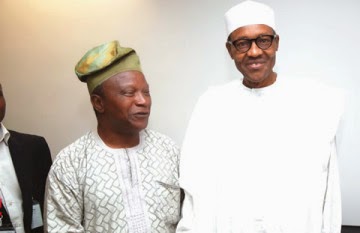 President-elect Muhammadu Buhari on Tuesday praised Tunde Thompson, one of the journalists he jailed in 1984 under "Decree 4" in 1984 when he was Head of State.
Reports state that Decree 4 was a law instituted to ensure the authenticity of news reports.
According to ThisDay, Thompson was a member of APC's campaign organisation media team during Buhari's presidential campaign.
While receiving the entire media team at the Defence House in Abuja, Buhari praised Thompson, commending him for rising above his experience in jail to forgive and support him and APC. Buhari also stated that the circumstances under which Thompson was imprisoned was one of the challenges experienced during his military regime.
The president-elect also lauded members of his media team led by Malam Shehu Garba for running an ethical campaign.
He said:
"I want to commend you especially for two things. First, is the decent media campaign you conducted. Despite the PDP's dirty tactics, you stayed focused on issues and avoided the temptation to sling mud."

I thank you for your uncommon motivation to do the work. Despite the shoestring budget on which we ran our APC campaign, you did not allow the lack of adequate remuneration to stall the work at any point in time. You continued to give your best.

We must commend Nigerians who believe in our message of change and INEC for introducing card readers and PVC. All elected leaders, will now know that the voter is the king. Nigerians now have more faith in our elections because their votes will count. "If not for PVCs and card readers the PDP as usual would have written the results and asked losers to go to court. How can people who are struggling to survive go to court and get money to pay the SANs of this world. We must thank God for the success of this election," he said.