BellaNaija presents "Celebrating You! Class of 2015" We called for submissions of graduating students who had excelled in their course of study. We acknowledge the fact that everyone who has graduated this year is a winner. We, therefore, want to celebrate people who have gone over and above the norm. People who have gotten meritorious distinctions and awards from their institution of study. We hope that you are inspired and we look forward to receiving more entries.
***
Kicking off this edition for class of 2015 is Ogo Oguamanam – the best graduating student of her class. Ogo was raised in Jos with her sister and three brothers. She described herself as a naturally shy person, and she attributes her 'ridiculous sense of humour' to her brothers. Ogo graduated from ESC-Rennes School of Business, France with a distinction in her MSc in International Accounting, Management Control and Auditing.
Coming from a family of brains, Ogo admitted that she has always been envious of her sister's brain! "Like how can one person be so smart though? Lol!. I really believe that she made me want to be the best that I can be in whatever situation."
It's such a delight to start the 2015 series with such astounding brilliance. We hope you are inspired by her story, as much as we were.
***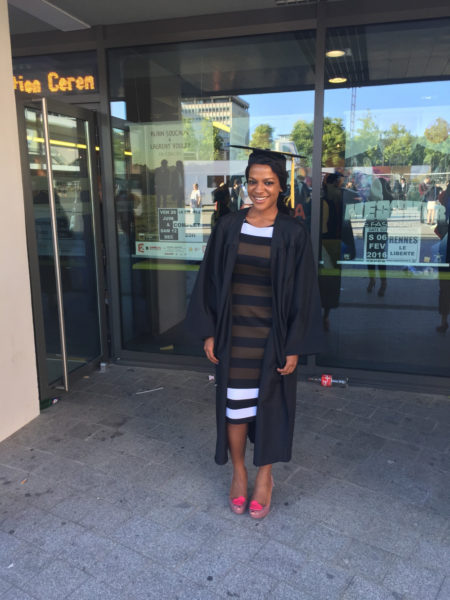 The MSc journey
I always wanted to go back to school for a master's degree. After becoming a chartered accountant and working for two years in one of the big four audit firms (the best of them J) I got a full scholarship (after tests and interviews of course) to study in France.
Getting the scholarship was the easy part. Making the decision to accept it was one of the hardest I've ever had to make. I mean, I had a very good job where I excelled and learnt A LOT. I had a small but nice and cozy apartment. I had my friends… I just had a life that I thoroughly enjoyed. Some people were of the opinion that a Masters degree wasn't really necessary for one who wants to practice as an accountant.
Some of my aunties were all about 'oh you'll be gone for a year, meaning no prospect of (an Igbo) husband for at least another year? (Yes I'm Igbo, every conversation I've had in the last 4 years with my relatives end up as 'marriage talk').
I, however, committed everything to God and just reflected on how effortless and stressless the whole scholarship process went and realized that it was in God's plan for me. I remember the night I made the decision, I thought to myself 'I'm going to do this, but on the condition that I have to give it my all, it has to be worth it'.
Challenges
Schooling in France was wayyyyyy different from what I was used to as a student in Nigeria; the many papers I had to write with the extensive research involved. Plagiarism is a very big deal, so a lot of reading and understanding had to be done in order to present the subject in your own way, I remember the mini heart attacks I had whenever my papers went through Turnitin.
Ahh… the countless presentations I had to make; particularly challenging for me were group presentations. For one, I was the only native English speaker in my group so I had the responsibility of combining every member's part and ensuring that it was grammatically correct. Further, I was really a 'study-alone' type of person. Having 3-4 other people in my space, throwing their ideas at me was very disconcerting at first; but I quickly learned to adapt and found that I actually gained a lot from these sessions.
The semester was great with me having perfect/near perfect scores in tests and assignments and papers.  I was pretty confident writing the main exams, hello 5. GPA!!!
When the results finally came out in the 2nd semester, I found out that I had 2 B grades that put my GP at 4.7 and second in the class. Luckily we are allowed to view the exam papers and when I saw one of the B graded papers, I was absolutely shocked at the score I got on one of the questions!
Not to go into the whole long story, after meeting the professor, it was agreed that truly I didn't deserve that low score, in his words 'I really don't know why I gave you that.'
The process of changing the grade was too tedious and I was advised against it. I was sort of depressed for a while and it affected me in a way that I didn't study as much as I was used to, because I just thought: 'what's the point anyway'.
A few weeks to my final exams, my sister graduated from Imperial College London (she graduated the best in her class, Dean's prize and all) so I was there with her and my Mom. I remember the joy and pride my mom felt seeing my sister receive her prizes and I was more depressed that I may not get that. I think my mom felt my pain and later that evening as we were taking a walk she held me and told me how proud she is of me and how great I am, that I should never let any setback hold me down, rather I should use the situation as a push to be greater. She told me to forget about the past and not pursue the issue with the professor. I went back to school with my 'efiko' shades on and hit the books HARD!
Results of the semester results came out and I got a perfect score. I was over the moon. Even my Program Manager called me to ask how I got A grades in all courses as that semester was particularly hard for most students, I told him 'it's all God'
Having A grades in my final dissertation and the internship program put my CGPA at 4.9 (distinction baby!) and put me ahead of the class.
The graduation ceremony held on June 6th, where I gave a speech as the 'major' of the class. It really was one of the most exciting days. The only downside to all of this is that my Dad didn't get to experience it with me. He would have been too proud.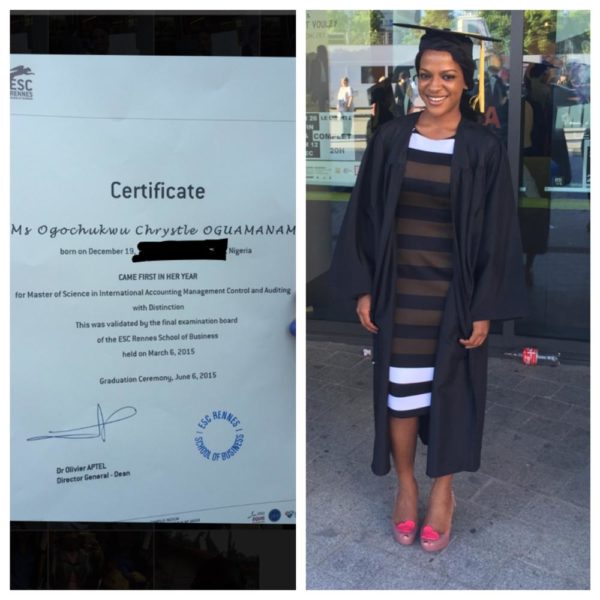 Lessons learned
I really learned the power of prayers and just believing in God. Coming back home, after my internship, not having a job for about two months, I started to feel like I had wasted my time, like was it really smart giving up my job for this, but through it all, though hard, I kept my faith and trusted that all will be well. I'm alive, I'm healthy, I have my amazing family and friends, I have a job, and although I'm not at the place where I want to be, I know that everything will work out and all will be worth it!
Having two B grades (All others were A grades) in the first semester) I resolved to working even harder to improve in the second semester. I got a perfect score (a 5. GPA) and this put me on top of my class. With an A grade in my final dessertation and another A in my internship program, I graduated with a CGPA of 4.89 – the highest not just in my class but in the school. The graduation ceremony was held this past weekend where I was honored with an award and gave a speech as the best graduating student (Major) in my class.
_________________________________________________________________________
If you want to be part of this inspiring and amazing feature or if you know someone who is part of the Class of 2015 who should be featured here, please send an email to features(at)bellanaija(dot)com. We look forward to reading from you and sharing your academic excellence.