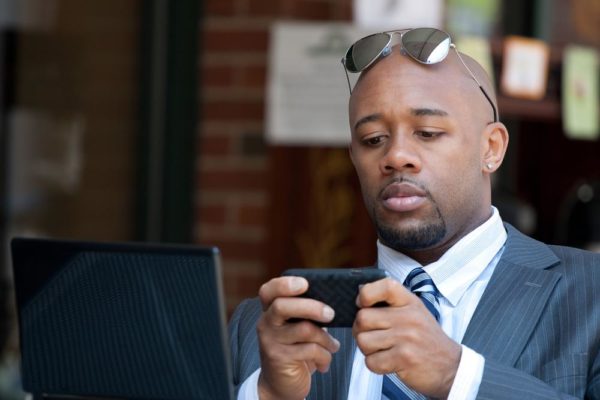 A series of discussions and experiences from friends and associates recently; has necessitated beaming interest on phone privacy which I had hitherto taken for granted.
When mobile phones came to Nigeria, we were not initially bothered with privacy invasion and all the other intricacies that those little devices came with. We were too excited to be able to talk or reach others from whatever corner we found ourselves. But over time, we have now mastered the use of mobile phones. Business deals, online shopping, internet banking, relationships (whether legitimate or illicit) are now daily occurrences over the phone.
Let us face it; the phone is now a huge vault of information if we need to investigate any wayward moves from a partner. At least, he/she would get those kurukere calls, text messages, Tweets, BBM chats(complete with pictures), the whole works of salacious sleaze… just sitting there waiting to tell stories of what, where, why and how.
A former classmate just announced her separation from her husband. She cited trust issues. When she was done with her narration; between her husband and her it was difficult to tell who wreaked more havoc on their marriage.
The husband had neglected and emotionally disconnected from her for some time now; which had in turn led her to get emotionally involved with a couple of male friends. According to her, she just talks to these guys since her hubby hardly effectively communicates with her anymore.
She decided to get separated from her hubby recently when he turned hacker and confronted her with print-outs of her various phone conversations/text messages she had overtime engaged in with different people. She could not even understand how he achieved that feat technologically, or what gave him the right to do so. She was distraught. By her reasoning, her husband had violated that last slice of privacy that she was supposed to enjoy. It felt like he peered into her soul to the depths of her thoughts that no other, no matter how close should reach without her permission. In her words, 'it's my phone. Not our phone'.
While the phone can indeed be a revealer of secrets, it would be proper to consider that such secrets revealed may not be what they looked like. A few years ago, my former girlfriend woke me up rudely from a lovely afternoon sleep; with that look on her face that should be reserved for a funeral service. As I sat up, I realized my phone was in her hand. When I asked what the matter was, she began 'you think I am a fool? I knew it. I have always known you were cheating on me' (I realized I was already condemned before the hearing). so I asked her what she was talking about even as she showed me a text message from a lady named Rose that she found on my phone which goes thus:
'So it's true? I heard you are having an affair with my best friend; which is making you not have much time for me anymore. Can you deny it?'
On the face of it, that message looks highly indicting right? I agree. Before I could say another word, my former girlfriend went ahead to tell me the story of my life. I was forced to interrupt and asked her to finish reading the text. As it turned out, it was one of those mischievous messages that were designed to mislead. After the first part of the text which she saw, a lot of space was given making it look like the message had ended. However, when you scroll to the end, the remaining part read:
'So you think I don't know you are now in a serious relationship with Jesus Christ?'
You should have seen the embarrassment on her face when she found out she had made a gaffe. She apologized in ten lifetimes!
I have never ceased to wonder since that incident many years ago, why people carry out those potentially heart wrenching investigation/raids on their partner's phones. And when they find anything that requires clarification, why can't they just ask without passing judgement? I don't do phone raiding, as I think it reeks of extreme insecurity, an absolute waste of time and dissipation of precious energy in an unproductive activity. As I see it, if my partner is determined to end our relationship by getting involved with another person, no amount of snooping into her phone or hiring a private eye to tail her around town will prevent it. If you gave it enough time, the truth of the matter will come out.
I learnt the vital lesson a long time ago, that you cannot beg or even intimidate someone to love you or remain with you forever. To even attempt to do so would be like calling for a dance, long after the music has ended.
I asked another friend recently what her take was on people checking each other's phones. She said her partner cannot go through her phone. But she would go through her partner's as the lady. When I asked further, what it is she might be looking for checking his phone, she said 'hidden blessings'. I wished her well in this ultimate search. As I know it usually turns out, 'when you open the anus, you know what to expect to find there' (this must be an African proverb).
More parents of teenagers are also now using this hacking into their children's conversation as a means of parental guidance without the children's knowledge. An American family friend (single mom), whose daughter recently turned fourteen bought an iPhone for her and synchronized her daughter's instant messaging settings with her own phone; so that she also receives in real time, any chats the daughter gets. I could understand a mother's love and need to protect her daughter from sexual predators out there. However, I am not very sure how that looks in the face of right to privacy. Question is; does a fourteen year old deserve the observance of her right to privacy as it relates to her communications?
I recently heard about a House help who forgot her phone in the house she works in one time as she went on an errand. By providence, the phone rang as her employer was passing by. On impulse, the madam went through the phone and discovered through the text messages she found, that the House help was pregnant and contemplating abortion in her house.
It looks like one may remain divided on what position to take on this phone invasion palaver. Sometimes, it may save a lot of headache. Other times, it can cause all the headaches and even heartaches.
I have a feeling the Jury would be hung on this.
Photo Credit: Dreamstime | Arenacreative