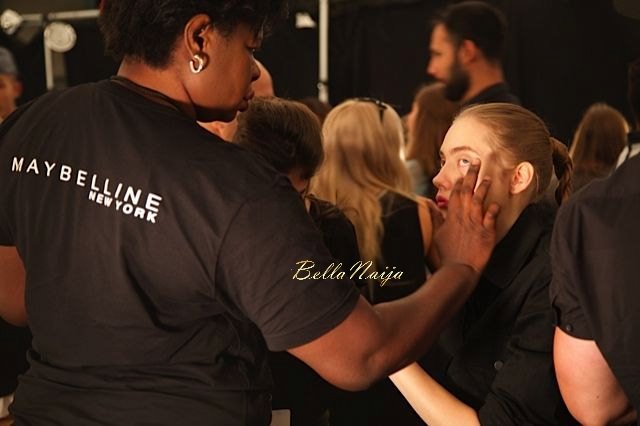 Have you been following the Mercedes Benz New York Fashion Week for Spring 2016? Well, BN Beauty has been taking you backstage as Artistic Director for Maybelline New York Nigeria, Bimpe Onakoya is live in the big city and on duty. Catch up on all the fun from day 1 HERE.
So what has Bimpe been up to? She recently worked on 2 shows – Public School & Baja East's collections for Spring 2016.
For Public School show, Bimpe and other international makeup artists created bare-faced makeup. The looks were clean, dewey and fresh with the models' hair pulled back.
See photos!
***
Next up they got a challenge for Baja East's Spring 2016 showcase. The makeup was all about sheer skin and grunge hair. To achieve the look, they used a thin layer of matte+poreless foundation and their under-eye highlighted with concealer.
Their cheek bones were accentuated with a face studio master contour with high points of the face highlighted. The look was finished with a lip balm to give a soft glossy finish.