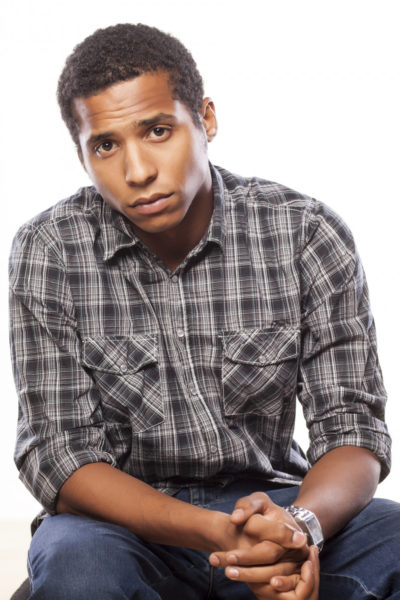 The first thing they noticed when they got into the office was the blood; because he was wearing a white shirt and the blood was like a splash of ketchup on it.
He had his back on the ground; he could be dead. Maybe not, because it was not a bullet wound, and the wound was not so deep. But he was also bleeding at his lips, and they didn't miss the traces of bruises on both hands. From the rumpled shirt, they could guess he had struggled with his attackers.
The police checked every corner of the bookshop-like office. The air conditioner was still working normally, the police worked in the coolness, calmly taking-in every clue, not bothered by the wailing wife of the victim.
When the ambulance came, we they got the professor on the stretcher and he managed a grunt to show he was still alive, Mrs Adetula was glad. Now she could pray and hope for the best.
No one could be sure who had attacked the professor. It could be robbers, because they left with his Rolex; it could be envious colleagues because he had schemed out a popular candidate – using his closeness to the state governor – to be appointed as the Dean of the faculty of Arts.  He was a member of the anti-cult campaign committee. He was not the chairman of the committee but you could think he was; his voice was always the loudest when it was time to talk.
Mrs Adetula was convinced that her husband had underestimated the hatred some of the academic staff had for him; and she had tried to convince him of plans to eliminate him. She had seen it in her dreams; the ones who had gone to Babalawos, who had sprinkled some things on the floor near the door of his office. Darling, can't you see how that man looked at you when you greeted him?
Of course, if the professor had listened to his wife they would probably be in some desert by now for the crippling fear of their enemies.
Professor Adetula would never guess how he got to this sad reality of his life. But the journey began on the morning of the faculty's orientation meeting for new students; he had to address the freshers.
It was the usual words of welcome; ones he had listened to before, one he had spoken in his classes, something between the preaching of a concerned father and the threats of a dictator. No cults here, no fooling around with boys, or if you are a boy don't lose focus because of the many pretty girls. If your GPA gets too sick we'll gladly show you the door. All sort of things about the academic environment being strictly academic with no time for nonsense.
But the professor had time for nonsense later that afternoon when he saw this girl near the gate as he drove to the mall downtown.
"Where are you going?" he asked as if the girl should be glad for the question.
"Towards Dugbe," she said. "Don't worry sir."
"Let me give you a ride."
"Don't worry sir."
"What's your name?" he asked impatiently when he heard the horn of the car behind him.
"Bukola."
"Great. See me in my office tomorrow. I know your department, so make sure you show up."
When she showed up at his office, motivated by the dean's well-concealed threat, the professor smiled and asked her to seat.
"Remind me of your name again."
"Bukola, sir."
He narrowed his eyes. "Surname?"
"Shokoya."
"Bukola Shokoya," he said with a nod. "What a wonderful name. I know you are from Ogun state."
"Yes sir."
There was an interval of over ten minutes as he answered a call on his cellphone; something about a weekend meeting and one person who was not qualified to attend because his suspension has not been lifted.
"Any boyfriend yet?"
She had thought he was still talking to whoever was on the other end; the question took her by surprise.
"Em…a fiancé, sir."
His smile faded slowly. "Is he a student?"
"No," she lied. "He's a pilot."
He was quiet for about a minute.
"We can still get on."
"How sir?"
"Like good friends."
"I don't…I don't understand..sir." she stammered, entirely shocked at this offer of friendship by a man old enough to be his father.
She was not interested in that kind of relationship, she made herself clear; she did not speak with proverbs and parables like the oracle. She did not give any sign, with words or attitude, that the man should hope for something. She was clear with her words and body language. But professor Adetula would not listen. He did not take kindly to the girl's attitude. Who does she think she is? Friendship between lecturers and students was not a new thing, or is there a friendship law he was not aware of in this country?
He had thought the young girl would grab the opportunity with both hands; an opportunity of friendship with the dean, a professor, a man of standing in the premier university, with all its obvious privileges. Some girls don't use their brains.
"It's all in your interest Bukky, you better take the chance before it becomes too late. If you get into trouble, which I'm sure will happen, when it gets to my time to help, don't come crying to me."
Fadash, Bukola's fiancé in final year, – whose real names Femi Fadasa had been forgotten – was mad when he heard the whole thing. He would soon go for NYSC and his babe could change her mind if the pressure becomes too much.
His mind went into action at once. The plan came fully formed in his mind. The Black Bats confraternity where he was number one, called an emergency meeting in which the decision was reached to pay the professor a brief evening visit.
The visit lasted only a few minutes; in fact, less than five minutes. Masked Fadash, high on weed, closely followed by his stern-looking companions, knocked on the professor's door, and kicked it open when the man did not respond immediately. Then the lights went off.
The incident and the aftermath was soon known in detail throughout the campus.
Even if professor Adetula were to recover from the spinal cord injury, it would take years. Bukola would be through with school by then, so Fadash could leave the school, certain that this big man would be more concerned about his movement around on his wheelchair than a pretty-faced girl in first year.
Photo Credit: Dreamstime