The February/March 2016 "Power Issue" of New African Woman is out with four covers.
The magazine's latest issue focuses on African women – First Ladies, business executives, celebrities in the film and music industries – as they share their views on who African women are and what they really want in today's world.
Is "empowering women" an overused phrase? Do African women need empowering?  What do African women themselves say about their status and needs?  To coincide with the magazine's inaugural New African Woman Forum and Awards, which will take place10 and 11 March, this edition of the New African Woman gets to the bottom of these issues with the help of diverse voices from a wide section of African women of different fields.
Leading the empowerment rallying call – which comes on the heels of the African Union's declaration of 2016 as the African Year of Human Rights, focusing on the rights of women – is Monica Geingos – First lady of Namibia, who is unequivocally frank in an exclusive interview with the magazine.  She states: "There are more women at the top in workplaces and this is also increasing in politics…[but] the rate at which these improvements are happening is problematic, and we must find ways to expedite the process of empowering women…African women need real power, not tokenism".
Her words are given further weight by others from the celebrity and business worlds including Nigerian actress Omotola Jalade Ekeinde, Ghanaian actress and TV host Joselyn Dumas, Ivorian businesswoman Swaady Martin, international star Estelle, South African powerhouses Precious Moloi Motsepe and singer Lira, to name some. All of these personalities have shared their views with the magazine on the status of African women and on who a new African woman is or needs to be, in the continent's current political and socio-economic landscape.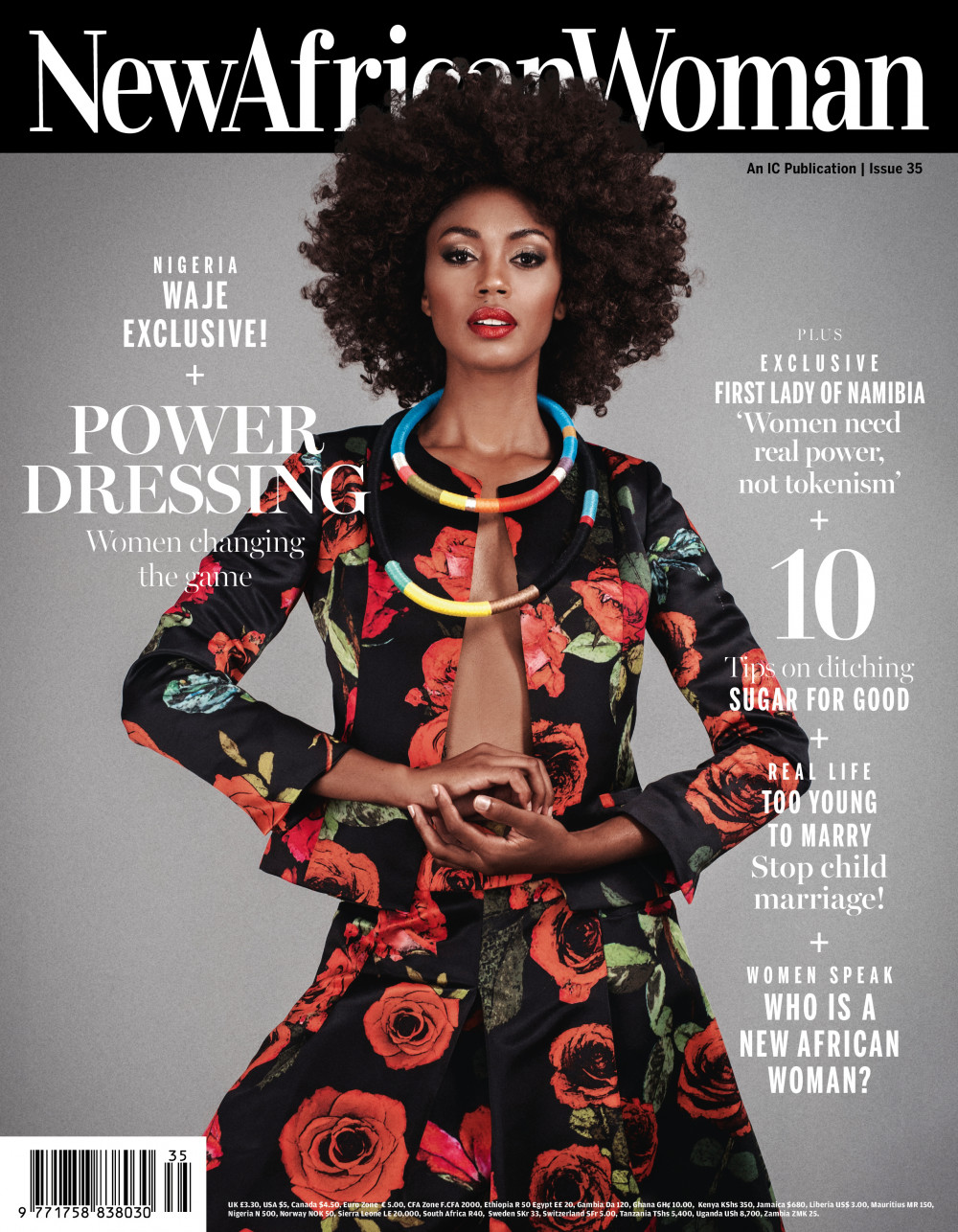 The celebrity views kickstart the magazine's #NewAfricanWoman social media campaign, which is asking its readers to join the debate by defining who a New African Woman is, how they define themselves as a New African Woman, and how that contributes to positively shaping the continent. This will be an ongoing year-long campaign for its readers both in Africa and its Diaspora.
Until 7 February 2016, readers will also get to vote for their New African Woman 2015 in several categories: Business, Politics and Public Office, Education, Science and Innovation, Finance, Media, Sport, Arts and Culture and Civil Society. Also celebrated will be the New African Woman on the Rise and the New African Woman of the Year, to be announced in London in March.
Singing sensation Waje, who graces the cover of Nigerian Edition, exclusively speaks to the magazine about why she has launched the #AfricanWoman while addressing the purported friction among Nigerian female artists: "If you know who you are and you are confident in who you are, it shouldn't be a problem. It is just about your goal and what you represent as an individual and as an artist."
New African Woman is out now digitally and on both apple and android apps, with the print edition hitting newsstands in the first week of February.