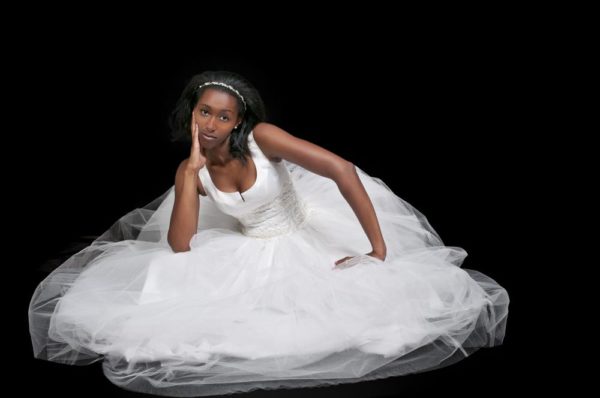 One of the most popular gifts over the Christmas season was engagement rings. I know this is not a new trend but this past Christmas more than ever, men were just whipping out rings left, right and center; under trees, wrapped in a box, by the Eiffel Tower, you name it! Christmas is THE season of gift giving, the biggest commercial holiday, so what better gift to give your favourite than the promise of forever; all your love and support, your heart, mind, body and soul. It may be cliché, yes, but it's still pretty romantic. That being said, there's a high chance that if you're reading this you're engaged (or you know someone who is)! YAY!
Now, it's time to get down and dirty. You're having a wedding, not just any wedding, a NIGERIAN wedding. The stakes are higher here, everything is bigger and bolder. As you can imagine, or have experienced second-hand, this can get overwhelming fast. So, I've nailed the Nigerian wedding to 26 simple terms and we're taking you to the basics. Remember these, and you'll be just fine.
Aso-Ebi
This is a tricky one. The choice of what to wear as a family has torn many families apart, with who gets to wear which one and the bride's family running a huge tab on yards and yards of fabric. The choice to go with or without aso-ebi is simple and it's yours. You can pick a colour for uniformity and theme, and leave the stress of specifics.
Budget
No matter how limited or unlimited your funds are, set a budget. Everyone has a limit and you should know yours. This will help prioritize aspects of your wedding and save time spent on a vague budget.
Catering
The key to a great Nigerian wedding is a surplus of good food. If it's edible, you should probably have it available; desserts, hors d'oeuvres (a.k.a. small chops), lots of juice, mocktails and alcohol, tons of meat and eventually water. Luckily, most catering services are affordable to the point that you can have multiple caterers to up your variety. Many are also well versed in mass production.
Decor
This is what really seals the deal on your event. The colours, textures, themes, etc. add (or remove) from the overall quality of your event. Good decorators, unlike good caterers, are not as easy or cheap to get. I say splurge a little of decor and ambiance, because that's what all of your photographs will be made up of anyway. You many not remember your specific table settings or drapes, but you'll remember the general feel of the room, so make it something memorable.
Entertainment
Nigerians LOVE to be entertained (and many of us do also love to entertain). It's like life is circus and we're just here to have fun. Weddings, as generally entertaining as they are, are still very much run of the mill. Stand out a little in your choice of entertainment. Choose your MC wisely because with a good host, you might not have to shell out millions of Naira on as many celebrity guest performers. If you do have the cash, you might want to consider an artiste that means something to you especially or that you especially enjoy, not just the popular ones.
Favours
Gone are the days of plastic assortments. Very rarely do you just acquire coolers, trays, buckets, bowls, cups and fans with "So-so WEDS So-so" anymore. And thank goodness! While plastic goodies and handkerchiefs and mugs are easy and affordable to mass produce, they are not the most creative or thoughtful gifts. Few weddings have gradually started to forgo favours all together in place of candy bars or takeaway desserts. Get thinking, hop on Pinterest, inspiration is abounding. DIY-ing might not be an option for your guest list of 2000, but some small business may be able to bring your ideas to life.
Gifts
Less and less wedding attendees at Nigerian weddings are bringing gifts for the couple. At my parents' wedding 25 years ago, there was a whole session assigned so each guest present could present a gift to them personally. I should add for emphasis that they were even given a living, breathing goat. Now, we have gift tables where gifts sometimes go missing or ignored registries or worst of all, an abundance of repeated items. If you can, urge your guests to stick to monetary gifts or if you're feeling particularly charitable, donate whatever you get that you don't need. It will save your beautiful new home from all the clutter of tens of dinner sets and hundreds of toaster ovens.
Housing
In Nigeria no one is ever from a place and everyone you know will be in that place. You will have out of town guests in abundance and if you're lucky your house will only feel like a boarding school dorm room and not smell like one. Check your local hotels for group deals and party discounts, and try to get as many guests as you can to stay anywhere but your house. Divide relatives among other relatives, as that is a little more hospitable (or should I say African) than hotels. If push comes to shove get yourself a hotel suite near your house or your venue, whichever works better. You don't want to get to your wedding with your exquisite dress smelling like stock fish or vegetable soup.
Ideas
Wedding fever has taken over and it is totally awesome! Inspiration and ideas are everywhere, and it's understandable. You've got wedding on your brain and everything looks game. So, GET PINTEREST. Get a smartphone, if you're part of the rare breed without one. It will make your whole life easier. You can command an army with a tiny little device; your troops of moms, bridesmaids, planner and everyone who "saw this cool thing you must see" will all be very accessible to you. Keep your ideas organized and don't freak out if you're falling in love with conflicting themes or ideas. It's all part of the process.
Jitters
Don't panic! Wedding jitters are completely normal. The nerves are good actually, they're just your excitement in overdrive. Just relax and think about the positives; your beautiful spouse-to-be, your happy friends and family and your stunning wedding. Unless your intuition is really gnawing at you, then be still and enjoy!
Kids
Little humans are incredibly adorable and hilarious, but they're also not self-regulatory and can be disruptive. It is totally up to you if you want children in or at your wedding. Your ovaries won't freeze over because you'd rather not have kids at your wedding. It might be hard or unconventional to explain to your kid-having family members and friends but explain to them that even THEY get a break from mommy- and daddy-hood for a day, and it would be great!
Licence
Nobody likes boring administrative paperwork but in order for your wedding to actually lead to a marriage, some legal work needs to be done. Marriage licences are usually pretty straight forward, just confirm with your local governing body on such things. Be crystal clear about the details and the conditions, especially if you're having a destination wedding, so that everything goes hitch free.
Music
Your choice of music ties into your entertainment as much as it ties into your decor and ambiance. Luckily, most Nigerians have two wedding ceremonies so you can really play around with themes. A saxophonist or a pianist sets a very classy, jazzy feel preferably for the white wedding while a live band or King Sunny Ade give the fuji, high life feel better suited for a traditional wedding.
Negotiation
So, you've set your budget. Great. Your aim should be to be as under budget as realistically possible. Some things are non-negotiable for quality reasons, but on most things you can get a better deal with the right connections or the right person bargaining for you. Shop around for deals, and compare prices. Also, ask for recommendations from former brides and don't be afraid to ask for a discount, or for what you can get in your price point. It doesn't have to be pricey to be good.
Organization
A wedding is no small feat. It can be acne-inducing to the point that they say if you make it through planning your wedding, your marriage will be stronger for it. However, if you go at it will the precision of a drill sergeant you might be saved tears and screaming matches. You're going to get called a "bridezilla" anyway, so you might as well not be losing sleep while you're at it. Delegate tasks, follow up on said tasks accordingly. Prioritize. Set a timeline. Read up on what you should be doing when. Buy binders and folders and highlighters if you're the type. And just try not to let this wedding take over your life!
Planners
YOU NEED ONE! Trust me. If reading so far hasn't convinced you that you do, reading to the end of the post most definitely should. I'm not trying to use scare tactics on you (at least not on purpose), but wedding planning can seriously get out of hand. And that's where planners come in. This is literally their day job, and they're so familiar with the terrain. Most wedding planners can work with any and every vision, just say it and voila, it's yours. Okay, maybe not like the Genie but planners have insight that makes their jobs look like magic.
Questions
The only you have to be more sure about than your wedding, is the person you're wedding. Most people get to do this only once and you should want it to be just right. I'm going to avoid the B word again, but ask as many questions as will satisfy you. Relish the experience, ask for just for knowledge sake even. You only get to be a bride once so know what all your options are, so that you can make decisions with no fear of regret.
Risk
There's no progress without risk. Plain and simple. There's going to be things that feel like a gamble or that you're not too sure about but if your gut says yes, go for it. Don't over think it. It might be on your dress, your venue, decor, whatever it may be might just feel a little too out of your comfort zone or out of the box but if you keep daydreaming about it then just do it. Live a little, excite yourself.
Stationery
I'm a bit of a penmanship nerd, so I love to see efforts in wedding prints and stationary. Programs, menus, invitations and thank you cards are all little personalized touches that go a long way. From the invitation card the stage is set for you to build your grand production on, you have pretty much all channels of expression open to you. From traditional calligraphy to quirky comics to fun questions and games, you can tell your story however you want.
Tradition
Something old, something new. Something borrowed, something blue. And a sixpence in your shoe. Every family, tribe and culture has its own beautifully unique traditions and customs. Try and incorporate as many as you can or as are important to you. It just makes the ceremony and the whole wedding have so much more meaning. You can borrowing some traditions that you find particularly symbolic or befitting. Nigerians are a people proud in culture and traditions, bask in it.
Unity
Try as you might, this might be the hardest one. The whole purpose of a marriage is to unite two people, and subsequently two families. It might be impossible to get every single member of both families on the same page but try to keep the peace. Pick your battles wisely, and listen to every opinion with grace. Focus on the unity of both your families now, don't let a wedding come in the way of that.
Venue
The options for where to have your wedding are potentially endless. We can start from the sentimental (where you met, where you first vacationed), to the traditional (church, your father's compound). The keys to choosing the perfect venue are simple: pick a convenient venue, whether for its size, its proximity to your home or its general location. Pick a budget friendly venue, you're going to have to dole out cash for topnotch decor anyway so your venue doesn't have to be debt inducing. If you're picking an expensive venue make sure it's as close to all-inclusive as possible. Get creative with your venue if possible as many Nigerians stick to churches and reception halls, so an out of the box venue will make it more personal and memorable for you.
When
The date you pick to get married is so influential. That date, not only will you remember it for the rest of your life, will play a huge roll in the kind of wedding you have. How many people can come, where you can have it, down to what flowers you can have are all influenceable by the date you pick. Some people pick dates for many sentimental reasons, but if you have many "must haves" some specific times of year might be more favourable for you. If you plan of having a destination wedding on a budget, you should consider some off-season travel times like March and April. If you want as many people in attendance as possible, try the summer months or Christmas time as family and friends can get off work easier then.
Xtras
With almost everything in life you need to prioritize. You need to decide what the core components (the "must have" parts) of your wedding are and what the "xtras" are. The extra would be nice to have but they don't take center stage in the production. Any and every thing can fall under extras depending on your theme or even personality. Just stay in focus and prioritize.
You & Yours
Remember who this is all really about. You and yours. In a Nigerian house, it's easy to forget who the celebrant really is. At my father's 50th, it was my mother in gold Swarovski encrusted lace, while he wore off-white Guinea brocade. It might look like your wedding is your parents' party but let your voice be heard. If you don't or do want something say it, it's your wedding after all.
Zen
You can tell I'm reaching here with this one, but being Zen (in the state of peace) is terribly important to your wedding planning process. You need to feel at peace not only with your choices but with yourself. You need to be able to sleep easy. This is a monumental step in your life that you're taking. I wish all newly engaged brides a peaceful wedding planning process and marriage thereafter.
That's all for now folks! If you have any suggestions or think a letter could have been better represented, leave a comment below!
Till next time,
'Tunu