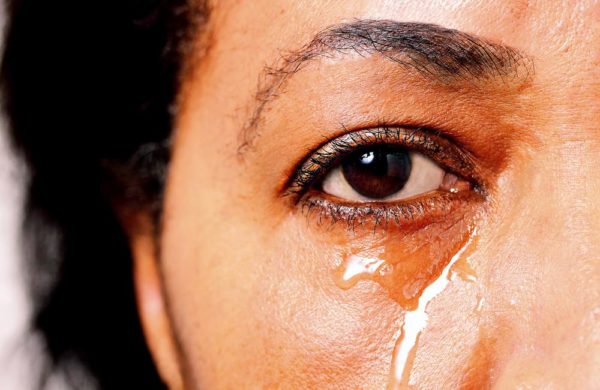 Kambili caught her reflection in the full length mirror and was instantly moved to tears. She had chosen an ivory gown for her wedding dress which boasted of intricate embroidery and a full skirt.
Her friends who made up her bridal train smiled in glee as they took in her appearance, the dress was more than they had imagined. It was breathtaking!
"Don't…please…" Her sister, Kayeto, who doubled as her maid of honour said to her. "You'll spoil your makeup." She whispered.
Kambili smiled and nodded in understanding. The door burst open and the wedding planner hurried into the room, a huge smile plastered across her face.
"Have you ever seen such a beautiful bride in your entire life?" The wedding planner asked in an excited voice.
The ladies smiled in response as the wedding planner bustled up to the bride and said, "You look amazing my dear! Truly beautiful…fit for the gods…you are a princess…"
Kambili smiled and nodded again, this time, the tears fell, fast.
"Did I say something wrong?" The wedding planner asked, shocked at Kambili's countenance.
"I'm sure she's terribly happy…" Kayeto said, rushing over to Kambili's side and dabbing her sister's eyes with a white handkerchief. "Stop it! You'll ruin your make-up…" She told her sister.
It was as though the tear tank in Kambili's eyes had been waiting for those words to suddenly burst open. She bawled loudly.
"What is wrong with her? Why is she crying? Is something wrong?" Her bridesmaids asked one another as they circled her.
"Am I missing something? Did she hear some kind of bad news?" The wedding planner asked in concern.
"I think it's tears of joy." Kayeto said while patting her sister at the back.
"Church starts in ten minutes…I need you ladies to miraculously dry those tears or she wouldn't make it to the altar on time." The wedding planner said as she hurriedly left the room, intent on rushing to the hall to see if everything was perfect as planned.
It took some soothing words from her bridesmaids and three whole minutes for the tear-tank to stop and soon, Kambili was wiping away the tears with the back of her palms.
"I wonder why you're such a cry baby! It's the most beautiful day of your life…do you want to spoil it?" Kayeto asked softly.
Kambili stared at her sister and at her friends who surrounded her and after a while she said.
"Can I have a word with you sis?"
"Sure…" Kayeto answered and turning to the bridesmaids she said. "Can you please excuse us? This will be brief…" She promised.
The ladies left the room and as soon as the door slammed shut behind them, Kayeto turned to face her sister in concern. No sooner had she turned than a loud slap hit her left cheek. Kayeto recoiled at the slap and stared at her sister in anger, restraining herself from retaliation.
"You whore!" Kambili said in a venom filled voice.
"Wha…"
"You've been sleeping with him!" Kambili shouted.
"Sleeping with who?"
"Charles, my fiancé, you nitwit!"
Her sister's eyes widened in surprise but she said nothing to defend herself.
"I saw the text messages….he thought he had hidden it but it was there…he told you, he loved you!" Kambili said in anger. "At first I thought that I was losing my mind when I saw that he was sending love messages to your phone number. You disgust me!"
"I…" Kayeto started but when she saw that it wasn't the time for pleas, she said in a harsh voice. "He doesn't love you!"
"Really? Who is he taking to the altar?" Kambili retorted.
"He's doing it because he has no choice…he has no logical explanation to give his family as to the reason he's stopped loving you…"
"How did you seduce him? When did this meaningless affair begin?"
"It was chemistry…"
"Chemistry? You call shagging your elder sister's fiancé, chemistry? You are pathetic!" Kambili said, flinging her hands in the air.
"I wish I was sorry but I'm sorry that I'm not…." Kayeto said.
"I do not want to see you around my new family…I want you far away from us. Do you hear me?"
Kayeto nodded.
"Good! Now let's get going…the church starts in five minutes…" Kambili said as she turned to face the mirror and dabbed the last trace of tears on her lids.  As soon as she was done, she headed towards the door with her sister in tow.
Kambili had noticed that her fiancé, Charles, had been distracted of late. She had suspected that he might be having an affair but nothing prepared her for the realization that her blood sister was the 'other woman' in his life. She had found out a month ago of their escapades but kept it to herself while watching them like a hawk.
Prior to her wedding day, Kambili never confronted Charles or her sister about the affair. At the time of the revelation, her first instinct was to call off the wedding but then, her thoughts had been, what would people think? What of the asoebis that had already been bought by family and friends? What of the halls already booked and the wedding preparations? What of the 'congratulatory messages' she had received from friends and enemies alike? No! She couldn't put herself through the shame of being the subject of discussion among friends. She decided that she couldn't face the humiliation of a cancelled wedding.
As she headed towards the limo which had been specially adorned for the bride-to-be and her bridesmaids, she told herself that she was doing the right thing. At least, now, her sister was aware that she knew about the affair and she vowed to make sure that Kayeto stays far away from her future husband.
Not too far from the bride was Kayeto, reading a quick message from the groom.
"I miss you…I can't wait to be with you…" The text message read.
"I miss you too…" She quickly typed and watched the message send.
As soon as she got into the limo, she evaded the hostile stares the bride sent her way and laughed at something one of the bridesmaids had said. Another message came in.
"Once the reception is over, meet me at our spot, I'll come up with some flimsy excuse for your sister." The groom's text message read.
In an hour, Kambili exchanged her vows with the love of her life and as soon as his lips meet hers in a kiss, friends, relatives and well wishers gave a resounding round of applause.
Two months after the wedding, there was a rumour, Charles had left his wife and eloped with her sister.
Photo Credit: Dreamstime