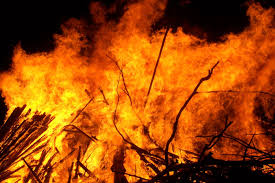 The Ikom main market in Cross River has reportedly been gutted by fire, leading to the loss of properties worth millions of naira.
The inferno was reported to have been caused by an upsurge in power started around 2 AM on Tuesday morning.
According to DailyPost, the state fire service station in Ikom after they were contacted, could do nothing to combat the fire due to complaints of lack of facilities.
The chairman of the market traders union, Caleb Agwu called on government agencies, NGO's and philanthropic individuals and organizations to help in cushioning the effect of the disaster.
John Inaku the State Director of Emergency Management Agency said efforts would be made by the state government to ameliorate the sufferings of the victims.