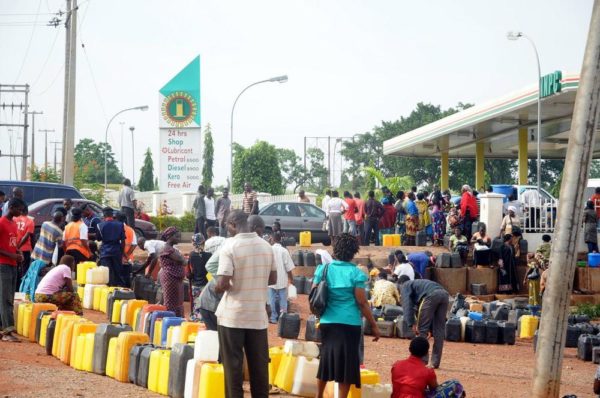 Thankfully the fuel situation is easing up a little. I bought fuel under 30 minutes in Maryland yesterday. Last weekend, it was a different story. I spent about 9 hours queuing for fuel at the petrol station. Yes 9 hours! I basically spent my entire day there, thereby missing my beloved Manchester United's game. Yes, I still love United despite the fact that Mr Philosophy is gradually turning us into a mediocre club. Anyway, back to the story I am here to tell.
I woke up that morning feeling all chirpy and excited; thinking about how much of a great Sunday I was going to have. Got up early so I could make it for first mass – all with the aim of starting my day early. I had it in mind that I needed to get fuel for the coming week – buying fuel on Sundays has sort of become a tradition for me. Also, I envisaged that it might be a struggle, given the scarcity, so I put a t-shirt in my car because I knew I would need to be as comfortable as possible and the shirt I was wearing to church won't have given me that. Mass ended at about 9am so I sharply got into my car changed into my t-shirt and headed to Ikoyi from Surulere.
The beginning
I decided to make a quick stop at the ATM at Lagos City Mall then also decided to buy food (I should have bought lunch and even dinner too) for the long day ahead. By long I thought the most I would be on the queue was 2/3 hours, little did I know. Got to petrol station at about 10am.
First – Second Hour
I joined the queue at one of the petrol stations on Awolowo Road which by this time had extended into Ribadu Road. I had to drive from the beginning of the queue to get to the end of it. During this drive I was trying to count the cars on the queue but I had to stop because I was close to tears. But I decided to brush it aside – there should be no room for negativity and sadness especially after spending 2 hours with God. So I parked my car behind this couple – they were the last car on the queue.
Third – Fourth Hour
The sun had really started to come out and it was starting to get hot. The queue was moving very slowly and cars had started to queue up behind me. ". At this point, one lady who lived around there was laughing and shouting – "una no go buy bread and butter? Hunger go kill una o". I chuckled to myself knowing that I came prepared. I had started getting hungry so I brought out my food and munched, thinking to myself – "oh Chima you are a very calculating man. You brought food so you won't be hungry during your 2-3 hour wait. At this point, one woman tried to shunt and trust Nigerians to bring out their verbal guns "Oloriburuku! DO you think we are stupid?!" etc.
Fifth Hour
Forgot to mention earlier that I also packed my laptop because I knew I would need to charge my phones. So I brought it out and started charging the almost dead phones while watching the latest episode of Grey's Anatomy on it. The queue was barely moving at this point, but at least I was not bored so I was still good. I applauded myself for the proactive thinking. People had already started getting impatient and were leaving the queue. I was happy, it meant fewer cars to my El Dorado
Sixth – Seventh Hour
All batteries dead, the sun had come out in its full glory – the heat was intense. Sanity had started to leave me and I was even considering taking off my shirt. My God it was hot, sweat was dripping all over my body. The queue had stopped moving entirely at this point, I wanted to cry and even just leave but I knew I will be doing myself – "how I wan take reach office the next day?" Got out of the car to stretch my legs a bit and see if I could find shade but even the shade (a nearby tree) was fully occupied. That is where I heard that the petrol station had stopped selling fuel – more people started leaving. This was 2pm, I had already stayed for close to 5 hours, so what was the point leaving? I was determined (in Kanu's voice) to get fuel.
I was beginning to get hungry again so I went back to the car and did what I thought I would never do. I opened the take away pack (thank God I did not throw it away) and started eating the chicken skin and bones (I normally don't eat this part of chicken). This was when I knew that omo! When you are very hungry you will eat anything (okay maybe not anything but almost anything). My bottle of water had finished a while ago and I was freaking thirsty. The Igbo man in me started thinking about the missed business opportunity that was staring at me – What if I was selling cold bottled water to people on the queue, imagine how much I would have made? Probably enough to pay for half of my fuel.
The Manchester United versus Everton game had started at this point so I turned on my car stereo to listen and even the AC – I did not care anymore if the little fuel I had was going to finish, I was not going to die of heat. Thankfully we won. Something to smile about.
Eighth Hour
I decided to take a walk to the petrol station to see if I could appeal to anyone or at least see for myself what the issue really was. I had not gotten halfway when I saw people running back to their cars. They had started selling again! Usain Bolt would have had nothing on me at that point. See race!! We had started moving again, faster this time.
So, there was a commercial bus that had been behind me, all this while. I think fuel had finished in it because the driver and conductor had to keep pushing it whenever the queue moved, I pitied them. Anyway, they were nowhere to be found when we started moving again, so about 4 cars jumped them on the queue. Apparently the conductor had gone to buy cigarettes and the driver himself had gone to buy water. Unluckily for the conductor, the driver came back first to see what had happened. He almost beat up the conductor, even sacked him right there and then but that one got on his knees and started begging, even promised not to smoke again.
Ninth Hour
It finally got to my turn at a little after 7pm. I was exhausted, like my whole body was shaking. I filled my tank while reminiscing about how my entire day went. If anyone had told me that I would one day spend 8 hours trying to buy fuel I would never have believed.
On the bright side, there were some lessons learnt from the experience. When going to buy fuel during scarcity, go with a partner, friend, sibling anyone but just don't go alone. Remember the couple I mentioned earlier? They interchanged a few times. The husband went to buy food for them while his wife drove. That's goals right there (I kid biko, which kind goals). Lesson two, quit smoking.
Ladies and gentlemen, the end. What's your fuel scarcity story? Hope it has not been as bad as mine.