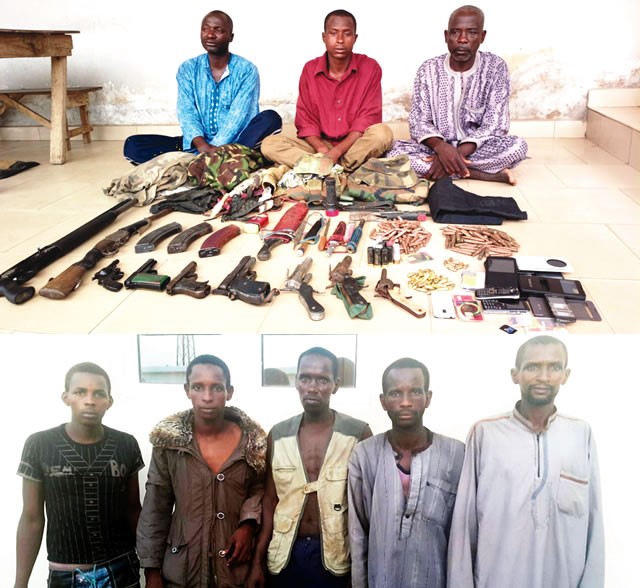 One of the suspects arrested in connection with the April 25th attack on Nimbo community in Enugu state have revealed details of the how the attack was carried out, PUNCH reports.
The suspect, Mohammadu Zurai, who was arrested alongside four other suspects, Ciroma Musa, Sale Adamu, Suleiman Laute, and Haruna Laute, told the police that at least 100 Fulani herdsmen from seven states took part in the massacre.
Zurai, who said he was born in Enugu State but was from Garba Shehu town in Taraba State, disclosed that Fulani leaders rearing cows in Taraba, Kogi, Benue, Nasarawa, Katsina, Niger and  Kaduna States contributed representatives to take part in the attack.
According to him, the attack on Nimbo community was in response to the killing of 6 Fulani herdsmen in the community in the past without repercussion.
"After we attacked the town through the bush, I saw a man who had just been slaughtered on the ground. I brought out my phone and recorded the scene. I asked the dead man, 'Your people had confidence to kill Fulani people but now you are dead. Don't you know that Fulani owns Nigeria?' I recorded the video to show my relatives in Kogi where I live how successful the operation was. As we moved around Nimbo, I saw an Igbo man who used to give me food anytime I was in the state. I warned him to quickly leave town to avoid being killed," Zurai said.
According to the report, the suspect said that he was invited to take part in the killing by one Buba. He identified leaders who participated in the killing as Alhaji Suddi, Alhaji Kuriya, Alhaji Dula and  Ardo Dula (living in  Enugu State). Others he identified are Mallam Adamu, Alhaji Ciroma, Adamu Sarka,  Alhaji Botdo, Alhaji Iro Kogi and Alhaji Fanya (from Kogi State).