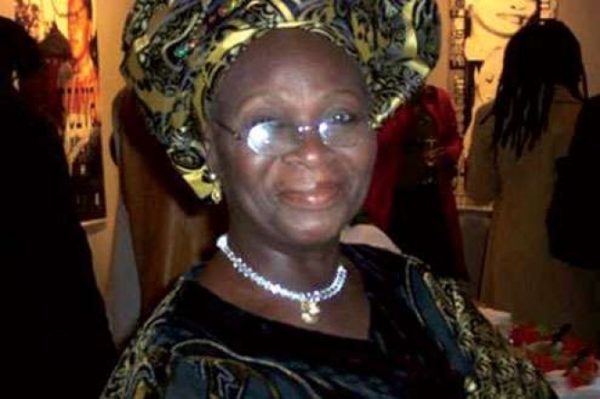 Veteran actress Bukky Ajayi passed away recently, and while there has been an outpouring of condolence messages as expected, many seem to have forgotten that 'Mama' (as she was known in the latter stages of her career) was much more than an actress. She was a symbol of everything good in Nollywood and society in general.
Below are 5 lessons to be lent from the career and life of this remarkable woman.
Find your path and stick to it!
At different stages of her career, Bukky Ajayi was a presentation assistant and TV presenter. Even though she worked behind the scenes on various TV programmes while she was at NTA, she always knew that acting was her true calling. In fact, as a kid, she reportedly used to do a cardboard sort of cinema for children, and used to charge them half a penny to come and watch. Today, her exploits as an actress has endeared her to fans all over the world. For me, the role I will always remember her for was as the mother in Tade Ogden's Diamond Ring, alongside Richard Mofe Damijo, Teju Babyface, Sola Sobowale, Liz Benson and Bimbo Akintola.
Professionalism is Key
Tales abound of her professionalism, when it came to her craft. Desmond Elliot, Patrick Doyle and Richard Mofe Damijo have all saluted this trait in her. Ask any actor that knows his stuff and they'll tell you one of the sure ways to being respected for your craft is to be professional at all times.
Humility Cannot be Over Emphasized
If you haven't seen the video of when she received the Industry Merit Award at the Africa Magic Viewers' Choice Awards in March 2016, for her impact in the creative arts industry, I suggest you Google it to better understand this point. Here's what went down: with tears rolling down her cheek, she expressed her surprise at the sheer number of people in the hall who had stood up to give her a standing ovation coupled with thunderous applause. But she quickly recovered and eloquently said that if she had offended anyone in the course of her career, they should please forgive her and she had forgiven anyone that offended her.
Speak out When Things are Going Bad
Speaking in an interview with Naij.com sometime last year, she spoke out about the copy- copy syndrome in Nollywood amongst other things. She said,
"Movie scripts are expected to educate viewers and families about morals, not the trend of promoting armed robbers and provocative stuff that is currently obtainable in the industry. Most of them are even recycled stories.  I rejected a script sometimes ago, because after reading it, I realised that it was an English film I had watched that he changed. I had watched the film in London. So how do you expect me to take part in such film? I won't do that."
How many actresses today can do the same?
Yes, an Actor can be Scandal-Free
Most people did not know she was ill. One of her sons, Claudius, revealed to Vanguard that she had stroke, suffered from hypertension and diabetes, battled breast cancer and cerebral malaria. I thought the fact that she was on a wheelchair was due to her advanced age, not knowing that it was as a result of her failing health at that time. She was also a single mother who raised three sons. One can only imagine the tough times she and members of her family must have faced yet their struggles were not public knowledge until recently. Former presidential spokesman and respected journalist Reuben Abati had this to say about her scandal free career.
"Many of the younger actresses mourning Bukky Ajayi have missed out on one of her important achievements as a female public figure for about 50 years. Her life was completely without scandal. Bukky Ajayi belonged to a different generation of Nigerian female artistes: those who combined virtue with professionalism. Enough said: her legacy of integrity, modesty and decency should be the big take-away for younger artistes as they mourn her departure."
Well said.