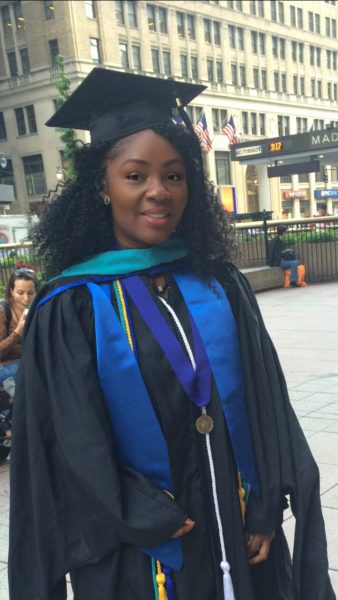 BellaNaija presents "Celebrating You! Class of 2016" We called for submissions by graduating students who had excelled in their course of study. We acknowledge the fact that everyone who has graduated this year is a winner. We, therefore, want to celebrate people who have gone over and above the norm. People who have gotten meritorious distinctions and awards from their institution of study. We hope that you are inspired and we look forward to receiving more entries.
We're pleased to share Edima Etuk's story today. Born and raised in Lagos, Edima is the fourth child of her parents. She loves cooking, volunteering and reading. But amongst all these cool things, Edima graduated  Summa Cum Laude (3.95/4.0) from Pace University's Dyson College of Arts & Sciences with an MPA in Healthcare Administration. 
When she isn't studying and breaking records, Edima watches Nollywood movies on Iroko TV. She says, "chances are that you'd catch me watching a movie on there when school is not in session." 
We love that she balances everything out.  Read on as we share the impressive feat of Edima's academic excellence.
****
Edima in a nut-shell
I love, love, good shoes… just to get that out of the way 🙂
As an individual, I am self-motivated, driven, goal-oriented and resilient. I also believe in working hard and smart – both are simultaneously important and essential if one must succeed. My watchword remains, do the possible and leave the impossible for God to do.
Achievements & Service while Studying
I got inducted into the Pi Alpha Alpha Global Honors Society as a result of academic excellence, and was also recognised as the Sal J Prezioso Award Recipient for significant contributions made in my department.
I served as a Graduate Assistant while in graduate school. In addition, I hold a BBA in Health Services Management (Magna Cum laude). Towards my junior year in college, I was invited to join the Honor's Program, having maintained a certain GPA. The healthcare field is one I am greatly passionate about. Having grown up in Nigeria, where I have seen, and continuously see clear disparities in healthcare being received, as well as being exposed to the harsh realities of a failing health care system, and the consequences it has on communities and societies at large, I have since been greatly determined to impact, or rather, transform the health care system. Being able to accomplish this will be a huge satisfier for me.
Not An Easy Journey, But a Truly Fulfilling and Rewarding Experience
My time at Pace University was not an easy one; it was exciting, yet nerve-wrecking, enriching, yet life-changing. Transitioning from college into graduate school, the trepidation I felt was of not being familiar with the happenings here as I've always been constantly reminded that graduate school is entirely different from College.
I'd tell you, I wasn't exactly prepared for what this phase of my life would throw at me but whether I felt unprepared or not, failure was not an option. My first semester was a bit challenging; adapting, time-management, and not procrastinating were a few important things I had to learn quick if I was going excel that semester. I had series of research papers to write, lengthy readings upon readings – the library fast became my hang-out spot. It got so bad that my colleagues and some friends would actually expect to see me at the library each time they came. I didn't have a problem with this, the idea was to excel, not just pass. My first year ended, I maintained a 3.90 GPA. I was happy.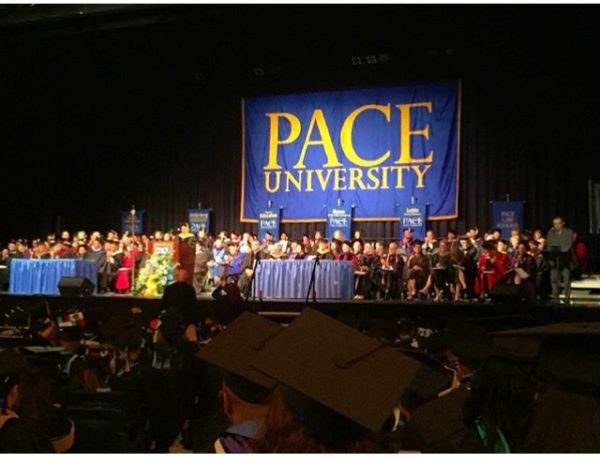 Triumph Through Pain
My second year, which served as my last year in graduate school was the hardest thing I encountered. About 8 weeks into semester, I was faced with a severe health challenge that impeded my walking – I tore my meniscus. I was terrified and appalled; quite frankly, I felt my entire world was slowly but steadily shutting down. I was in severe pain for weeks (anyone clinician would understand how painful this can be). At this time, I already missed classes because my physician advised I stay off my feet until I undergo an MRI to determine the extent of the tear. On my sick bed, I wondered, "How will I finish this semester? I do not want to take a medical leave" – I said to myself. To make things worse, I was taking pre-capstone, i.e. research methods course; this course precedes the capstone course that students take during their final semester to either defend their research project or write a comprehensive exam. Seeing that this was a crucial time in my academic journey, I made a quick decision. I decided that I wasn't going to let my illness alter my goal to excel or graduate on time with my classmates. So, I set out to continue my school work, even on my sick bed. I contacted my professors immediately, explained the situation to them, and asked if I could attend or listen into classes via Skype. They agreed. Luckily for me, one of my classes was online, so I didn't have to worry much.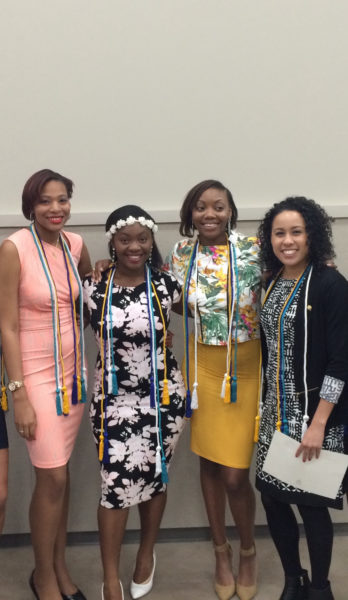 Family Support, Surgery & Difficulty
Being the workaholic individual that I am, I started completing my research papers and assignments online; I also kept the communication lines between my professors and I open. Thanks to them, my parents, siblings, and a few friends for their unwavering support. A few weeks passed, I received my MRI results; it was a hard pill to swallow; however, I prayed and stay encouraged. On the week of my finals (exams), my surgery date was fixed. I tried as much as possible to finish up projects and pending assignments that were due but I had some left undone, due to feeling extreme discomfort. At this time, studying at home was also a big challenge, so on some days, I'd ask my family to drop me off at the library. For each library visit, I had to limp with my cane, as I could hardly move with the clutches I was given.
Worth It in The End
Thankfully, the procedure went well but could hardly walk right away. Being the independent individual I am, it was difficult to have people do virtually everything for me – I was always ticked off by my inability to get up and do what I need to get done. But seeing how things were, I had to relax and let my family help. The next stage was physical therapy – the hardest part, as it entailed gaining full motion, and be taught to walk as a baby all over again. Given my determination to excel, I had to learn to juggle my physical therapy sessions with school, no matter how hard it was. By the grace of God, I was able to graduate in flying colors, get inducted into the global honors society, and of course, re-gain my walking. Ha! It was hard!!! The decision to uproot myself out of my feeling of dismay took outmost courage. I couldn't have done it without the help of God, my family, and a few real friends. So this is for them!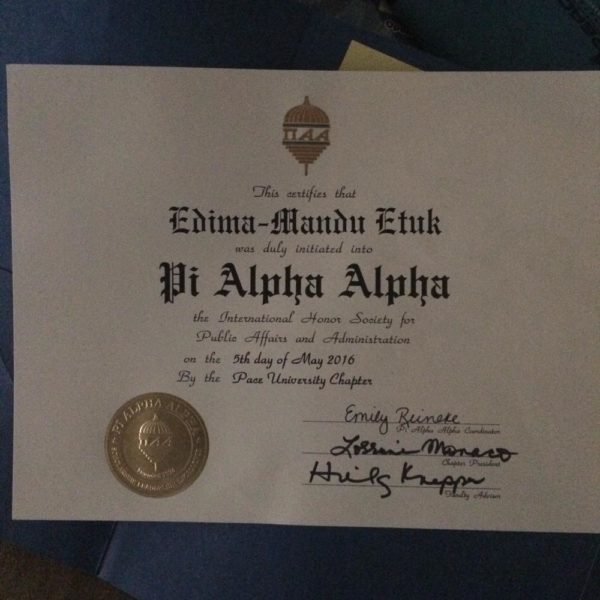 Words on Marble
Attaining this height was never easy; as a matter of fact, I was constantly plagued with one extra challenge or the other. Despite this, I remained assiduous, diligent, and continuously pressed forward without any hesitation. I'd end with this, do not allow situations define you. Stay determined. Stay encouraged, and prayerful. If you set your mind to it, you can achieve it.