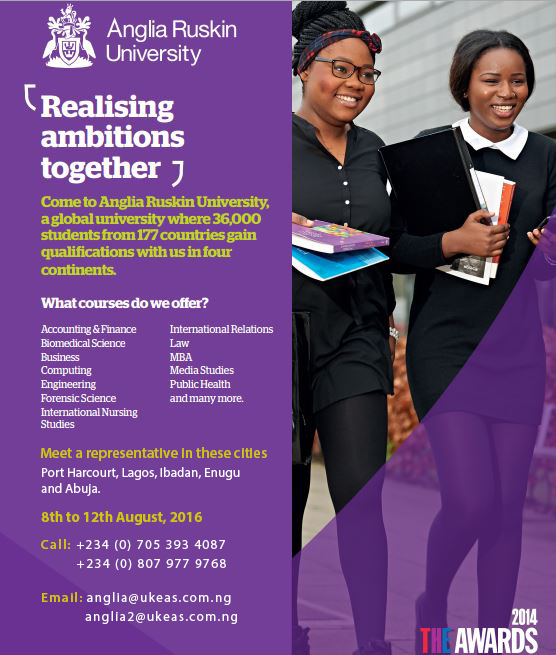 Anglia Ruskin is a global UK university that offers world-recognised courses, excellent facilities and award-winning lecturers.
It was established in 1858 as the Cambridge School of Art and we currently offer undergraduate and postgraduate degrees in a wide range of subject areas on our Cambridge and Chelmsford campuses. With about 36,000 students from 177 countries, we are the largest university in the East of England.
Meet with a representative in Lagos, Ibadan, Port Harcourt and Enugu to discuss available courses & scholarships and find out more about our excellent facilities and award-winning student support this August.
The details are as follows:
Port Harcourt
Date: Monday, August 8th 2016
Time: 10AM-4PM
Venue: UKEAS Office 45 Stadium Road now Ken-Saro Wiwa Road beside FIRS Building
Lagos
Date: Tuesday, August 9th 2016
Time: 11AM – 4PM
Venue: Affordable Cars Building 76 Opebi, Ikeja
Date: Wednesday, August 10th 2016
Time: 11AM-4PM
Venue: 6 Adeola Odeku street, Victoria Island
Ibadan
Date: Thursday, August 11th 2016
Time: 11AM-3PM
Venue: 1 Shell Close, Ile Oridetu, Onireke, Ibadan. Oyo State
Enugu
Date: Thursday, August 11th 2016
Time: 11AM-4PM
Venue: Suite B8, First Floor, Bethel Plaza, 36, Garden Avenue
____________________________________________________________________
Sponsored Content