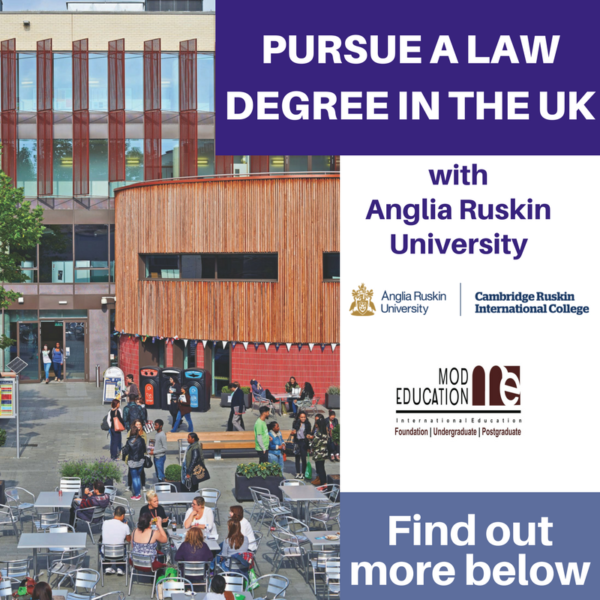 Are you interested in pursuing a degree in Law at a UK university? How about bringing your studies to Anglia Ruskin University, located in the famous university city of Cambridge? With the help of MOD and Cambridge Ruskin International College, you could soon be starting your course!
Meet with our representatives from Tuesday, November 28th to Friday, December 1st, 2017.
Why Anglia Ruskin University?
Their LLB (Hons) Law degree is ranked number 1 in the country for student satisfaction (The Complete University Guide 2015 and the Times and Sunday Times University League Table 2016)
Choose to graduate with two awards – LLB (Hons) and a Higher Diploma in the National Association of Licenced Paralegals
Partner with a professional from a regional law firm on Anglia Ruskin's mentoring scheme!
The course is flexible and allows you to focus on areas of specific interest and develop your own areas of specialisation, which will meet the requirements of your chosen year
Join ARU's Law Society and take part in national competitions including mooting and client interviewing (won by ARU 6 times!)
Apply to study with just 5 Credits in WAEC/NECO!!
September, January and May start dates are available!!!
If you're interested in studying Law in the UK and would like to find out more about making an application, contact your local MOD representative by REGISTERING HERE.
We look forward to hearing from you!
——————————————————————————————————————Sponsored Content