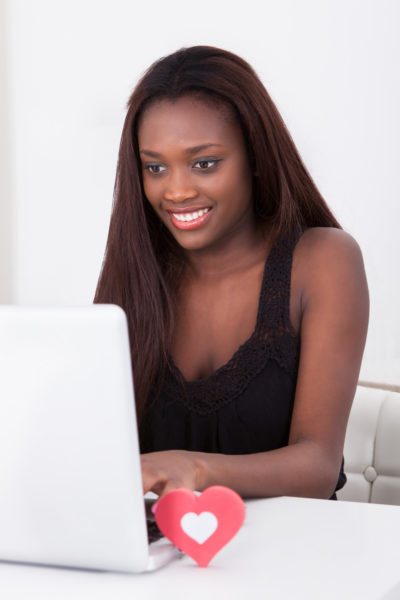 What to do when you, at 35, suddenly become single? I mean, you move from mentally planning a wedding with your boyfriend of four years to being single and searching. Mind you, you ended the relationship after a careful, logical drink-inspired assessment of the relationship, so you cannot really pin this break-up on the guy.
You are female and African Nigerian, and you are single at 35. I need you to think through the implication of this condition of mine.
Fast-forward to a few months later. You have an epiphany. Tinder!
You may be Nigerian but you live in America. Forget that you, as a result of some sort of pseudo-Christian belief that God has a special Adam to your Eve, have never really believed in having a strategy on how to meet a man. Surely, God has that covered. And resorting to self-help cannot be a good sign of your faith in the omnipotent God who ought to be able to arrange a garden-of-edenesque meet-cute without your input.
Reality is you are an introvert, you hate bars and your idea of happy hours include going to the liquor store, buying a bottle of cheap red or white wine, getting back home (all the while listening to an audiobook on your iPod using noise-cancelation earphones), sitting on your couch, and catching up on your favorite TV show on demand. The summer has been pretty boring so you've had to make do with new shows like Greenleaf, Queen of South, and… well, Donald Trump. Oh yes, Power is back so there, some summer spice.
Yes, Tinder. Step one, Google: find out the basics on how to join, read reviews. Step two, create a 2nd Facebook profile. One without pictures, friends, etc., no word of this must ever get out. Download the app, register. Add a sole picture, one of you in a beautiful European city; you, just large enough against the lovely background to show that you are an attractive woman but not close up enough to show your exact facial features. Just in case.
Adjust the settings, no kids under 28, those ones are still in the deceitful euphoria of youth. And no oldies over 45, thank you. Those ones likely have ex-wives and a brood. You may be 35 and single but no baby-mama drama, thank you very much.
Finally we are here. Ready to swipe left or right. I'm going to try men of all races. My ideal man would be: socially conscious, smart, nerdy, well-educated, attractive, taller than 5.10," areligious, and errr… democrat. Yes, I have enough of the Trump crowd to know I may be better off with a democrat.
Anyway, so yes, here we go, time to swipe.
White dude: movie-star looks, claims he's 6.2," nice pictures including a golfing trip and another one with his blond sisters and father. Swipe left, they look republican.
Next, Latino guy: Good looking, too much gel in the too-arranged hair. Swipe left, he looks dubious.
Next, balding white man: 34, Ivy League educated, only one picture, no details of height and likes. Swipe left, insufficient data.
Next, skinny white dude: picture No.4 of him naked waist up, ugly tattoo on his right breast, skinny torso. Swipe left, can't deal.
Next, black dude: looks like a boxer-he's in a ring, armpit hair. No thanks, swipe left.
Next, white dude kissing his wife: he and his wife seek 'a playmate for board games.' Swipe left, shudder!
White dude: 35, has a sweet face, has pictures of him with his cat and dog, works with the government, doesn't want to 'play games and is looking for something serious,' nice university. Swipe right. It's a match! He's already swiped right for me. Super! Keep swiping. I'll let him initiate the conversation; I'm still an African woman.
Next, black dude: 34, clean cut, well-tailored suit, Oxford University, Management consulting, says he's 'looking for someone to hang out with a possibility of something serious,' 6.2," moved to the US two years ago. Definitely swipe right. It's not a match… sad face. Well, fingers crossed, he may yet swipe right.
Next, black dude: great looking abs. Hold up, this dude looks suspiciously like Omari Hardwick. What are the chances that Omari is single and on Tinder, close to me in NY? Can't be him, this one's called Sean. Plus he has a cheesy quote on his profile. I don't like men that are not original. Swipe left.
That is enough swiping for a day. Will have to come back to this later.
Photo Credit: Andrey Popov | Dreamstime.com