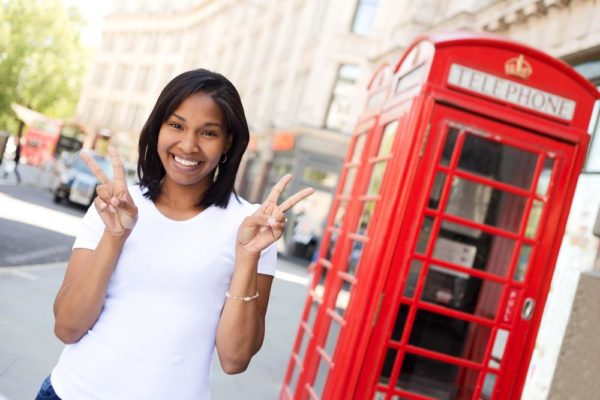 Growing up, I always imagined that London and America were just like heaven (a little exaggeration). For a very long time, Mrs A (our neighbour) was the closest we came to the Janded life. She taught us how to make Apple Pie and on a number of occasions she got my sister and I a few items from the UK. Although my parents had travelled on a few trips abroad, they had to take some time off any travelling to avoid any unnecessary expenditure.
Therefore, we did not have the luxury of travelling to the United Kingdom or to the States during the summer holidays. In fact, we referred to the summer holidays as Long holidays and the December holidays as Christmas holidays and not winter holidays. I wonder why we never called it dry season holidays, wet season holidays or harmattan holidays (side eye).
I remember once when Mrs A's mum was in town on holiday from the UK. She casually mentioned that my sister and I were welcome to see her whenever we made it to London on holidays. Since Grandma did not get the memo, we decided to oblige her and just smile. On our way home, my sister Laby and I burst out laughing. The laughter was serious, no real conversations about the topic, just laughter. It just did not seem like London was in our future. Imagine the joy, x number of years later when my dad said he was taking us on holiday. Truth be told, he did not have all the money for that trip; but, in my father's words, he wanted us to be exposed and to know that there was a world out there and that there was much more than what we saw every day.
So off to London we went. This was my first time on a plane. I was about 19 years old. In 19 years before that trip, the closest I had gotten to travelling were the trips to the airport with my Dad who travelled frequently to Dubai to get some merchandise for sale. I loved going to the airport, seeing people bid their family farewell (sometimes in tears, kisses, hugs or a combination of emotions). At that age, Murtala Mohammed Airport felt so much grander than its current pathetic state. This, however, was my own first trip and I was super excited. I watched movies all through the first flight and did not catch any sleep until we got into the connecting flight to London. This felt like luxury. At that time I did not know the difference between Economy, Business or First Class but even with my little travel history Emirates Economy is quite superb. It was definitely a grand way to start my travelling experience.
We got into London very early in the morning, went through immigration and hopped on the underground. My dad tried to make the trip as educative as possible, I remember he drew the map of the UK and highlighted London, Dundee and Scotland just to give us a sense of location.
Wow! This was it, London. The airport felt so much grander than Lagos. Everything looked much organised. There were proper signs on how to get to the underground, taxis etc. People minded their business a lot and did not try to be chatty at all. It was only end of July but the weather was cold for me so I carried my sweater along all the time.
There were some many "Park and Shops" around (at the time there was only one shopping mall in Lagos and it was a big deal. My Cousin took us sightseeing at the museum, London Eye, Trafalgar's Square. My breath was taken away by the splendour of it all. The beauty was foreign to me, the quiet was even more alien to me. These were the things that fascinated me. Soon enough I started to notice the other side.
First, some parts of London can be really dirty. I did not imagine that there would be any dirt on the road at all. For some reason I imagined that it will be squeaky clean at all times.
Second, we bumped into a few homeless people and it was really hard to imagine how these people survived in the cold. Hungry, homeless and possibly hopeless.
Third, the really small sizes of houses. This was indeed the most shocking of it all. Even though my house was not a Palace, we had a fairly decent 5 bedroom house with a big living room and enough restrooms to go round. When we were younger, we had more than enough space to play around. The size of the roads baffled me.
Lastly, I could feel the difference between the London vibe and the Lagos vibe. Lagos was definitely much bubblier. Neighbours knew each other and interacted more than I saw in London.
I loved the experience of the trip but I missed home. We underestimate the amazingness of being Nigerians. The beauty in our ability to strive in hard times, our creativity, our diversity and our cultural heritage. Although we still have a long way to go a VERY LONG WAY TO GO in terms of development, we must not underestimate our potential as a people.
Home is not a location; it is the feeling and the freedom of expression that comes with being in a specific location. London felt like heaven in my mind. In reality, though it is a really beautiful place and is becoming home number 2, It has its bad sides.
Lagos is just lit…. home forever…….
Photo Credit: Michael Spring | Dreamstime.com