For today's #BNFroFriday interview, we have popular natural hair blogger and entrepreneur, Chinwe Juliet of IgboCurls.
Chinwe told BN Beauty; "Igbo represents the fact that 100% Nigerian and curls represents my natural hair"… We love that!
The blogger also has an application available on Android devices. It features daily tips, updates, tutorials, regimens and more on everything natural hair.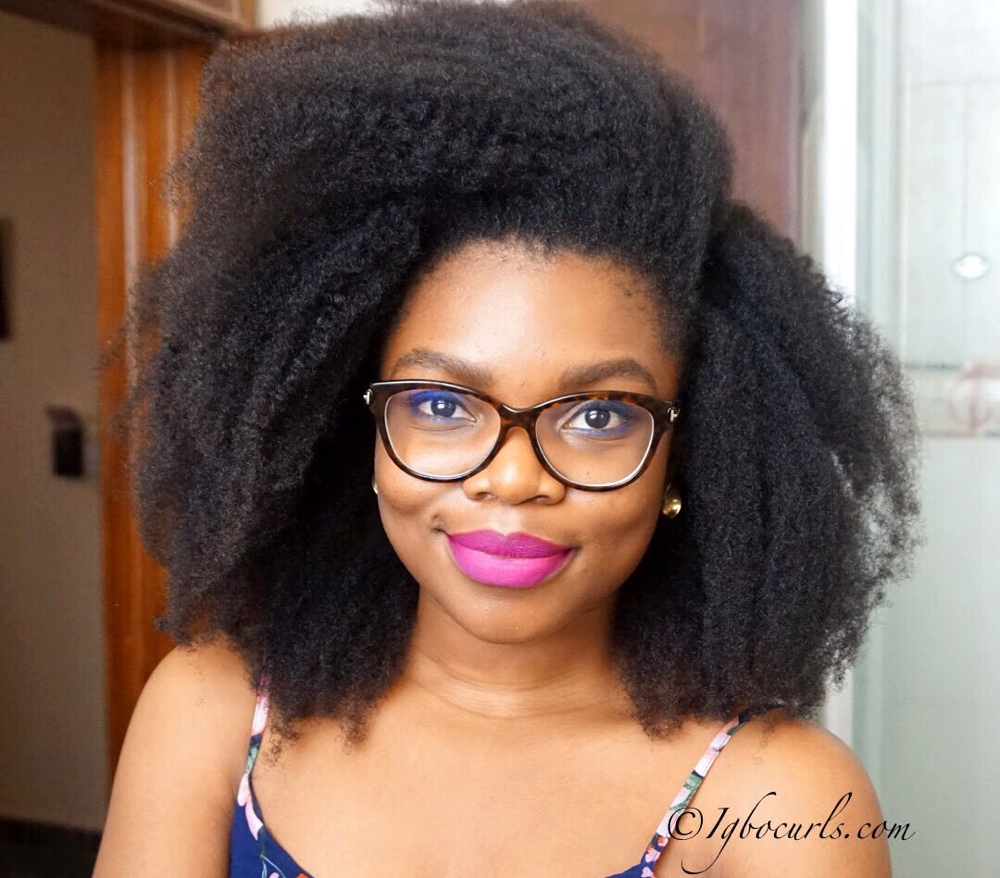 BellaNaija: Tell us about your hair
Chinwe Juliet: My hair is all types of kinky. Its curly, 4b in the center of my head but very kinky-curly (4c) around the rest of my scalp. For some reason, the Igbo in my Igbocurls does not seem to be serving its purpose because people do ask me if I am Nigerian so I want to assure the public that my parents are complete Nigerians from Anambra State!
BN: Why did you decide to go natural?
CJ: I decided to return natural 5 years ago. The Summer of 2011 to be precise and it wasn't a conscious decision because I actually had no clue there was something called natural hair. I was just sick and tired of going back to salons to apply chemical relaxers that I feel was really my '30 minutes of punishment'. Thereafter, I would be faced with constant breakage until my hair was 'due' again.
BN: How did you make the change?
CJ: I transitioned for 7 months after my hair lost its colour from relaxers and broke off very badly. It was a completely new experience. I also remember the day I noticed the hair coming from my scalp was curly I was ecstatic! (Yes, I was that ignorant). As I said earlier, I never knew there was something called natural hair and I did not know it was curly.
During my transitioning phase, I bought books on natural hair, researched and found a handful of helpful vloggers on YouTube. There wasn't as much information then on YouTube as there is now but I made the best of it. Most products were trial and with lots of error but I finally figured out what my hair liked.
My family got to see me after a year plus with my natural hair and although they had their curious questions, I showed them the beauty of it and now, even my mum is natural!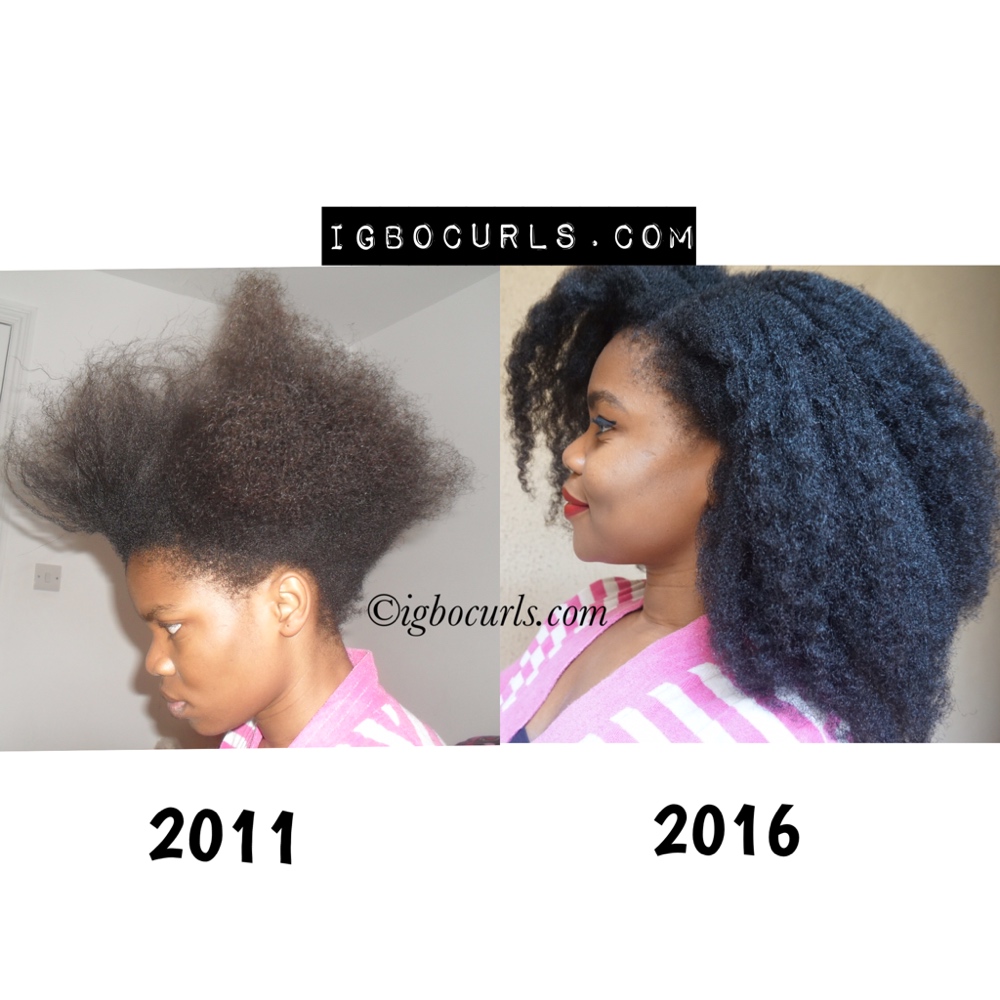 BN: Are you tempted to go back to relaxers?
CJ: Never!!
BN: Ever hidden your natural hair, why?
CJ: I actually wear my natural hair for at least 9 months in a year and whenever I decide to wear a protective style, I miss my hair so much that I have to take out the protective style early.
BN: How does climate where you live affect your hair? (negative and/or positive effect)
CJ: The Harmattan weather right now is making my scalp itch so badly! Plus, my mum keeps telling me my hair constantly looks dry so that's not good. The rainy season is a lot kinder to my hair but I have no complaints, I just have to adjust my hair regimen.
BN: Do you have any other hair issues? (aside from the ones caused by climate)
CJ: Not particularly. A year ago I had what I call a dangerous case of split ends because I left a protective style (with just my hair) for a month and I had to cut off 2-3 inches off.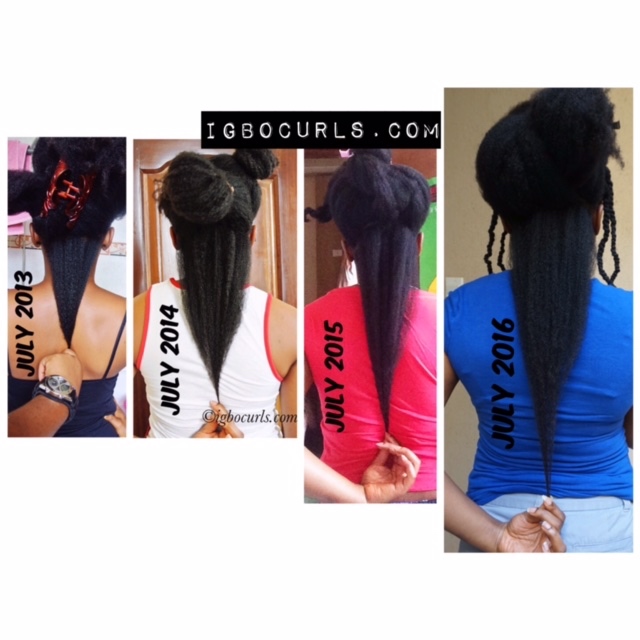 BN: What's your stance on natural vs chemical products?
CJ: Natural all the way! 10% of the products we use gets absorbed into our bloodstream and natural hair fares a lot better with organic products so its best to always go for organic or at least 90% natural products for the sake of your health and your hair.
BN: What's your daily, weekly and/or monthly hair routine?
CJ: The busier I get the more I have to care for my hair at odd hours of the night. These days, I barely wash my hair twice a month and I follow a 7-step regimen. I never miss Pre-poo. Most times I use Extra Virgin Olive oil but I also use hot-oil treatments from Phyto, A'akuba Naturals and other companies.
Next, I finger detangle and split my hair in 6-10 twisted sections before I shampoo. I shampoo and deep condition while my hair is still in twists and rinse with diluted Apple Cider Vinegar. To style, I finally take down each twist and apply Leave in Conditioner, Moisturising Cream and seal everything in with Oil.
I have lots of staples, but I'll give a few you can find in Nigeria.
Taliah Waajid Protective Mist Bodifier
Aunt Jackies Knot on My Watch
Lotta Body Moisturise Me Curl & Style Milk
Midas Naturals Detangling Co wash (This is a Nigerian Brand)
Tresemme Smooth & Silky Conditioner etc
I'm using more Nigerian Brands now and some are eventually going to become my staples.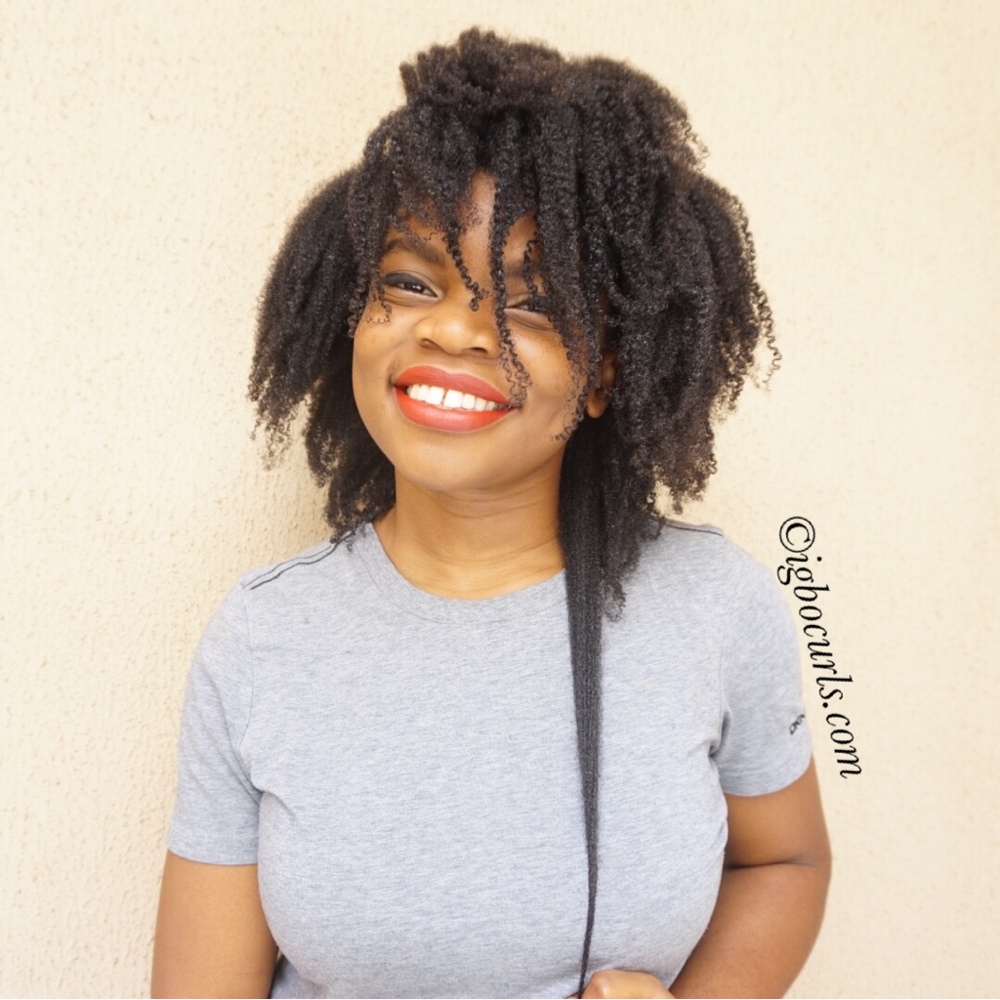 BN: What advice would you give to people thinking of going natural?
CJ: Do it! Your hair is yours. Embrace it and learn to see the beauty of it. You may end up like me in a shorter time with 24 inches long natural hair if length is your concern but just make the decision. You never know until you try.
BN: What do you like best about your hair and being natural?
CJ: What I love about my hair is that it is unique, voluminous and beautiful in its own way. I don't get headaches or scalp burns and it just grows and glows the more I care for it.
BN: What are your favourite styles to rock and why?
CJ: Despite what my Instagram page suggests, I only wear my natural hair out to take pictures. Most times it is either in a fancy high bun or 2 jumbo flat twists to work. For events, it is in a unique style I create that reflects my mood.
BN: If you were stuck on an island, what 3 hair products would you take with you?
CJ: No.1 will always be Taliah Waajid Protective Mist Bodifier for now.
No.2 Hmm…maybe Lotta Body Curl & Style Milk. It's heavy enough for my hairs needs.
No.3 I'm thinking Living Proof Restore Mask Treatment. I'll definitely need a hair mask if I were stuck in an Island.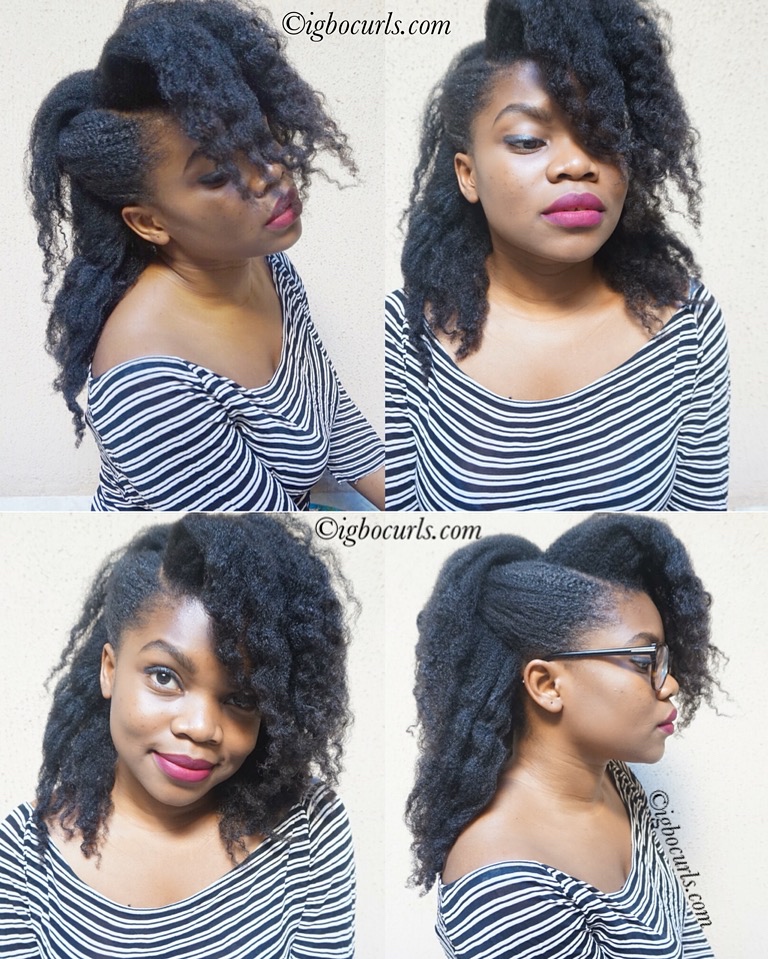 BN: What's your remedy for a bad hair day?
CJ: Headwrap! I'm allowed to wear hats and scarves to work so I just wrap my hair up and walk with confidence.
BN: Do you have any hair crushes?
CJ: Yes, your haircrush has a haircrush! She's Dr. Andrea Alexander, @paging.dr.dre on Instagram. She is a Doctor and yes she still has time to take care of her gorgeous mane.
BN: Are you particular about sleek edges? If so what do you use to get the look?
CJ: Nope, set your edges free! But brush them nonetheless. If I do want a sleek edges look, I go for ManeChoice Stimulating Edge Control.
BN: Are you afraid of trimming?
CJ: No, I cut off split ends and single strand knots whenever I see them because hanging on to them creates more tangles and damages my hair overall. I also do a general trim twice a year.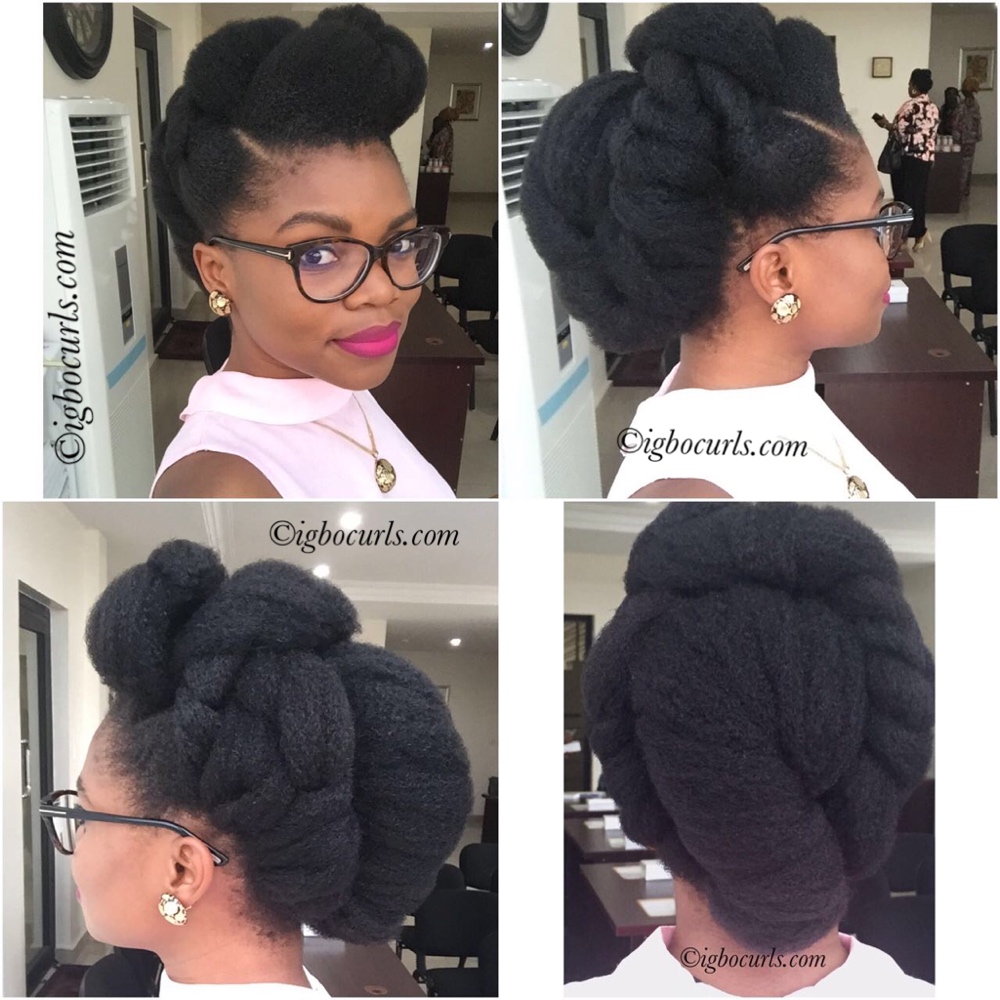 BN: Length or Health?
CJ: Health! I never want to have unhealthy hair that I refuse to cut because I'm obsessing over length.
BN: How do you feel about random strangers touching your hair?
CJ: This has happened quite a number of times and it can be annoying. Ask for permission first please.
BN: What kind of comments do you get about your hair from the Nigerian public?
CJ: "Is this your hair? Natural hair? Virgin hair?''
"Is this a church thing? Are you part of an organisation? -_-
"Your hair is up to your waist? You are lying!"
Sigh, but after disbelief the comments that follow are usually inquisitive and complimenting.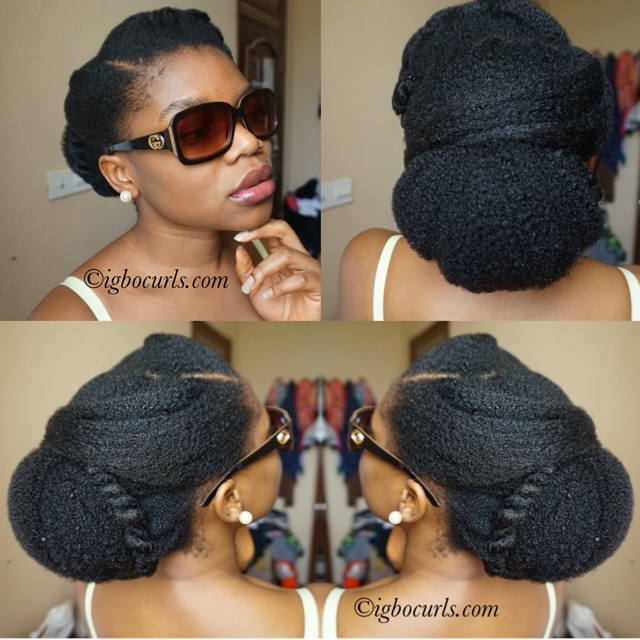 See Her Most Recent Videos
Hair Story
My natural hair is 24 inches long now and it proves that naturally kinky, 4c, African hair can grow long, healthy and beautiful too. See my next video to learn my Top 10 Tips for Growing Natural Hair Fast that has worked for me.
10 Tips To Grow Long Hair Fast (4c Natural Hair)
Growing Hair Long especially Natural Hair is very possible! Even though growth rate varies from one individual to another, the 10 Tips to Grow your hair long and fast will help you on your healthy natural hair journey.

All the tips I outlined in this video has worked for me hence, my 24 inches long natural hair now and I hope they can be useful to you too!
***
Thanks for sharing your journey with us, Chinwe!
If you'd like to be featured on the next #BNFroFriday, send an email to [email protected], let's celebrate your hair!