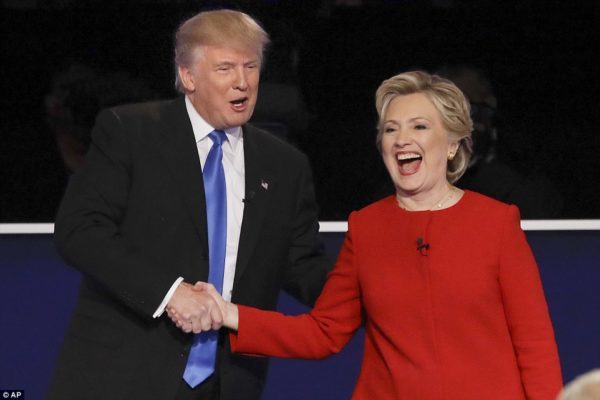 My mother was in Philadelphia this past weekend. And before she started to tell my father about the significant difference between the city and New Jersey  (where she had journeyed from, before she started to call it "Philly" with a certain familiarity that only one who had been there would understand), they talked like every other time about the American elections.
My father, his placid worry cloaked in high-pitched words "Trump is a bastard!" "Hillary is a better candidate". My mother, muttering her reply into the gruffness of a WhatsApp call – mostly echoing my father's words speckled with more views on how much of a wrong candidate Trump was.
But for the first time in these past few months since the shemozzle that is the election process started, for the first time in their normal conversations about debates or emails or improper sexual relationships, I heard fear. If I had heard this fear only when my father said, "Trump has a true possibility of winning" to my mother, or if I had heard it only when we watched the CNN report after the call had ended about the proximity of the votes, it would have been alright.
If this fear was similar to that of everyone else's, if it was because of what would happen when a quite laughable character like Trump got into power, then I would not be doing a blog post for it, but it wasn't. For there in my father's voice, I recognized my own sort of fear, the sort that asked questions.
I am not frightened of what would happen if Trump wins the elections; I am not afraid of how much of a off beam candidate he is. I am stuck here in Lagos anyway, and I would not be like the boisterous woman who tells her neighbour her soup is bad-tasting although hers is on fire. I would not be the Nigerian who is more concerned about things that shouldn't trouble him.
I must cite here the example of the security guy I met at the bank a few weeks ago who kept ranting "We will not vote Hillary" with a certain guarantee that made me wonder if our Nigerian PVC's could now garner one a valid vote in the American elections.
And although I admire these small ambiguities of wanting to belong, I admire speaking of things beyond ones scope, I like bigger pictures. I, however, and we all know this is the truth, consider it quite imprudent and almost unpatriotic that we are more concerned about Trump and emails than about the Nigerian senator who married a fourteen year old girl.
But well, aren't we all spots of unpatriotic?
I am afraid of how we got here, Nigeria and America. I am afraid that Trump is an option, that I can be alive at a time when a Senator says that a fourteen year old girl married him by consent and we are somehow more concerned about a cross dresser and his Bae. I am even more terrified for the many more ridiculous things like Donald that would become alternatives in the coming years.
So my problem with the rift between Hillary and Trump is that there shouldn't be a rift. Hillary Clinton past secretary of state, U.S. senator from New York, first lady of the United States, first lady of Arkansas, a practicing lawyer and law professor, and an activist against Trump, the petty billionaire with little political experience who has issues with race and women.
I think this rift is pointless, unnecessary, not because Trump reminds one of that spoiled kid in elementary school who had all his bars of chocolate before lunch time, and who supplements lunch with inanity, it is not because he has minimal political knowledge or even more minimal control of his tongue.
I think, however, that America's existence is too valuable, too beneficial to be steered from a point of anger, for there is little anger has ever really done.
Here is a man who has openly praised perfidious world leaders, Bashar al-Assad, Kim Jong Un and who said "I believe I'll get along fine with Putin" about Russian leader Vladimir Putin. And I think comments like this although adorned with inanity, folly and a fierce need to stand out are adorned with something else, and it is about this something else that I am afraid.
They are adorned with a distasteful love for retribution – and this would be an admirable trait if it was done about something good for I consider loving retribution to mean one is not afraid of it but with Trump the case is quite peculiar.
With him, America would have a President who feels good about doing awful things, a President who is clueless about what these bad things are and frankly, there is nothing a lot worse than the absence of conscience. I know we cannot exactly judge conscience or intent by what one does in public, Hillary Clinton might be fiendish behind closed doors, but as I tell my brother often, "Trump's obscenities are fragments of a bigger bitter picture" and that he considers flaunting these inanities necessary and/or acceptable, it is somehow who he is.
This is the America whose skyscrapers and stunning parks have fostered the dreams of many pressing on for a chance to exist in the city of hope. It is the America with a crowded embassy on Walter Carrington with understanding security Men where dreams are made or dashed.
And I know that this America has not always got it right; slavery was not initially removed from the constitution. Richard Nixon and the Bush administration were not prosecuted after they left office fuelling the standard that presidents can't be held accountable for the crimes they commit and the commercialization of college education supporting the idea of college, of school as the only important path. But has anyone ever really got it right?
Hillary Clinton is not a saint, conspiracy theorists believe, and as to an extent quite confirmed by her leaked emails that the plot to take out Libya's then-dictator, Muammar Gaddafi, was enthused not by human rights concerns, but by Gaddafi's plan to introduce a gold-backed currency that would unite the entire African continent.
Nevertheless, as I saw on social media a few weeks ago, America has to make a choice between Cancer and Ebola and well it's a little glaring which is the better option.
And so to survive this election, to survive this era where Donald Trump stands a chance, I am resolving to not be bothered by the outcome. I will stand in front of a mirror and effectively practice how to say "President Donald Trump, 45th POTUS" without feeling the lurch of anger in my chest. I will watch CNN and the polls as November 8th draws closer unperturbed by the proximity.
The bio on Hillary's website further reads; The first thing her friends and family will tell you is that she has never forgotten where she came from or who she's been fighting for throughout her life. And in those few words I find the America I know, the America I love, the America I heard in my Mother's voice when she first said she was leaving for the states.
About this America, I know that irrespective of who wins, Trump or Hillary, whether bitterness is in power or a fierce love for hope and humanity, America will be great, because as we all well know, there was never really a time she stopped being great.
Photo Credit: Getty Images