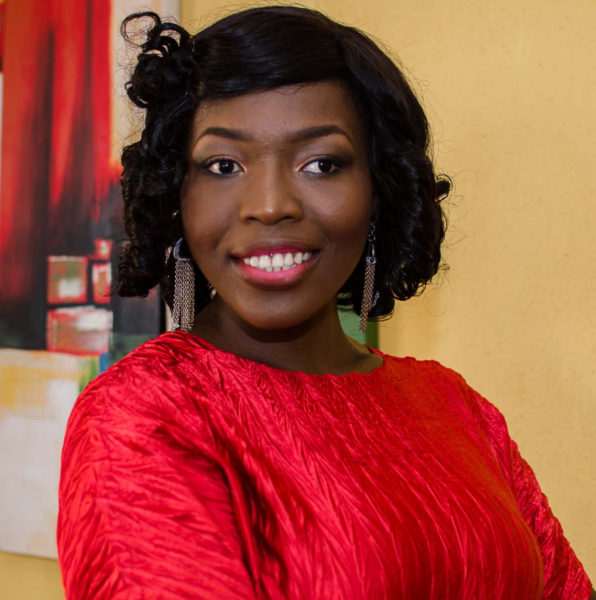 My friend Mobolaji Olorisade recently released her first book titled "Letters To Our Fathers" and reading the book took me on a long stroll down memory lane.
The book comprises of ten letters from ten girls to their fathers.
Some with fathers who had been really harsh to them when they were young…
Some with fathers who had never been there for them – too busy to attend to their needs but never too busy for work…
Some with fathers who they never had a personal conversation with… with their childhood characterized with running away when Daddy comes back from work and sadly, adulthood not being any different.
Reading her book made me think long and hard about my own dad – Mr Isaiah Elohor Okoro.
If I were to write a letter to my dad, what would it contain?
I think I would start from the early days with him…
We are five children in my family – five children from one father and mother.
My dad and mom were divorced when I was 9/10 years old and as the first girl, responsibility kind of fell on me to be the mini mother of the home.
I remember days of bathing my younger sister – the last child in our home who was 2/3years old at the time.
I would brush her teeth and bathe her and of course be totally annoyed at her cries.
My parents divorced when I just gained admission into Secondary school and so the responsibility to train me as a girl/woman fell on my dad.
And I dare say that he did a good job of it (as much as he could)… not too many dads I know would do what my dad did for me.
I remember days of my dad taking my laundry during my holidays and asking me to watch him as he washed my clothes.
He would take my towel, wash it, and tell me to watch him as he did so, so I could learn from him.
I remember days of him cooking egusi soup while asking me to stand and watch ohhh.
He would cook and serve breakfast for my siblings before they go to school and also pack their lunch and leave it on the dinning table for them to eat when they come back from school.
I remember when I first started going to the market.
At first, we (my elder brother and I) went with my dad and he showed us his customers – madam meat, madam egusi, pepper, etc.
And then after a while, he would write the list for I and my brother to go to the market alone.
Ah, I lost money during those period oh. And even when I thought that my dad would beat me or something after I lost cash, he would just give me another money to go back to the same market to get foodstuffs. Looking back now I realize that he could not have beaten me because he knew that he was simply training me and I was just a little girl.
My dad refused to get married for the 14 years he and my mom were divorced just for the simple reason that he didn't want anyone to maltreat us.
I remember one woman who was drawing close to my dad then and my dad called us to the parlor to ask us what we thought, that he would go ahead with what our decision was and we all said NO! And he went with our decision.
My neighbors used to wonder if my dad was my younger sister's brother or father. They did everything together!
My dad used to rear chickens then and he and my sister would go to the cages and feed the chickens while gisting and laughing.
My dad was totally against children running to the room when he came back from work. He would call us all into the parlor and start gisting with us. He would call me to the parlor to come and watch Ngozi Okonjo-Iweala and tell me all about her. Who she is and how he sees me being like that too.
He would call me in to watch Nike Adeyemi's programme at schools and we would just sit and discuss.
I know that I got this my sharp tongue from my dad.
He always had a thrill from getting us – my elder brother and I to argue with him.
We would argue and argue with everyone saying a piece of their mind. Our living room used to be hot then!
I remember when I used to put too much salt in our meals, my dad would eat it without complaining, then later, while gisting, he would slide in the fact that the salt was a bit too much.
I never grew up in fear of my dad.
He did everything he could to draw us close.
In fact, I even knew when my dad earned his salary. I knew his benefits and retirement plan and cash accruing to him. I used to wonder why he would trust me that much.
The only time I was in fear of my dad was the stint during my university years with the boyfriend and abortion deal.
I couldn't imagine letting my dad down.
I have had fall-ins with my dad… we quarrel and argue. We fight and I cry and report him to God…
But when I do get a chance to stroll down memory lane, I admit that I had a dad like no other.
I knew that my dad wasn't all there financially; I didn't grow up in a home of affluence but I knew that my dad would use his last penny for our education and well being if need be.
He would forfeit clothes, and wear just one shirt if he had to do that just to provide for us. We would all see when his salary came in and how he would divide it for all of us with just fuel money going to himself.
My dad never ever held back from us – he was indeed a provider.
He had his flaws and still has his flaws.
For one thing, I don't think I have ever heard him say 'I am sorry".
Ah, there was one time when I was really young and I think the stove was bad and I couldn't fix it. I waited for my dad to come back from work to fix it and he was angry when he came, asking me if "that's what I will do in my husband's house".
But he fixed it and I cooked afterwards.
But I was mad at him for shouting at me.
He ate the food, knew I was mad at him and instead of apologizing, came to the parlor to say "but Rukevwe, the food sweet oh…."
Ah, my daddy.
My classmates at my Secondary School used to wonder if I was the last child anytime my dad came to visit me because I would cling and cling to him.
I had amazing times and still have amazing times with my dad anytime I go home.
He still pumps me up to reach for more and I know the path God seems to be leading me on has not been easy for him to accept.
But I know that he loves me and desires the best for me.
My dad's experience with us was shaped by his own experience with his parents. He lived with an aunt and did not grow up with his parents but he wanted us to be in a loving atmosphere with our own parents.
For one thing, he and my mom agreed that there would be no "sir and ma" in their home.
He decided to give us education and to the best of his ability, wanted to provide the very best for us.
Be that best "bend down select" or not, I knew that most times, he drained his paycheck just to be able to say "I have sent you the money".
He went so far as to not even have a house help in the home, all because of the fear of us being maltreated.
He took on the role of mom and dad and tried to fill in both spaces.
The woman I am today has stemmed from him.
My dad has never shut me down for once. My opinion – our opinion were all valid to him.
And so, he set the foundation for me being the outspoken woman I am today – one who knows that she wasn't made to cower to any man. We are all to be respected individuals in our own regard.
My dad…
Not without fault…
But my dad all the same.
And the tales from His life are tales that have shaped my own tales.
Mobolaji, my friend whose book spurred this stroll down memory lane is one book I believe every father/father-to-be should read.
A lot of tales from fathers have served to do nothing more than act as a factor that has broken the smooth tales of their own children.
It is said that children who delve into questionable activities do so because they have a void in their lives – a void that the father is supposed to fill.
Society have always elevated the role of the mother above that of the dad but the role of the father is as important as that of the mother – even much more so.
The role of fathers have been so relegated to the background, fathers do not even know that their children get their sense of identity from them.
They play a very key role in a child's life. Just as we gain our identity from our heavenly father, so also are children wired to gain their first identity from their fathers.
And where this is missing in a child's life, the child looks for any way to look for his/her identity – including looking for it in all the wrong places.
If you are a father/father to-be, I encourage you to stop for a minute and think of what your daughter would say if she had to write a letter to you.
Have you done a good enough job so far?
There is still time to turn things around.
Don't be like my dad that says the soup is sweet when you should say "I am sorry" (I kid).
Instead, if you find any loophole in yourself, say you are sorry to your children, repent and ask God for help in being a better father.
And what about you?
Do you have any tales to tell from your dad?
I would love to hear from you.
Comment below and lets laugh together or find healing together as the case maybe.