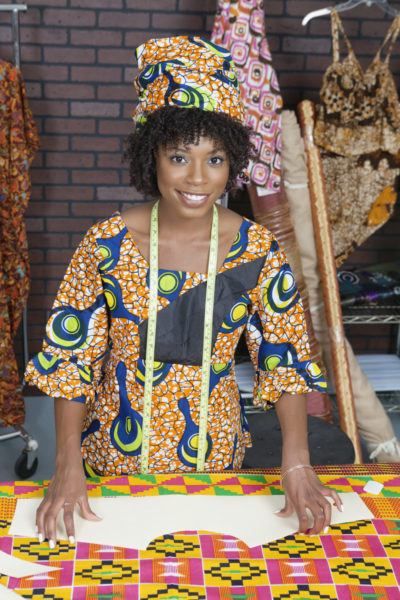 Looking at the picture of the model in the magazine, I imagined how the outfit she was wearing would look on me-extremely perfect! I visualised the cloth on my body as it was on the model's. What was left of me was to get the fabric and I would be off to the tailor. So I wasted no time in getting the fabric.
Next thing was to decide on the tailor to go to. I had three in mind. The first always delayed, even though she was quite good. She would leave your work and do others, pushing somebody till the person got fed up. She was never remorseful. It was as if she was doing you a favour on top your own money. Imagine, patronising someone but the person does no 'send' you at all. I think it is because she has so many customers that is why she did not know the value of losing one.
The rule of customer first, never applied to this woman. If you are bent on letting her sew your cloth, be prepared for disappointments. It was pointless to tell her when you need the cloth, and if she gives you a day to collect your cloth, that was not even certain as well. I was not prepared for someone to spoil my mood, neither did I want delay so I had to seek another alternative.
The second tailor in mind was very expensive and it appeared she used to steal material. Her handwork was usually too tight and she always complained that the material was not enough. Every time she made an outfit, I would always complain of it being too tight. One would wonder that she took the measurements quite alright. So how come? This wa the same question I asked every time I patronised her. I just had to conclude that she was either stealing the material or she was not judicious enough when cutting the fabric? This time around I was not prepared for this risk so I moved to the third option.
Now, the third tailor stayed close by. She was young, trendy and her last work for me was the bomb. Finally, I settled for the third option. Before going to meet her, I actually prayed seriously as I felt the need in my heart. Besides some tailors could be very wicked – recounting previous experiences and how they have used me to do yeye in time past, I had to take it to the spiritual level.
Having prayed and done all the needful, I  went to the shop of my third tailor and showed her what I wanted. I negotiated the price, and the date was set for me to collect the cloth. As day approached for collection, somehow I was not at peace. I still carried on and looked forward to rocking my new dress.
Just as I feared, the tailor made a mess of my cloth. It was obvious she gave her apprentice to do the sewing. I really did not know what to do. I was just venting and venting, then kept quiet when I saw I was the only one talking. So, this wicked tailor decided to do some amendments and that didn't solve any issue. In fact it spoiled the whole material. The excitement derived from the day I sighted the outfit on the model and my hopes of rocking the outfit were dashed. There I was, angered and helpless. The fabric was quite expensive and was destroyed now.
I thought I was the only one who had been unlucky with tailors, but speaking with colleagues I was quick to draw out that it is a customer service dysfunction. One said that she usually tells the tailor to sew what she wants, instead of what the tailor is told to do. Even social media actually showed that tailors could be a pain in the neck.  I recall seeing a meme that read:
'Are you good are frustrating people? Do you like people begging you for their own things? then you should be a Nigerian tailor!' This goes to show the level of frustration that some tailors have meted out to their innocent customers.
As I speak, the destroyed outfit is lying in my closet and I look at what could have be, compared to what it is  now. Imagine the money wasted, time wasted, energy wasted all because of one tailor… Phew!
I'm terribly hurting but had to cool down when I got to know that many people encountered such problems in the hands of artisans. For now, I  might just go for ready made clothes and give tailors a break. Another alternative would be to learn the skill of sewing, because I have not been lucky with tailors so far.
What has been your experience with artisans? Particularly tailors.  Let's get it off our chest.
Photo Credit: Photographerlondon | Dreamstime.com