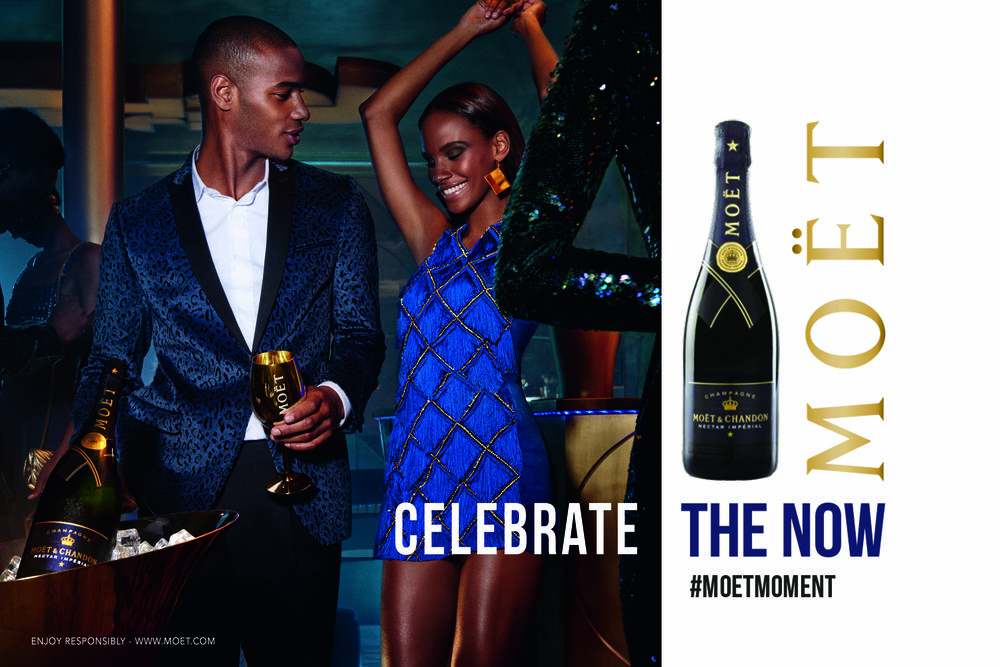 This new lifestyle campaign composed by four exclusive visuals and captured by the Italian photographer Giampaolo Sgura, reveals around Moët Nectar Impérial, that unforgettable moment… that memorable dance… that feeling of success and glamour… that toast that brings everyone together… Everything that makes the essence of Moët & Chandon's legendary spirit of entertainment.
Moët & Chandon brings a showstopping bolt of energy with this new lifestyle campaign for Moët Nectar Impérial. Captured in a high-end nightclub, it allows the viewer to live these unforgettable memories that the characters are living, in a vibrant and bold celebration as only Moët & Chandon knows how to create.
"Life is happening right now, all around us. THE NOW is about seizing these moments, as we know that every second is an experience, a #moetmoment to live NOW, and we wanted our new Moët Nectar Impérial   lifestyle  campaign to reflect perfectly this bold journey" said Arnaud de Saignes, International Director of Marketing and Communications for More than ever, Moët & Chandon rules the night and the new Moët Nectar Impérial lifestyle campaign is a perfect illustration, thanks to the Italian photographer Giampaolo Sgura, who is one of the most talented photographer of his generation and a true reference in the fashion industry.Moët & Chandon. "Moët Nectar Impérial is spontaneous, bold and vibrant, and for all the life enthusiasts around the world."
TASTE THE NOW: MOËT NECTAR IMPÉRIAL
Lively and generous, Moët Nectar Impérial distinguishes itself by its tropical fruitiness, its richness on the palate and its crisp finish that instantly surprises and delights.
Moët Nectar Impérial's aromas are generous and rich with tropical fruits such as pineapple, mango, and stoned fruits (Mirabelle plum and apricot), capped by nuances of malt grain and the sweet spice of cinnamon and vanilla.
#moetmoment #openthenow
To celebrate this new lifestyle campaign, join us for our amazing Blue Nectar Nights. To find out when and where the next Nectar Night is holding, follow Moët & Chandon Nigeria on Instagram and Facebook (details below) using the hashtag #NectarNights.
*****
Share THE NOW: www.facebook.com/moetnigeria
Spread THE NOW: www.instagram.com/moetnigeria/
Explore THE NOW: www.youtube.com/moetnigeria/
Live THE NOW: www.moet.com
______________________________________________________________
Sponsored Content