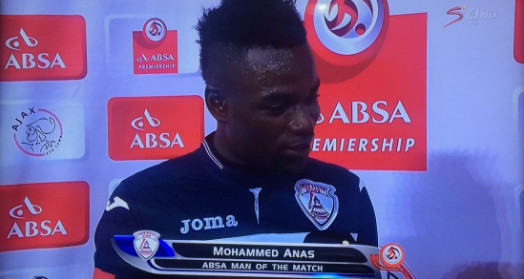 Ghanaian footballer Mohammed Anas, who thanked his "wife" and "girlfriend" during a post-match interview has come out to say that his his daughter was the person he referred to as his girlfriend.
Anas, a striker for South African side Free State Stars scored two goals in his team's game against Ajax Cape Town. He was named as the Man of the Match.
While giving his speech during the interview, Anas said: "Thank you for this, I appreciate my fans. My wife and girlfriend…I mean my wife, sorry to say."
"I'm so sorry…I love you so much, I love you so much from my heart!" he quickly added.
VIDEO: Mohammed Anas just gave the greatest MoTM speech of all time, thanking both wife and girlfriend. (Via @clydegoal) pic.twitter.com/gXJ4ZwOtdg

— Gary Al-Smith (@garyalsmith) March 17, 2017
Speaking to BBC on Monday, Anas said said that his daughter was the one he called his girlfriend.
"My family knows that I call my daughter my girlfriend. That's what I was talking about. I don't have a girlfriend," he said.
Anas, who disclosed that he's been with his wife, a South African for 7 years, said:
"I love her so much. She's given me two beautiful children. She is fine. She knows what kind of man I am so I am not worried."
"I'm famous now – people around the world know me," Anas added.