Just the other day, I went to Olumo Rock and apart from the wide vista, aerial view and granite structures, there's a lot that struck me. I will share with you.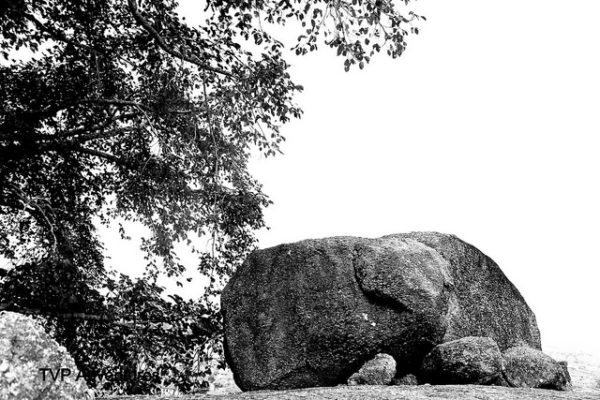 Goats are good climbers
Oh, you already know that? Wait, this is not the kind of article that tells you things you already know. I am not that kind of writer, ask my friends.
The goats there are unafraid. I am serious. They even photo-bomb sometimes. And if you go towards them to take a picture, they will strike a pose. The best part which I know you don't believe, they come and meet you where you're eating like 'Hey man, is that Nigerian jollof rice? I have heard so much about it. Let me try some'.
People will be like 'I'm lying, writers like to lie'.
True, writers like to lie; d'you know what pressure we deal with? But I'm not that kind of writer, so here, pictures.
Customized Hand Stuff
There's a gallery there where you can get customized bracelets. It's really cool. While you walk around the gallery, the curator spreads some paint on your hand accessory for just Five Hundred Naira.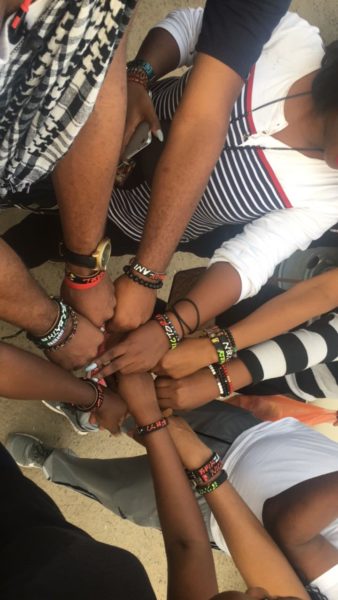 History
There's so much history on those grounds, man. I admit, it doesn't show at the foot of the mountains cos that's all iron railings and like anything manmade, it is ugly, but once you go up the first flight of steps, you are transported to the ancient times when survival was the basis of life. The shrines, the grave of Chief Sonny, the war hideout, the hidden room for copulation and sitting in the midst of all this is this: the 150 year old woman, as old as time itself, watching over the mountains, meeting waves and waves of visitors without changing. As I walked from shrine to grave to war hideout, it reminded me how much the history of humanity has revolved around the same things: war, sex and spirituality.
Shrine. Did you know that no one has ever fallen on the rock? Legend has it that the gods protect all inhabitants.
The Poetry of the Earth
This is something I cannot really explain: it is the music of the mountains, the feel of dried leaves crunching under shoes, the sound of dried teak leaves drifting to the earth, the call of the birds; it all combines to something. Now, this is something I cannot describe but I am not the kind of writer to leave things as they are. Here, more pictures:
Short Dash
If you have some time after this, pay a visit to FUNAAB Zoo which is twenty minutes away. The zoo hands are friendly and will give you a guided tour of the park. It's quite a hike though, wear comfortable shoes!
Photo Credits: TVP Adventures, @TheB aba29 and Osisiye