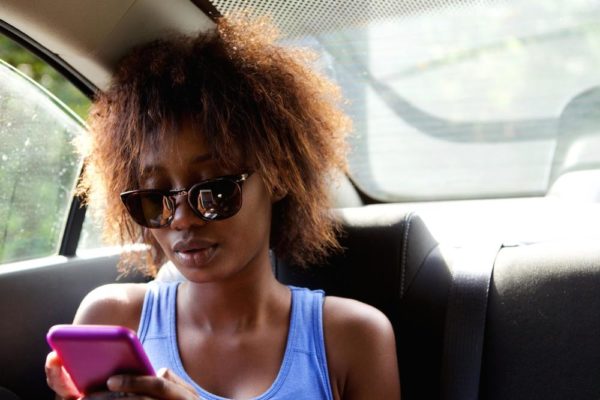 No, this is not an ad for Uber…and yes, I must appreciate them for their innovation and contribution in making commute just a little easier in Lagos. And to the real MVPs, the drivers, without whom there will be no Uber.
That said, I have come across quite a few interesting characters from my days of riding. Needless to say, these attitudes are not displayed by Nigerian Uber drivers alone, as I have had the opportunity to ride in a couple outside of the country; but you can trust us – Naija for life…we usually like to take things up a notch.
Like me, you may have come across the following types of Uber drivers:
Mr 'Over- Polite'
I never knew anyone could be polite to a fault until I met some Uber drivers. You cannot complete a single thought process when riding with them.
So, you know how you estimate that you have a bit of time before that meeting/ event and then you look at your watch and you realize, ok I need to book my ride right away if I don't want to be late. Your app shows your ride is 6 minutes away, leaving you with about 4 minutes to get dressed. You do so frantically and you are just trying to put your amateur make up skills to use when your phone rings. Your cab has arrived. You rush down, jump into the ride….phew, good afternoon. And then you realize you may not have your much needed few minutes of solitude. Interruptions every 30 seconds: good afternoon madam, hope you day is going well? 10 seconds….'is the temperature ok for you?…20 seconds…..should I switch off the radio?….Is the volume ok, or do you want me to reduce it?….30 seconds….do you have a preferred radio station? Which route will you prefer? The questions just keep rolling in.
Ok, so maybe they are just genuinely trying to make sure you enjoy the ride but when I say 'It's ok' to your first three questions, then you should know to give me a break.
Mr Negotiator
Not too dissimilar from Mr Over-Polite. The icing on his cake is his final request just as you are approaching your destination. "Please ma, if you can give me five stars…please, otherwise I will lose my job."
Meanwhile, you both know his ride experience deserves not more than a 3-star rating.
Mr. Grandpa
When a grandpa gets assigned to you and he is still in training on how to use a smart phone. You call him to give him descriptions on how to get to you, and like your parents do, he tells you he has heard you and hangs up before you get through the descriptions. Fifteen minutes later, you call him and then he tells you he is just getting to your pick up location. You rush down, and wait and wait and then call back. He is on the otherside of town. Ok, I exaggerate, but he has driven past your pick up location and is now stuck in traffic trying to get back to you.
So you call him every other minute, asking , 'where are you?'. He finally gets to you, and you realize, he must be grandpa, and your mama taught you to respect your elders, so even though you have spent close to 20 minutes waiting under the 35 degrees Lagos heat, you dare not shout. All I could mumble was, 'Baba, e lo wa yan to ma ko yin bo se n lo phone o…e ko ma ma gba three star' (transalation: Baba, go and look for someone that will teach you how to use the phone or you will be getting three starts all the time). Ah, ejoo (please)….he said smiling. Of course I couldn't find it in me to rate him as a three stars
Mr 'Do you know who I be?'
Customer Service is one of the value propositions which can be easily identified when you make use of the Uber service. However, there are always exceptions to the rule and on some occasions, you are assigned the driver with the chip on his shoulder, the one that did not get the 'customer service is one of our core core values' memo.
So you try to book a cab on a hot Sunday afternoon and you get that message you don't want to see because as usual, you are running late. You try again…surge rates..X2…hmmmm, you are late so whatever. You get assigned a cab and you immediately call him to give him descriptions. A few minutes later, your phone barely beeps, it's the driver. He couldn't be flashing right. After a few seconds, no call back and so you call him, again. 'What is that your address again?', he asks somewhat rudely. 'Errm, so why didn't you call to ask, what if I didn't call you?'. I don't have credit, infact, call another driver…and then phone goes off. You have got to be kidding, I dial back…'Did you just hang up the phone? 'What did you say?'….I don't like the way you are talking, call another driver.
Ok, ok, let me be balanced and drop one or two gaffes I've made while riding and I am sure I am not alone:
When you mistakenly select the wrong pick up location Oba Sule Street and your innocent uber guy is right where you indicated; you, the not-so-innocent rider, are at the other end frustrated. You are wondering why ut is so difficult to locate you standing opposite Oyster Bank on Oba Suara Street. After many call exchanges, I finally in frustration say…'but I don't know how hard it is…I am opposite Oyster Bank, the one near Oba Suara Street'. 'Madam, but that is not the pick-up location you selected, you selected Oba Sule'. Me: 'Ehn…oya be coming'…
What can I say, not every time good customers… sometimes difficult customers. I guess giving him a 5-star was part compensation for my bad behavior.
I also recall when I requested an Uber at night and I saw the car, only it wasn't my Uber. I went over and tried to get into the back seat. The door was shut, and I still tried to pry it open. That's when I realized the guy looking at me like, are you ok, do I know you? And only then did I realize, oh-oh, wrong car and quickly moved ahead.
As a final note, drivers and riders alike, do switch on your instincts to the highest level and stay vigilant before you embark on that ride and during the journey.
Stay safe.
Photo Credit: Mimagephotography | Dreamstime.com