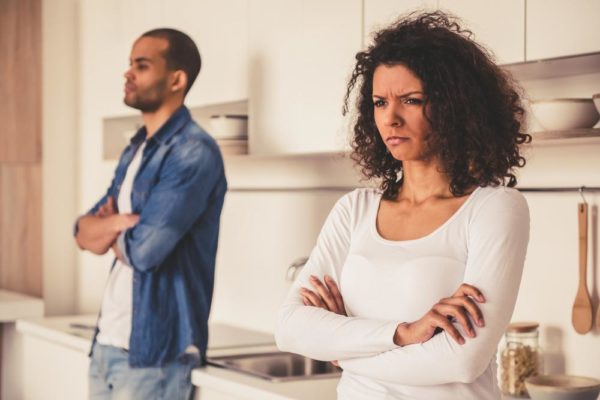 In recent past, I have found myself playing the role of agony aunt to not just close friends, but also colleagues and even strangers. So, it was not a huge surprise when I got a call from Kosi (not real name) at about 11 pm last night asking for advice on how to deal with silent treatment from her boyfriend. While hanging out with her boyfriend and two of his best male friends, she joked about him not actually being as posh as he always projected, hinting that his was broke and living above his means. While she meant no harm, he had taken the joke a little too personally. And despite the fact that she had apologized to him, he shut her out and a put her on the receiving end of silent treatment.
Kosi, filled with guilt and understanding of his need to brood, gave him the space she thought he needed, hoping he would bounce back after a day or two. One whole week, however, passed before he made contact by sending her a meme on IG. Excited that he was finally ready to communicate, Kosi responded with some messages and even several phone calls only to have him disregarded them, resuming his silent treatment game.
Clearly, Kosi was perplexed by the mixed signals and apparent infantile behavior. She had always believed her boyfriend to be mature and loving, so it was a shock to her that he would want to hurt her that way, since he knew she had a bad case of anxiety and was easily prone to melancholy. She was also concerned that, there was a chance he was just taking a time out and she was being unbearably pushy by asking him to communicate when he was not ready. Seeing as it was a new relationship of barely two months old, I knew I had to be as blunt as possible.
First, I made Kosi understand the difference between taking a time out and giving a silent treatment. The first is a positive tactic because it benefits both partners seeing as silence is employed as a prelude to actual communication; while silent treatment, on the other hand, is a form of emotional abuse and a passive aggressive tactic used by one aggrieved partner to control, punish, avoid, or disempower the other partner either because they refused to acquiesce to their demands, or they said/did something that bothered them. Next, I presented Kosi with two possible moves: 1. Seeing as she had already called him out and left him a message asking him to call her when he was ready to talk, she could just ignore his antics, carry on with her life as normally as possible and work on herself while waiting out the silent treatment; or 2. She could just open up her eyes; admit the truth that her boyfriend may just be immature after all, and cut him off completely. I made sure I let her know that should she chose the option 1, there was the chance that the silent treatment would be the first of literally hundreds to come. And chances are, she would most times have to take the blame for his emotional state, rescue him out of his funk by making amends and begging him back into the relationship, without him having to take any responsibility for communicating or working towards a mutual solution each time every time he gave her the silent.
The silent treatment is one of the most prevalent patterns of conflict in relationships and marriages today, and it is extremely destructive. Not only does it lead to a decrease in the level of satisfaction both partners get in the relationship, it erases feelings of intimacy, and makes healthy, meaningful communication almost impossible. The first time I experienced it with an ex, it felt like a punishment worse than death. It left me broken and desperate, willing to try anything and everything to get a response. I remember the one question I wanted answered each time he froze me out was: "How long will this silent treatment last, biko?"
The thing though is that the kind of people who practice this silent treatment tactic usually have narcissistic tendencies; and as such, they could go for days, weeks, a month or even longer, keeping you in the dark about when it will end. Sometimes they don't even tell you why they are doing it in the first place. They know that the longer it lasts, the worse the separation anxiety becomes and the more likely you are to feel depressed, jealous, confused, isolated, unworthy, and even desperate. For some, the silent treatment is also a way for them to buy free time for being with someone else. They go on about their business until they either feel their partner has been punished enough, or they get bored with or offended by the new person they engaged with during the period of silent treatment did. They return offering no explanation and expect to pick up right where they left off, as though they were never gone. In cases where the victimized partner calls them out during the silent treatment and presents an ultimatum or attempts resolution requiring compromise, they usually just quit and discard the relationship. They prefer to end the relationship and start over rather than be in a position of potential rejection. They convince themselves that the victimized partner is the one with an unbalanced mind.
Of course, there are exceptions where the partner initiating the silent treatment really is just trying to escape another abusive dynamic. This usually happens in the case where the affected partner is trying to force him/her to change or do things their own way; a valid reason for anyone to withdraw. However, under no circumstance should the silent treatment be regarded as an acceptable behavior. It is a form of emotional abuse that no one deserves nor should tolerate. Some articles will advise that you act contrite and apologize even when you have not done anything wrong, but then…how can you maintain a genuine, connected relationship by being false?
BOTTOM LINE: Avoid playing the game with anyone who gives you the silent treatment. Find ways to boost your self-worth and make yourself immune their control tactics. Realize that you are worthy of a healthy relationship with someone who can communicate in a mature, emotionally healthy manner. Be prepared to walk away, but make efforts to communicate when they make themselves available. If they keep up the silence and ignore you then it is clear that the friendship wasn't worth it in the first place. No matter what you do, do not give anyone so much power that their absence leaves you questioning your worth.
Have you ever served or been served the silent treatment? How did you deal with it? Please share your stories in the comment box below.