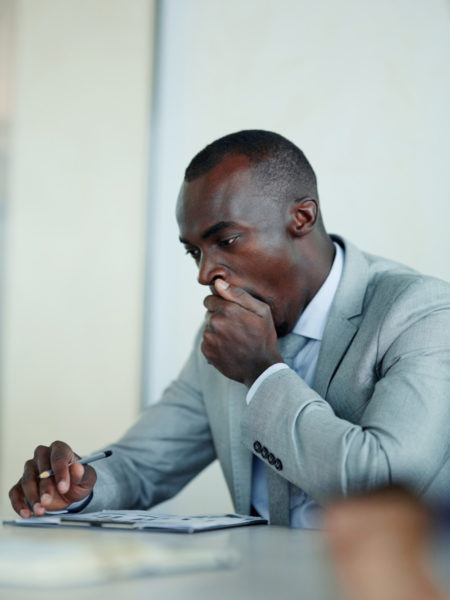 Hi guys, BN Confession Box is a new feature on BellaNaija – curated by Nkem Ndem. The Confession Box is our virtual confessor's box where BellaNaijarians can let loose and say their deepest and rawest fears.
These letters are from you, and we'll ensure that your identity is protected. Everybody needs some form of outlet or the other.
***
When people always say things like "there is nothing hidden under the sun" or "99 days may be for but one day is for the owner of the house," I don't mind them because I have seen people who have gotten away with so many evil things and the sun did not expose them. Forget it. I think I just don't have a lucky star. I am so afraid and confused right now though. In this time of Buhari, I may be about to lose my job all because of one small lie. One little mistake.
The whole thing started years ago. I had graduated for some years but I had not gotten any job. As the first son of my mother, it was disappointing for the family. She had saved a lot of money to put me through school. She always used to brag to her friends about her son that can speak English who will soon be very rich. I was not a lazy son. I hustled for jobs. I tried everything.
I worked as a photocopying man in an office for a while, then as an admin assistant (but was sacked), and then I worked also as a teacher in a small school around my area. It was while working at this school that I got news about a soon-to-be-opened British school that was looking to employ teachers with degrees in education and with good teaching experience. One of my colleagues gave me the information and since I had 3 years teaching experience, we both decided to apply. I knew I did not have all the requirements for the job, since I did not have a teaching degree. The school I was working in was just a rubbish school, looking to suck money from cheap parents, who wanted cheap school, without actually giving their children good education. They took me because I looked presentable and I could speak English. Honestly, that was all they needed from their teachers.
Anyway, in my desperation, I went to Lagos Island and found someone who helped me make a fake certificate from the Faculty of Education, University of Lagos. I paid a lot for it too. The same person even helped me arrange my CV, and so I sent it into the new international school. I applied to teach Mathematics in their secondary school. I studied Mathematics and Statistics in Federal Polytechnic Ado-Ekiti, so it was something I knew I could teach very well.
To be honest, when you are applying for a low ranking position like "Teacher", a little lying is not a big deal. But then, you never know how much you can rise in the job. So you never imagine the possibility of the little lie coming back and to threaten your career.
In the 9 years, I worked in this British school, I have been promoted from simple Class Teacher to Head of Department, then to Head of Key Stage. It is a very good job and I make a lot of money. Aside from the salary, I get extra cash from private lessons and exam preparations classes with students. I even travelled out of the country a few times with students on trips.
Where the problem lies now is that, our school just employed a new head teacher who has invited an agency from the UK to come and inspect the school to see that it has international standards – so that they can award the school some form of accreditation from the UK. The head teacher said that other international schools in the country have the accreditation; if the school gets it, they will get more students and more recognition. In that regard, they informed all staff that they will have to thoroughly vet their employment circumstances to be sure there is no loophole at all, and the school is no penalized in any way for not meeting all criteria.
I have never been this worried! What if they will find out my little secret? In the last couple of years, I have done some extra teaching programs and training, but will that protect me? Will they consider the fact that I am one of the pioneering staff and cover my job? I don't know what to think right now. My wife is pregnant and I cannot afford to lose my job right now. I have just been praying to God, hoping that he will answer me. My wife does not even know about this whole thing. I don't want to tell her or anyone.
In this life, you cannot trust anybody. I would have posted this on Joro, but people there only talk about marriage, relationship, and sex. I have seen other confessions here, so, I just felt that confessing it here will help me feel relieved. Also, I want serious advice. I am hoping people can give me ideas on how I can help myself right now. I am not proud, I can do anything.
***
Do you have any confession you would like to make or shocking tale you'ld like to tell? Please send your story to features(at)bellanaija(dot)com.
Photo Credit: Dmitriy Shironosov | Dreamstime.com