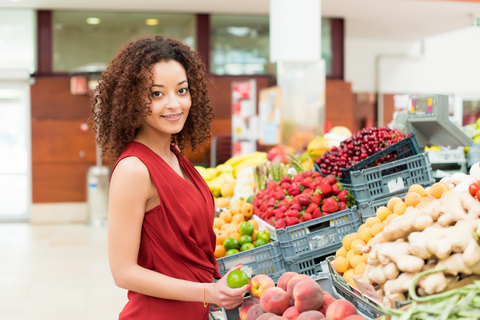 In Yaba Market, sellers are used to hearing buyers request, 'Do you have black palazzo', 'Do you have off shoulder top? Or "Give me crazy stock jeans."
An enquiry like, "Do you have bikini?" is rare, so it's understandable I feel weird the moment I step into the market. I take my chances regardless.
I see an old lady selling ladies inner wear and I approach her stall. "Good evening ma. Do you sell the pant and bra they wear for swimming?" I ask.
"Bikini?" she says.
I nod in relief.
She ransacks her wares and pulls out a multicolored bikini made with cheap fabric. I tell her I don't like it. She says it is the only one she has. She ransacks her wares again and produces an unflattering one piece swimming suit. I tell her I was specific on bikinis, not one piece suits.
She says, "But you don't have body my dear. Why not wear this one and cover it?" I thank her and leave her stall immediately.
A similar scenario plays out as I move from one lingerie stall to another. Most don't sell swimwears, one says she doesn't sell bikinis but she has nice pushup bras. "You can wear it to swim too," she insists when she hears my motives, as though a bra and a swimsuit serves the same purpose. I sigh in exasperation and keep moving.
The time on my watch reads 5:50pm and I realize I have moved around nine stores unsuccessfully in the past one hour. At this point, other traders are starting to notice me. This is the part I usually dread most.
"My colour! You don too waka this market." A male trader sitting among a group of men states the obvious.
"You dey mind am? Na looku looku na." Another one says.
"Abi you dey take style dey wait for night market so you go buy N100 top?" Another says.
"Leave that fine girl oh. Na my wife. She say she dey find bikini." I hear someone say.
"Which one be bikini?" Another asks.
Someone whispers and I hear a burst of laughter.
"Illiterates!" I mutter.
Traders are starting to lay out their wares for evening market so I decide to stick around to see what else the market has to offer, after all it's not everyday a girl goes to the famous Yaba Market.
As I move about, sellers start to tug my wrist in plea for patronage, each of them claiming they have what I am looking for even though I don't know what I am looking for.
A female trader also tugs my wrist and in anger, I stop to preach feminism. "Do you know my wrist is paining me from being pulled by these boys?" I yell. "How can you, a fellow woman, join them to do this to me? Do you want to break my hand? Don't you have conscience?"
She releases my wrist in shock.
I see a small crowd surrounding the wares of a trader who claims to sells the dresses Genevieve Nnaji wears. "Genevieve na my customer. Na here Rita Dominic dey buy oh. Na mumu dey go boutique." He shouts as he beckons to passersby.
I'm not a mumu so I nudge myself among the crowd and bend down to check his stock. I dig my hands with reckless abandon inside the 'okirika bale', hoping I will find something similar to the black dress Rita Dominic wore on Instagram in April, since her secret has now been exposed in Yaba. I struggle to pull eight dresses consecutively, but return them each time as they are nothing useful.
It is tiring. I'm tempted to give up but someone beside me is holding a nice red dress so I persevere, hoping to get lucky too.
A lady who arrives taps me from behind. "How much are his gowns?" She ask me, temporarily distracting me from my quest.
How am I supposed to know when I am not the seller? Silly question. My friend BEND DOWN AND SELECT, my facial expression seems to say.
Finally, I settle for a faded skater dress because I don't want to leave the market empty handed. I approach the seller and ask him how much.
"Bikini, so you don reach my side?" He asks, which comes off as a surprise to me. "Na only this one you find?"
"Yes. How much?" I ask, handing him the dress.
"One five."
"I will give you seven hundred naira"
"You go buy this dress seven hundred naira for boutique?" He raises his voice. "Common commot for here."
End Notes: Incase you are wondering why I was searching for a bikini to buy at Yaba Market, I am going abroad for the first time on June 15th, Zanzibar to be specific, which means I'll be literally beaching the entire time hence there's a need for swimsuits. The swimsuits I ordered online are unfortunately stuck in Istanbul, so Yaba happens to be a plan B. 🙂
Ps: The vacation is a gift from someone who read my passport post. The hashtag is #NSGTakesZanzibar
Hallelujah.
Photo Credit: Joana Lopes | Dreamstime.com