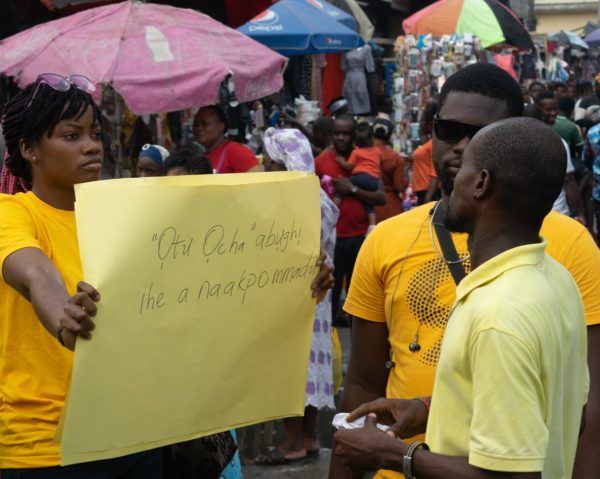 Pretty much everyone is aware of the street harassment that goes on in Yaba market.
Anyone who's visited the market knows just how it goes: They stand by the side of the road and, under the pretence of coaxing women to buy from them, pull at their hands, parts of their bodies, and call them ridiculous names—my colour, my size, fanta. And when the women complain? Then they insult, call them ashewo.
Deciding to do something about it, a group of people embarked on the #MarketMarchYaba, protesting market harassment.
The women who protested shared photos and stories showing what happened in the market and proving that the protest was necessary.
Men in the market called them names as they protested, harassed them, told them they had a right to their bodies and if they didn't want to be touched then they should stay in their homes.
But the protest has largely been lauded on Twitter, with people pouring in support.
Check out the pictures from the march:
#MarketMarchYaba was a BIG success. Big ups and huge thank yous to everyone who showed up. We had expectations, some were met, others were superseded. We stood firmly with one voice and it was clear. We have learnt a lot and can't wait to do more with what we know. pic.twitter.com/IatmhRR2lH

— MarketMarch (@MarketMarch) December 15, 2018
They threw water at us, called us prostitutes, sluts…ashawo.. They said it was our fault that we got harassed. They claimed it was because of our clothing & asked us to stay home if we didn't want to be harassed.

They tried to shame us because they were ashamed. #Success pic.twitter.com/o4b6meWXVB

— MarketMarch (@MarketMarch) December 15, 2018
We're thankful to the police who escorted us. The traders were going to get even more violent without their presence. They couldn't believe we had the audacity to complain about the harassment. pic.twitter.com/iQt3lFvZ06

— MarketMarch (@MarketMarch) December 15, 2018
We made a bold impression and it is clear to them that we are done tolerating this nonsense. We don't advice that you wear our tee shirt to the market alone. They know us now, they dislike what we stand for and they know we won't back down. pic.twitter.com/vPJszUo9m7

— MarketMarch (@MarketMarch) December 15, 2018
I NO BE YOUR COLOUR
I NO BE YOUR SPEC
I NO BE YOUR SIZE pic.twitter.com/4bFzGwOH0e

— MarketMarch (@MarketMarch) December 15, 2018
An interesting day today guys. I was at the #MarketMarchYaba and just because we said "stop touching us", they booed us, called us prostitutes, lesbians and jobless people. They also threw pure water at us, one landed right on my chest. A guy even touched me TWICE!!!

— Chi (@amaka_sandra1) December 15, 2018
Nothing to see here at all, just being called ashawo 😊. I love it when men try to prove they are not trash by you know being TRASH. #MarketMarchYaba pic.twitter.com/8guA6KEinU

— Chi (@amaka_sandra1) December 15, 2018
I forgot this part. "How dare you say no to harassment? Holy Ghooooost fire" pic.twitter.com/NYq6UAIiCY

— Chi (@amaka_sandra1) December 15, 2018
They said a lot of things I've seen here from "educated men".
If you don't want us touch you dress well.
Who are you that we shouldn't touch you.
If you don't want us to touch you don't come here.
You should be fighting for more important things (this made me laugh)..

— Chi (@amaka_sandra1) December 15, 2018
You go marry yourself?
You sef don't touch us (street whataboutism)
You no dey fuck?
I get your type for house
You no even fine. #MarketMarchYaba

— Chi (@amaka_sandra1) December 15, 2018
"Ashawo, they no dey work" #MarketMarchYaba pic.twitter.com/xNuSf8XDnk

— Chi (@amaka_sandra1) December 15, 2018
The idiot that touched me. Guys I nearly cried. The audacity and disrespect!!! #MarketMarchYaba pic.twitter.com/xKklFcnnxZ

— Chi (@amaka_sandra1) December 15, 2018
"We must touch" #MarketMarchYaba pic.twitter.com/BSCkguHjhx

— Chi (@amaka_sandra1) December 15, 2018
Just imagine 🤦🏾‍♀️. #MarketMarchYaba pic.twitter.com/1agK5IhtyD

— Chi (@amaka_sandra1) December 15, 2018
They were calling the guys that came out with us gay 🤦🏾‍♀️. As pa no straight man would ever feel a woman has a right to her own body??? #MarketMarchYaba

— Chi (@amaka_sandra1) December 15, 2018