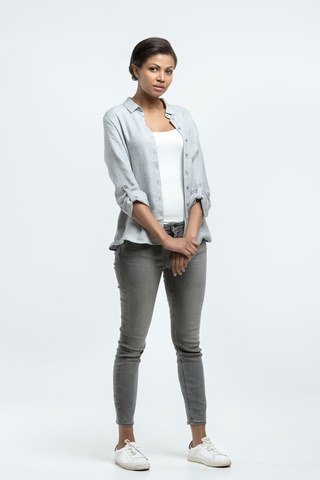 This is 11:11am.
This is what I'm thinking.
I am thinking of you Ifeyinwa. I am seeing your long slender legs dangling beneath the translucent water, they are beautiful; spotless, dark- the colour of mahogany.
I am seeing your fingers waving in the water – moving back and forth. Your nails are painted in shocking pink and they are beautiful. And then I am seeing your face – your face is usually sheen, highlighted. You love your red lipsticks just like me. Your lashes are always long; they sit well on you. I remember when I used to make fun of you and call your lashes 'hand fan', when you wear large sun-shades and I call them 'wind-screen'. I have since stopped.
You are the gorgeous 'iya dudu' that walks into a mall trying to be conspicuous; you are conscious of the fact that heads will always turn, lips parting – forming an O as they marvel at how a lady can be so pretty and it makes you thrilled.
You are the one with a long pointed nose, achieved with brushes. You are always on Instagram; one of those slay mamas who take 'selfies' in the bathrooms; shifting their hips to one side and pushing their buttocks back while pouting their lips…
We are in this pool and you are sitting by the edge. You are in this yellow bikini, and you look stunning, like a model. Your skin is beautifully brown – like pure honey and it seems like the sun is bouncing off your skin, they are like little sparkling rays shimmering in your body.
But I see you.
I see your face in the water – I see a burning woman; the harsh sun licking away her brown skin, gradually burning it black. I see your black eyes, lifeless – save for the ghost dancing merrily in it.
It is 2:03pm.
This is what I'm writing.
I am writing to Ifeyinwa, because I am the only one who is seeing you clearly – beyond the layers of makeup and the expensive clothes. Maybe I'm the only person who is sensitive enough, but it could be because I know the war I'm fighting in my head and I see myself in you. I am seeing you, Ifeyinwa. I am seeing the one who stands in the middle of the road when Dangote trucks are coming – hoping one would crush you. You are just imagining it, but I can see it on your face.
Do you not know where I'm headed yet? Well, I'm talking about him – I spot him right away, even though he doesn't know. Before, he used to sneak in like a subtle shadow in the nights, in his pretentious camouflage; an amusing wart that suddenly grows and grows; the dark, hairy mole that sends its roots to the very bone.
At times, he comes in like a giver of gifts clad in white cloaks, his face is handsome and his beards well trimmed. He extends an affable hand and then when you take it, his handsome face changes to a grinning skull – taking his victim by surprise. Never me though. I'm never caught unawares, the only reason I let him in is because at times I enjoy his company. I must be stupid.
Aha! I'm sorry; this article is not meant for me. I am writing to Ifeyinwa, but how can I talk of one and not the other?
And when you hear voices Ifeyinwa; soft, velvety –like the lone wind travelling the streets of your mind. When he knocks on your door; tenderly at first, and then frantically like a desperate and tattered sojourner, seeking a sip of drink. Try not to answer – a trick it might be!
When he raps on your window like a hopeless lover, drunk of the magical juice from the 'midsummer's night dream' or uses the threatening tone of Shylock – trying to weaken your knees. Try not to open – a trick it might be!
Remember what I told you, that depression is like a redundant guest who is never welcome, but comes in without washing his feet and never asks for invite before sitting. Yet you do not chase him – you cannot chase him away. It is as if he fills a part of you – a void in your heart that hungers to be filled, but there are no emotions left to fill it with. And your depression knows this; he stretches his long legs and rubs his over-grown belly, he moans satisfactorily and smirks in a gloating way.
He is a part of you and he knows this, he knows when to come in and sit on the throne in your mind – when dusk walks in and the half-moon hides like a coward behind the clouds, when the forest is restless and the trees whine forlornly.
When you are on your chair and you are thinking. He gradually walks in to make love to you; he whispers in your ears while caressing your skin – telling you Adio is married: you remember that guy you were doing yanga for? Then he says 'Uche is now the manager of that oil company, you remember him? At this your eyes begin to spin, Uche is what? But that dude graduated with an ordinary pass from school.
Then depression laughs softly in your ears as he traces the base of your jaw with his tongue, you don't even know anything yet; even Mohammed recently bought a jeep. Haven't I told you before? You life is just like a very mighty tree with too many branches – no sense of direction whatsoever. You turn on your chair and whisper weakly to yourself "it's a lie". Then he chuckles like a spirit and traces your thighs with his middle finger, you say it's a lie? Don't be silly, isn't that why Femi dumped you and married Vivian? Of course she is better than you. He gradually consumes your heart, makes your mind foggy. He makes you drink from his goblet, intoxicating you while clasping his thumb round your throat.
Then you begin to realize all he is saying is actually true; you graduated with a second class upper – but you had nothing to show for it. You remember how you became a runs girl; you had spent seven years looking for a job. Your already inferior self-esteem had finally gotten to the lowest level. You made your decision when you clocked thirty, when mama got tired and said you needed to fast for 57 days and then wash your head with holy soap and water.
You thought getting rich would boost your self-esteem and be the end of all your sufferings. So you cannot recognize this feeling; these urges to still prove yourself-to tell the world you're not a failure. This heavy lump is wedged in your craw, you cannot swallow it. You cannot fathom why you are so unhappy, why beneath the glitz and glam you are so drained mentally…
So when you hear voices Ifeyinwa, telling you to leap to the world yonder. When it says to you 'just end it all, why live when you can do no good in the world?' remember that your life is like the night that tarries and wishes to stay longer- but sunup breaks its jinx and sends him into exile. You see, no matter what you face- troubles would wane, dawn would break. The future is always hopeful, but mortals are usually so immersed in yesterday that we forget tomorrow.
You do not need to prove anything to the world- the world could not hurt you, if they could not make you feel guilty. If you thought well of yourself, what does it matter that the world thought ill of you? So forgive yourself. Live. Love. Laugh.
It is 9:44pm
I take this letter to Ifeyinwa.
I see her in the bathtub. I see her unseeing eyes – twilight steering gloomily in it.
Photo Credit: Lightfieldstudiosprod | Dreamstime.com